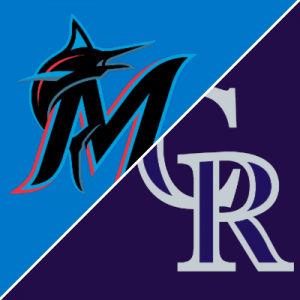 Chris Torrisi's RED HOT MLB season rolls on with another winner Friday!
I looked at this total at first glance and my mind instantly clicked Under. But c'mon now, an Under here would just be too easy so I had to dig deeper. I mean Vegas does set really bad numbers occasionally, they aren't perfect. This one just looked too easy, and nothing is life is that easy. 
Marquez and Alcantara both have really solid numbers this year.  I like both guys a lot. Alcantara is coming off his best start of the season vs the Yankees. Look at his previous three starts though, he lasted 13 innings and allowed 9 earned runs and 17 hits with a 6.23 ERA averaging 21.8 pitches per inning. . The Rockies offense at home in this high altitude is no joke averaging just under 6 runs per game. As much I like Alcantara he has thrown the occasional dud when he really gets knocked around. This could be the spot.
Marquez has great numbers this year, even pitching in this nightmare ballpark for pitchers he's thriving. The problem is Marquez isn't going to pitch the whole game,he is  going to give about 6 innings on average. After that the Rockies bullpen takes over , and they are one of the worst in baseball. The Marlins offense is nothing to get excited about but in this ballpark against this bullpen they should be able to produce runs for what could be about three innings against this Rockies pen. After the 6th inning is when bad bullpens are mixed in the equation is usually when what looks like a sure shot Under goes to die. 
This one looked too easy, begging you to take the Under here. I'm going to play this game to go Over expecting some runs tonight in the Mile High. 
Bet: 5*Rockies/Marlins Over 9.5 -115
Chris Torrisi continues his red hot run with a 71% start to the 2nd half of the MLB season and has netted 65* units of profit for bettors this season! Check out all of Chris's premium long term affordable packages right here and join him for long term winning investments as your advisor in the sports betting marketplace