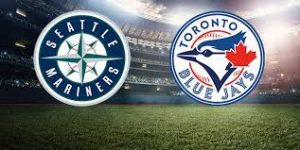 Pro sports bettor Chris Torrisi looks to stay hot with another MLB winner Friday!
Here's another value play for us and this is a nice dog we'll attack the money line. I get it, oddsmakers know the public loves betting offensive powerhouses like the Blue Jays with a stud like Ray on the hill. They'll have no problem laying this heavy juice with Toronto on an inflated number.
The Blue Jays are an offensive machine no doubt and Robbie Ray has been nothing short of dominant this year. I need to ask where is the respect for Chris Flexen and the Mariners to be a dog of this kind of number? Toronto is coming into a pitcher friendly park so we'll likely see a dip in offensive output tonight. Flexen has a great story, kid battled it out for almost 10 years in the minor leagues, pitched in Korea last year, and finally got his shot with the Mariners this year. At home Chris Flexen thrives, 2.67 ERA, 1.06 WHIP, 70 innings and only allowed 4 home runs. That's key to me, the fact he doesn't give up the long ball in this park vs the team that leads the league in home runs. It is worth noting the Mariners are 8-4 in his 12 home starts this year.
The Mariners offense in the last 10 games has shown some life vs. southpaws hitting on average .30 points higher than their average in this stretch. That sets up well for us vs Robbie Ray who has been the Ace for the Jays this year. I think we see the Mariners battle tough here, both teams are fighting for that last Wild Card spot. Oddsmakers are inflating this number knowing how good Ray has been this year but I think Toronto is at a disadvantage in this park, and Flexen performs well here. Both bullpens are about even in my eyes.
This is a pure value move too good to pass up, grab this money line with Seattle.

Bet: 5*Mariners+150
Chris Torrisi continues his red hot run with a 67% start to the 2nd half of the MLB season and has netted 69.7* units of profit for bettors this season! Check out all of Chris's premium long term affordable packages right here and join him for long term winning investments as your advisor in the sports betting marketplace