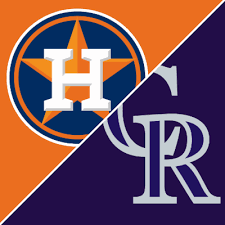 Pro bettor Chris Torrisi has an early matinee bet you don't want to miss out on.
Anytime I see +money  on a +1.5 Run Line dog it screams value. I'm always interested in +1.5 dogs at plus money so we dig deeper.
The Rockies are playing good baseball right now, they've won 7 of their last 10 games coming into today The Astros are 3-6 in their last nine games. When the Astros are more than -220 on the money line and laying juice as -1.5 run line favorites this year they're just 4-6 in those spots against the run line.
This is a pure value play for us, nothing more or less. It's what I feel is a +EV bet and situation. If this game played out 100 times, you'd cash a winner at least 55 of the 100 times. Given the way Astros have played in these spots 10 times they year you'd cash 60 out of a 100.  It's an inflated number. Worth noting Valdez has laid -1.5 runs and his opponent was getting plus money on the Run Line once this year and they lost that game.
Factor in also the Rockies are a scrappy team, they've been fighting even though they pretty much have no playoff shot. They come from a brutally tough division where they are used to playing teams of the Astros caliber. Let's not forget they beat Houston twice this year. The Astros at times can play down to their competition, remember before the All-Star Break the Orioles swept them right here at home. 
Plenty of value in this number to pass up. We'll take the dog on the run line getting plus money.

Bet: 5*Rockies+1.5 +110
Chris Torrisi continues his red hot run with a 68% start to the 2nd half of the MLB season and has netted 68.7* units of profit for bettors this season! Check out all of Chris's premium long term affordable packages right here and join him for long term winning investments as your advisor in the sports betting marketplace