Why you should invest your Stimulus checks into the Sports Betting Marketplace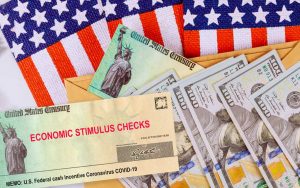 This doesn't apply to everyone but if you are in a financially stable situation and received your Pandemic Corona Virus stimulus check now might be the time to invest this money check into the sports betting marketplace.
If you are facing tough financial times it wouldn't be a wise idea to invest your stimulus check into anything except essential needs for you and your family. The average American in the Cares Act received a minimum of $1,200 simply for being an American citizen during this pandemic. The Heroes Act which at the time of this blog is still in limbo could potentially put even more stimulus money into your pockets in the coming months. 
If you are financially stable investing these funds is the smartest thing you can do. Too many people are using it as a down payment on a new toy such as a boat, a car, a motorcycle, etc. Basically throwing the money away into depreciating assets. Some people are just sticking it into a savings account where they are seeing interest on their money at a 0.01% rate. Both are very bad ideas. 
Some people are investing in silver, gold, cryptocurrency, stock market, or back into 401K retirement funds as well. I'm not here to argue and make this a sports betting investing vs stock investing, or sports betting vs investing in gold debate. That could be a whole different blog into itself. The point is you don't want to tie it up into deprecating assets or let it rot in a savings account. You want to invest it somewhere and I think the sports betting marketplace is a great place to invest.
As America begins to open back up slowly but surely sports will begin to resume and that means the sports betting marketplace will open back up. When Nascar resumed for Darlington on May 17 according to @DavidPurdum of ESPN Chalk he stated on Twitter that PointsBet Sportsbook reported "more money on the Darlington NASCAR race on than the typical Daytona 500."
That shows Americans are itching to get their money back into the sports betting marketplace. I spoke with a local sports bookie based in NYC and he told me betting handle on UFC was alot more than he'd get on an average MLB card this time of year. 
I'm not saying sports betting is a get rich quick scheme and going to make you rich overnight. It's a good starting point to investing money and will give you a whole lot better return than the new motorcycleor that dreaded Savings account. I feel it's a great place to put your money in your investment portfolio as an income stream along with any of the other income streams listed above.
Check out one of my past Youtube videos on why I think sports betting is a good income stream.