Thursday NBA Game 3 Previews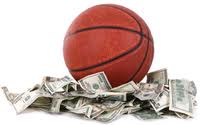 One thing over the years I have focused on is how the lines switched from Game 2 to Game 3 during the NBA Playoffs. Normally under regular conditions during a NBA playoff series we will see oddsmakers make an 8 point swing from Game 2 to Game 3 as venues change. Anything over or above the normal 8 point swing is where you can find some serious value as oddsmakers either over or under adjust that number due to a variety of reasons. I'll go through the Game 2 to Game 3 point spread fluctuations in every series. You can use these to gauge value as series switch venues in upcoming Game 5, Game 6, and Game 7 in all the series. You also can use this same technique in Game 2 to Game 3 of upcoming Rounds. Remember oddsmakers asses 3 to 4 points for home court advantage.
Heat vs Bucks
Game 2: +13.5
Game 3: +7.5
With the normal 8 point swing changing venues from Game 2 in Miami to Game 3 in Milwaukee the line should have opened Bucks +5.5. There was two points of value laying on the table and sharps here in NYC have scooped up the 7.5 pretty quickly and now the number has moved down to 7. Sharps I've spoken with said you have a dog down 2-0 playing in front of what should be a pumped up home crowd and expect a max effort here from the Bucks. A couple of computer guys I spoke with think the line is short according to their models and think the Heat should be more of a -8 or -9 based on their computer power rating models. Do the Bucks hang around in Game 3 for a full 48 minutes and sneak out a cover? Or do the Heat put the pedal to the gas and try to wrap this series up as quickly as possible to get some rest.
Nets vs Bulls
Game 2: +4.5
Game 3: -3.5
With a normal 8 point swing changing venues from Game 2 in Brooklyn to Game 3 in Chicago the line should have opened Bulls -4.5 so this line might be a point short for arguments sake. Most the books in NYC haven't seen any sharp movement yet but from what I heard some offshore and Vegas shops have been bouncing back and forth between 3 and 4. The Bulls are banged up but if they play anything close to the way they did in Game 2 the Nets could be in trouble here. On the flip side the Nets are a pretty solid road team playing over .500 on the highway this season. Are the Nets a live road dog in this spot or are the Bulls capable of taking a 2-1 lead here?
Clippers vs Grizzlies
Game 2: +5
Game 3: -4
With a normal 8 point swing changing venues from Game 2 in LA to Game 3 in Memphis the line should have opened Memphis-3. Sharps have bet the Grizzlies up from -4 to -4.5 thinking the line actually opened short with a team down 2-0 playing for their season right now. The Grizzlies have a solid home court edge and that's what a local NYC bookie contact told me for the reasoning on opening this -4 plus factoring in them in pretty much a must win situation. If history has anything to say the Clippers have won both meetings in Memphis already this year. Is this a game where the Grizzlies put forth a max effort down 2-0 and sneak one out with the cover or does Lob City have something different to say about that?
I always said in order to win in this business sometimes you have to think like the guy on the side of the counter setting the lines. Trying to figure how and why are they setting the lines a certain way can help you gain an edge over the rest of the betting public. I've been using these tactics to destroy the books in the NBA Playoffs in my career. I've been been quiet in the playoffs 1-0 (100%) but tonight I just may see my own value in one of these games! in my last 9 NBA Playoffs releases. Get all my NBA Playoffs picks right here at the site at www.wecoverspreads.com/products or by calling me directly at the office at (757) 462-9030.