Super Bowl 50 NFL Smart Money Report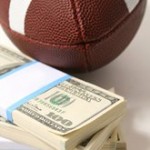 My weekly blog special the "Smart Money Report" Super Bowl Edition is here to help you guys out. Make sure to check here every Thursday during NFL season next year as I utilize all my sharps aka professional bettor contacts, Las Vegas Oddsmaker contacts, and NYC bookies to give you the info on what's happening behind the counter in the NFL betting marketplace with every game on the board.
I always preach to pay attention to opening numbers. If you want to win like as sharp you have to think like a sharp I always say. Remember sharps aka professional bettors bet early in the week into opening numbers to get themselves the best value possible.
Remember squares aka the general betting public usually wait to place their bets until gameday before kick off. So any early moves you see during the beginning of the week is sharp money.
It's important to realize that every early sharp move isn't them holding on to that position. Sometimes it's head fake money which is sharps moving a line in order to get a more favorable number on game day betting the other side.

Carolina vs Denver
My NYC contact told me during halftime of the Cardinals vs Panthers game he opened up the Panthers-2.5 vs the Broncos to see the markets response and he said sharp money was all over Carolina and he took it off the board. He then re-opened the line at 3.5 and was forced up to 5.5 with more Carolina money throughout the past two weeks. He opened this total up at 45.5 and saw some Under money from sharps push him down to 44.5 as we go to press. He said several of his really big money clients have yet to place a wager to make note of. In Vegas my Sin City Oddsmaker source tells me he opened this up at Carolina-4 and was pushed up as high as Carolina-6 earlier this week. He did say he saw some sharp buy back come in at 6 on the Broncos and it forced him back down to 5.5 on this game. He noted to me he took a 6 figure wager on the Broncos+6 which was what really forced the move. He tells me sharps are split on the Total at his shop. He opened at 45 and was bet up to 46.5 with Over money. He said later in the week things changed and sharp money started hitting him on the Under pushing him back down to 45. My NYC source tells me about 55% of his overall bets are on Carolina but almost 70% of the money is on Carolina because he took bigger bets on Carolina. In Vegas my West Coast guy tells me about 70% of his tickets are on Carolina and even with his biggest wager a six figure ticket on Denver he still has almost 70% of his money on Carolina. Both guys tell me things can definitely change throughout the weekend but as of now they both said the best scenario would be a Denver cover but not a a straight up win.
Sometimes I agree with these early moves and sometimes I don't. One thing I can say in my opinion has been a strong one. Over the last 5 years I've won 61% of my L/269 NFL bets and I'm currently at 63% winners +36.9* profit in NFL YTD! It's good to have a guy like me and the rest of the handicappers here at We Cover Spreads by your side com Sunday. Mikey Connoly is at 15.4* Profit. Get our NFL Divisional Round Playoff bets as we look to exploit the marketplace this weekend.You can pick up my plays right here on the site.