Staying the Course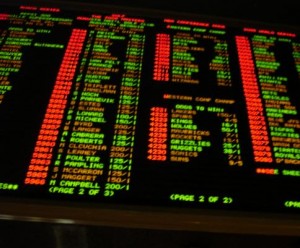 This is a subject or a theory that we must all remind ourselves after a few tough losses. Of course we would like to win every time we lay our hard earned money down on a game but guess what, that doesn't happen. When that dark cloud comes over you, hopefully this will help you pull through.
This past Sunday I lost 3 games in a row.  Now usually Sundays have been great for all of us but these first 3 games of the day were rough my guys and I. We lost with the panthers by a 1/2 point, Aaron Rodgers looked like RG3, and Redskins, well that was just a bad call on my part. All three of these games had elements to them that fit within my strategies that I use to win games. The same strategies that have kept me profitable all season. Not Sunday though. As I watched the last game end with my third loss I had two decisions. Change my strategy after some bad beats, or stick to my guns. It's hard to rationalize to do the exact same thing you just did after it just costed you a few mortgage payments all in about 3 hours.
But that's exactly what I did. I stuck with what has worked for me over a large body of work. I researched and found my next game. NY Jets. I know, a "bounce back" game with the Jets?  It didn't matter to me it only mattered if the game fit what I was looking for. It did and we cashed. Then found a NBA game that was laying too many points, a small college game where there is plenty of value in wagering on the small conference college games, the Saints on Monday night, and we were right back rolling. Since that terrible Sunday early afternoon I have won 9 of my last 10 games. Including the Grizzlies snapping the Warriors winning streak and the Suns snapping a 6 game loosing streak. Like I said it only matters if the games fit for me.
Most people give up right before they catch a break. Right before they knock out the giant they throw in the towel. If you have found something that works for you in this crazy roller coaster business, stick with it. It will lose sometimes, but more times than not you will find yourself making some money. In this business it is not about who wins the most. It's about who's hand is the steadiest after a few really bad beats. My hand does not shake!
Happy holidays.
James Thomas