Sleeper MLB Pitchers to bet on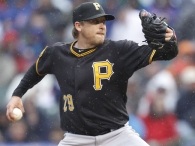 Sure there are times I like to step out and bet on the big name hurlers like Jered Weaver, Roy Halladay, etc. but I find that I make most of MLB living finding pitchers that the market is overlooking. These are guys that are pitching quality stuff but the betting marketplace has not caught up on yet. We continue to find these hurlers as cheap favorite and dog prices because the market simply overlooks them.
1.Kevin Correia- Pittsburgh Pirates
5-2
2.91 ERA
21/11 K/BB
Right now it seems as if Kevin Correia is seriously an under the radar type of guy to go with after making the move from the Padres to the Pirates in the offseason. He is definitely still undervalued right now by oddsmakers being priced as a +178 and +120 dog in his last two starts at Colorado and San Diego. He has lost all three home starts at PNC Park this year but he has delivered a perfect five quality outings in all his road starts since joining Pittsburgh. He's won 3 starts as a pricey dog in the +160 to +180 range this season.
2. Zachary Britton- Baltimore Orioles
5-1
2.63
20/15 K/BB
This young southpaw has debuted his rookie season is great form with some stellar stuff. He's definitely under most bettors radars right now and I think you can find key value backing Britton this year until the public catches up. This is a kid that was expected to start the season in AAA-Norfolk. He is 4-0 as an underdog this year winning all starts in the +105 to +120 range. He is a sinker pitcher that hitters have trouble hitting the long ball against which makes him a candidate to thrive well in Camden Yards. He is as safe of a bet you can find out there at a cheap price right now until the market catches up.
3. Jason Marquis-Washigton Nationals
3-1 W/L
3.66
26/7 K/BB
Marquis has started 2011 off very strong by pitching five quality starts in six outings after coming off of elbow surgery last year. He has only allowed two home runs this year with a solid 26/7 strike out to walk ratio. He has been priced as a dog in the +120 to +150 range in all six starts. The Nationals have won four of those six starts. Playing on a team like Washington and not being known for stellar stuff in his career Marquis is packing extreme value right now. I don't know if it's a fluke or he's for real but I'd definitely ride him until he starts to show signs of slowing down. The market is totally going to overlook Marquis in his next few starts, especially coming off of a rough outing vs. Philadelphia. We might be able to grab up some value with him.
4. Ian Kennedy-Arizona Diamondbacks
3-1 W/L
3.92 ERA
32/9 K/BB
For some reason I found myself betting on Ian Kennedy quite a bit last season. Part of it is me being from New York I was able track him quite a bit as he made his ranks through with the Yankees and know that he is a quality pitcher. I've noticed a lot of sharps aka professional bettors have been steaming the Diamondbacks when he pitches, so it quite obvious they like him too. By steaming I mean betting large amounts of money of him which of course in turn raises oddsmakers eyebrows forcing them to move the line. He has pitched a quality start in four of six outings this year with a solid 32/9 KK/BB ratio and 1.05 WHIP which you have to love. He has never been priced higher than -120 this year and is 4-0 as an underdog priced between +105 and +190. Plenty of value with Kennedy all season long and I'll continue to ride him.
5. Bud Norris-Houston Astros
2-1 W/L
3.03 ERA
43/12 K/BB
Bud Norris is red hot right now allowing just three earned runs in his last 25.2 innings of work. The funny thing is the market is still overlooking him and maybe it's because he plays on the Astros. He has won four straight starts priced in the -110 to +140 range. This 26 year old is a guy I have circled right now because I think the recent hot run is something that even oddsmakers are overlooking. At home he is sporting a sparkling 1.45 ERA in Minute Maid Park. His slider is one of the best in baseball and I will tout as definitely the most underrated slider in the MLB. His slider is on the same level as Josh Johnson's. Look to invest your cash in Bud Norris as an undervalued sleeper pitcher.
I make a nice hunk of my living betting on MLB all Summer long. Some sports bettors can hack it and others can't. It's all about finding value like I've pointed out with these five guys above. A lot of bettors don't have the time, experience, or the discipline to wait for key spots to exploit the books when the value pops up.Of course having the sharp and Oddsmaker contacts that I have helps a great deal as well. If you've been struggling to turn a profit on the bases so far this year or in the past look no further because I've been giving the books a great deal of trouble in MLB this year. You can get on board with me in MLB with my daily, monthly, and seasonal MLB packages right here on the site or by calling me directly at the office at (757)-462-9030