Round 2 NBA Playoffs Preview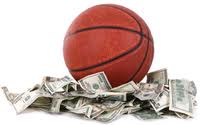 As many of you know who have read my past blogs and follow me on Twitter you know I get a lot of my key info from my oddsmaker contact source in Las Vegas that helps keep me up to date on what is going on behind the counter. In this blog I've decided to bring him back for another interview segment focusing on his thoughts of the second round of the NBA Playoffs.
Q. I got a lot of emails asking when you were coming back to do a NBA Playoffs Round 2 interview so you're back by popular demand J.V.! I know you're busy so let's not waste anytime and get right through every series. First let's start with the Bulls vs Hawks, what is your thoughts on this series? Also what have sharps that you've spoken with feel about this series?
A: "I think Chicago has been getting too much respect and we saw that throughout the first round vs. Indiana. As we're doing this interview I'm watching Game 1 and Atlanta seems to have the X-factor off the bench with Jamal Crawford. The Bulls don't have the same depth off the bench but at the same time the Hawks don't have a star player like Derrick Rose to carry them through seven games so it kind of evens out. I think the Bulls win this series but it will not be easy. I can see Atlanta taking them seven games deep but overall I think the Bulls have personnel advantages they can use to exploit Atlanta and win this series. Here in Game 1 it seems like Joe Johnson is having a career night and if the Hawks want to win this series he'd have to play like this through the whole series but I don't see that happening. Sharps I've spoke with have lifted in Atlanta in their power ratings and lowered Chicago quite a bit after the Indiana series, so I'm expecting Atlanta money throughout the series from sharps."
Q. Okay good stuff. I agree with you here I think the Bulls do advance and it will not be easy. Just for the readers to know we are conducting this interview live during Game 1 right now and the Hawks are looking like the dominant team here as the fourth quarter is coming to a close. Next question let's go right into the Heat and Celtics series?
A: "Miami is team to beat in the East right now and I think their finally starting to live up to the pre-season hype we all expected. We opened Game 1 at -4.5 and I immediately took sharp money on Miami. I personally like Miami in this series and I think their going to give Boston a lot of trouble. They are getting old and I think we're witnessing the end of the San Antonio and Boston dynasties before our eyes. I said Boston would dominate New York in Round 1 and I think Miami dominates Boston in Round 2. Boston is the has been team of the East right now while Miami is the new blood of the East. The Celtics might sneak one or two games out but I like the Heat in 5 or 6 games. Sharps will choose their spots here I think and I don't expect them on Miami every single game like Game 1. We have two solid defensive teams so I'd expect the Totals guys to really try to exploit us on the Under but we'll do our best to protect ourselves from that."
Q: What about the Memphis and Oklahoma City series? Memphis took Game 1. Can they win this series? Who do you like and what are sharps thinking?
A: "Memphis isn't going to be scared to play Oklahoma City at all. They are going to take this series deep and it wouldn't shock me if they beat Oklahoma City in this series. I've taken a ton of sharp future bets on Oklahoma City to win the Western Conference, plenty of sharps have penned them in as their sleeper to win the West. Everyone thinks the Heat and Celtics will be the best series in the Second Round but I feel this will be the most competitive series. I think Memphis is capable of beating every team in the West and if I was to take a future shot I'd bet on Memphis as a long shot. If Randolph can post similar numbers to Durant every game the Grizzlies can definitely win this series. It should be a fun one and I know sharps really like both teams so I am waiting to see who they jump out on when betting the side as the series progresses. In Game one I took action on the Under but they didn't trigger either side."
Q. What about the Lakers and Dallas? What do you think about that series?
A: "Kobe Bryant only averaged 22 points per game in Round 1 and I wonder finally if his age and time in the league have started to catch up to him. I think those numbers improve in Round 2 because he should step it up and look like the Kobe we are used to seeing if his ankle holds up. Sharps all slept on Dallas and felt Portland would beat them in Round 1 and as you know I told you in a past interview that Dallas would win that series. Dallas should be competitive but if Kobe returns to form the Lakers should win this one. I think the Lakers sneak by but next round vs Oklahoma City or Memphis will be scary. I think both Oklahoma City and Memphis are capable to beat the Lakers. The West is a lot more wide open than anyone is realizing right now. Any of these four teams can win it. Durant would be the most dominant player in the Lakers and Thunder series because I think he's surpassed Kobe right now if we go by talent as the best player on the court. Big edge for Oklahoma City. I think Memphis maybe a little shell shocked in the big lights of Los Angeles and may have trouble adjusting really under the scope. That's the one team I think the Grizzlies could stumble against because of the intimidation factor. Like I said earlier they will not be scared to play Oklahoma City at all. I think Tony Allan could give Kobe a lot of trouble if the refs are fair with the calls and if Zach Randolph plays to the level he has been playing they could scare Los Angeles if they don't get too intimidated under the microscope. Lakers are the team to beat in the West but they sure didn't look like it in Round 1. Should be fun to see how they come out in the Dallas series. I expect sharps on Dallas and squares on the Lakers."
Round 2 is starting off and my Top 10 monitored and documented NBA season continues to roll as I keep lining my clients and my pockets with winners over the long haul of this NBA season. A lot of my info as I said comes directly from my oddsmaker contact on a daily basis which definitely has influence over the plays I give out. Sometimes we agree with sharps and sometimes we don't but overall we've been picking apart the books together all season long. You can get on board with me for Round 2 and beyond of the NBA playoffs right here at the site or by calling me directly at the office at (757) 462-9030