Overvalued MLB Pitchers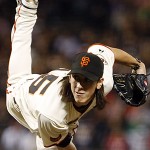 Today I'm going to shift my focus on 5 hurlers that the squares aka the general betting public are in love with besides the fact these guys are an investment that will clearly leave you in the red or will not make you a dime in a break even spot!
Squares aka the general betting public make a dumb mistake when betting baseball. They don't look for value, they look for the big name front of the rotation pitchers on the most successful teams and bet on them. They don't realize that the true value betting on baseball is backing the back of the rotation pitchers on the most successful teams because obviously the prices are cheaper and more valuable. You also want to focus on backing the front of the rotation starters on the least successful teams.
Sports betting is a marketplace after all, and the only way to make money in any kind of marketplace is with value. There is no value in the number backing an Ace starter on a marquee team. If anything you're paying a tax. The betting public never seems to catch on to this and they continue to make the same mistake over and over. Now you know why bettors think betting MLB is so difficult, but to be honest it's definitely not rocket science, they're just out touch with the importance of value.
Cliff Lee
0-2
2.66 ERA
40/5 K/BB ratio
His stats don't seem that bad at first glance, they actually are great. I'll be the first to say I think outside the 2008 season Cliff Lee is overpriced every time he is on the bump. A $100 bettor is down $676 betting Lee in every start this year. He's come over the National League where the quality of hitters takes a drop from all his years in the American League, outside of that one stellar season in 2008 he was an average pitcher in the Junior Circuit. Lee's command great right now and he has thrown 4 quality starts in 6 attempts. The big problem is he has fallen victim to lack of run support from the Phillies bats. I'd stay far away from laying chalk with Lee until you see a resurgence in the Phillies bats to give him some run support. When the playoffs come around I can't lie I love to have my cash on him.
Tim Lincecum
2-4
6.04 ERA
53/25 K/BB Ratio
A lot of my guys in my circle from spring training said stay far away from Lincecum this year. They couldn't be more right. His velocity on his fastball is at an all time low and his command is suffering. If his name wasn't Tim Lincecum he would have been installed as an underdog in his last few starts. Oddsmakers have opened him up as high as -160 favorite in the past week. We're not calling this a down year, guys in my circle pretty much think Lincecum is done. Stay far away from backing him or actually look to fade him from here on out. We sold our stock on Lincecum in March!
Adam Wainwright
2-5
5.77 ERA
40/16 K/BB ratio
He's back from Tommy John surgery and Wainwright isn't the same pitcher he used to be. Here is a guy who is being priced like it is 2010 or 2009. Here is another hurler who had two big seasons and who is clearly not at the same level he was in the those two seasons. The betting public hasn't caught on yet as they keep laying the juice with him. We've never seen Wainright priced under -130 as favorite this year which is crazy to me. He's even been as high as -180 earlier in the season. Here's a guy I'd stay far away from drinking the big juice on these baseball money lines. He's only produced two quality starts all year and isn't a guy I'd want my cash on.
Roy Halladay
4-3
3.22 ERA
50/12 K/BB Ratio
Another pitcher from the Phillies makes my list. Unfortunately Hallday has also become victim of the Phillies lack of offense. He's tossed a quality start in all but 1 start this season. One thing I have noticed is Halladay's ERA is still at the highest it's been in over 5 years. Halladay is no spring chicken, and has been a workhorse over the past 6 years throwing 200+ innings every season. We may start to see a slight regression from Halladay. Either way I'd stay away from laying hefty juice with him until the Phillies bats wake up.
Andy Pettitte
1-1
2.51 ERA
11.4 K/BB Ratio
This is more of a projection than anything else. Pettitte has only made two starts this year and has some pretty nice numbers. He was installed as a -205 and -160 favorite in both starts. He faced the Mariners, who are one of the weakest hitting teams in the AL, and he faced the Reds, who are a National League team that has a roster full of guys who were unfamiliar with his stuff. I'll call for the juice to start to catch up with Pettitte as the season goes on. He'll start to regress once he faces some of the more potent offense in the American League. Andy Pettite is fools gold right and I'd watch out backing him.
It's all about finding value and staying away from making the bad habit of investing your money in overvalued pitchers like I've pointed out with these five guys above. A lot of bettors don't have the time, experience, or the discipline to wait for key spots to exploit the books in MLB over the course of the long 162 game season .Of course having the sharp and Oddsmaker contacts that I have helps a great deal as well. If you've been struggling to turn a profit on the bases so far this year or in the past look no further because I've been giving the books a great deal of trouble in MLB this year night in and night out. You can get on board with me in MLB with my daily, monthly, and seasonal MLB packages right here on the site or by calling me directly at the office at (757)-462-9030