Overvalued MLB Pitchers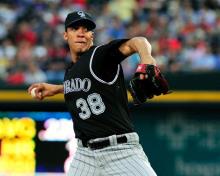 I did a my last blog about sleeper pitchers in the MLB that the betting public was not registering on their radar as a profitable investment. Today I'm going to shift my focus on 5 hurlers that the squares aka the general betting public are in love with besides the fact these guys are an investment that will clearly leave you in the red or will not make you a dime in a break even spot!
Squares aka the general betting public make a dumb mistake when betting baseball. They don't look for value, they look for the big name front of the rotation pitchers on the most successful teams and bet on them. They don't realize that the true value betting on baseball is backing the back of the rotation pitchers on the most successful teams because obviously the prices are cheaper and more valuable. You also want to focus on backing the front of the rotation starters on the least successful teams.
Sports betting is a marketplace after all, and the only way to make money in any kind of marketplace is with value. There is no value in the number backing an Ace starter on a marquee team. If anything you're paying a tax. The betting public never seems to catch on to this and they continue to make the same mistake over and over. Now you know why bettors think betting MLB is so difficult, but to be honest it's definitely not rocket science, they're just out touch with the importance of value.
Over Valued Pitchers
Ubaldo Jiminez- Rockies
0-3 W/L
6.67 ERA
30/22 K/BB
The "what you did for me yesterday mentality as I like to call it." It's a syndrome that squares seem to live by when betting. They let their memory effect their handicapping too much. They remember Ubaldo Jiminez and his 19 wins and 2.88 ERA from last year effect their decision to bet on him this year. Very similiar to last year how bettors let Felix Hernandez drive them into the red after a money making 2009 campaign. Ubaldo has pitched only one quality start in six starts this season but yet the betting public is letting his success from 2010 influence their bets. His 30/22 strike out to walk ratio is a big difference from his 214/99 strike to walk ratio from last year. Obviously whether it's health or something else, his control is off. He has been installed as a favorite of -200, -145, and -185 twice. Those aren't the type of money lines you want to see in a pitcher with numbers like Jiminez. Stay far away from wasting your money betting on him. If anything the Over has cashed in all six starts of his this year and is definitely worth a look until he gets back on track
John Lackey- Red Sox
2-5 W/L
8.01 ERA
19/18 K/BB
John Lackey is a complete dud and I've been anti-John Lackey since he's come to Boston. I preached it all last year and we faded him quite a bit as my clients can attest too. He remains one of the most overvalued pitchers in MLB hands down. I know it's inevitable that he plays for Boston that he will be installed as a favorite quite a bit, so it's inevitable that I will fade him quite a bit! Look at the guys numbers though. I don't care who you pitch for there is no way he should be installed as a favorite of the prices he's listed at. His WHIP is 1.81, 19/18 K/BB ratio, and a horrendous 8.01 ERA. With those numbers he's been a favorite in five games this year and the betting public continues to back him. Mind you, a favorite priced at -130, -165, -180, -135, and -120. This guy is completely overvalued and I will continue to fade him just like I did last year when he finished the season in bottom 20 as far as least profitable hurlers in the American League.
Chris Carpenter- Cardinals
1-2 W/L
4.32 ERA
37/15 K/BB
Chris Carpenter is starting to get up there in years and continues to be priced like he was in '09. His body has taken a toll with injuries during his career and I feel he is completely overvalued this year. This is the where I think Carpenter really starts to see the decline in numbers as his body takes a beaten through the course of this long 162 game season this year. Sure he is still capable of throwing quality stuff but I noticed he's allowed 33 hits in his last 20 innings of work which is forcing him to throw more pitches per inning, which leads to more stress on his arm. We've never seen Chris Carpenter this hittable before in his illustrious career. His fastball is not effective as it used to be and that is clear as day. He's still a good pitcher but there is a heck of a tax on investing in him and I'm not one to pay it! Even at best if he strikes back into form you'll be around the break even point with Carpenter. Why waste your hard earned money on a pitcher you will not profit with?
Cliff Lee-Phillies
2/3 W/L
3.78 ERA
64/7 K/BB
Do I want to bet on Cliff Lee in big playoff games? Most likely. Do I want to tail him during the course of the regular season? No way. The prices are to steep and you aren't getting any value with him. The Phillies are 4-4 in his games this year and you'd be in the red to the tune of $1,700 if you were a dime bettor and played all his games. Now if you'd been investing in John Lannan who is a front of the rotation guy on the Nationals, who are 4-4 in his eight starts this year you'd be up over $2,000 profit. See where I'm getting at? There is absolutely no value laying crazy numbers with Cliff Lee. I'm not saying go out there and fade the guy because I admit he is a great pitcher. I'm just trying to teach you to get in a good habit of realizing there is no value betting on him with money lines he is assigned from oddsmakers. During the playoffs that is another story.
John Danks
0-6 W/L
4.60 ERA
40/16 K/BB
John Danks is having one of those unfortunate years when run support just isn't there for him. We see it happen every year, there is a pitcher in the league that isn't pitching that bad but his offense is just non-existent and the losses pile up. The Pale Hose have scored two or less runs in five of his eight starts. Right now he is being tossed around in trade rumors and I wouldn't continue to pass him up if he's dealt out of the Windy City. Until then I'm not looking to back him because as I've said certain pitchers just have those tough luck seasons where they don't get run support. Danks is pitching well enough to win but I think pitching on one of the most overvalued teams in the marketplace certainly doesn't help. Prices of -140, -135, and -160 are absurd. Danks and the White Sox should be underdogs right now and there is no value wasting your money on him unless he gets shipped out of Chicago.
It's all about finding value and staying away from making the bad habit of investing your money in overvalued pitchers like I've pointed out with these five guys above. A lot of bettors don't have the time, experience, or the discipline to wait for key spots to exploit the books in MLB over the course of the long 162 game season .Of course having the sharp and Oddsmaker contacts that I have helps a great deal as well. If you've been struggling to turn a profit on the bases so far this year or in the past look no further because I've been giving the books a great deal of trouble in MLB this year. You can get on board with me in MLB with my daily, monthly, and seasonal MLB packages right here on the site or by calling me directly at the office at (757)-462-9030