Notre Dame vs Alabama BCS Title Smart Money Report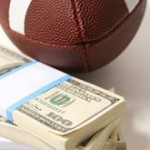 Alabama vs Notre Dame for the BCS Title is here. Sit back and read as I utilize my Las Vegas oddsmaker and NYC bookie contacts to give you the info on what's happening behind the counter in the Title game giving you the update on the early moves in the marketplace coast to coast through this morning.
I always preach to pay attention to opening numbers. If you want to win like as sharp you have to think like a sharp I always say. Remember sharps aka professional bettors bet early in the week into opening numbers to get themselves the best value possible.
Remember squares aka the general betting public usually wait to place their bets until gameday before kick off. So any early moves you see during the beginning of the week is sharp money.
It's important to realize that every early sharp move isn't them holding on to that position. Sometime it's head fake money which is sharps moving a line in order to get a more favorable number on game day betting the other side.
Notre Dame vs Alabama(-10, O/U 40.5)
Out on the Vegas strip my Vegas oddsmaker contact opened this up at -9 and was bet up to -9.5 with some Alabama cash early. He said he never went to 10 like other shops on the strip but even at 9.5 he is taking in Notre Dame money as well. He said with two very public teams he expects good action coming in on both sides. He thinks this line will generate both sharp and public money on both sides which is great for books in Vegas. As far as the total he said the sharps have hit the Under early driving this line down from the 42 opener to 40. Here in NYC according to my local bookie contact this opened at Alabama-7.5 and drove all the way up to Alabama-10 with some big time sharp money on Alabama. He said eventhough the ticket count maybe close to split with some sharp money on Notre Dame and public money on them too that the money count isn't split due to the very big wagers placed on Alabama early on when the line was under 10. He said they'll likely stay at 10 to entice some Notre Dame money to balance the cash out. He said the total opened at 42.5 and was bet down to 40.5 with a sharp move to the Under.
Sometimes I agree with these early sharp moves and sometimes I don't. One thing is for sure I have a strong opinion on these BCS Title games going 4-1 (80%) over the last 5 years in these BCS Title Games! I have a bunch of great info coming in from coast to coast on this game that you don't want o miss out on before betting it! You can pick up my BCS Title bet right here at the site or by calling me direct at (757) 462-9030.