NFL Wild Card Playoffs Smart Money Report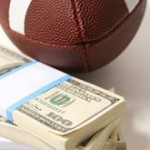 My weekly blog special the "Smart Money Report" Wild Card Playoffs edition is here to help you guys out. Make sure to check here every Thursday during NFL season as I utilize all my sharps aka professional bettor contacts, Las Vegas Oddsmaker contacts, and NYC bookies to give you the info on what's happening behind the counter in the NFL betting marketplace with every game on the board.
I always preach to pay attention to opening numbers. If you want to win like as sharp you have to think like a sharp I always say. Remember sharps aka professional bettors bet early in the week into opening numbers to get themselves the best value possible.
Remember squares aka the general betting public usually wait to place their bets until gameday before kick off. So any early moves you see during the beginning of the week is sharp money.
Cincinnati @ Houston (-3, O/U 38.5)
Out on the Vegas strip this opened with Houston laying 3 with a normal -110 vig but some early money did come on Houston forcing the adjustment on the vig up to -120 to bet Houston. It would take a lot of money according to my Vegas oddsmaker contact to move this off they key number of 3. No moves on the total to report. Here on the New York betting scene bookies anticipated early money on the dog so the Bengals opened at +3 with a -115 vig to bet them. The early money came in on Houston moving the Texans to -3 with an adjusted vig of -125 to bet them. The total has been bet up half a tick from 38 to 38.5.
Detroit @ New Orleans (-10.5, O/U 59)
My Vegas oddsmaker contact opened this up at 10.5 and hit 11 for a little bit before seeing some buy back and moving back down to 10.5. He said books opening the Saints this high has helped balance the action and keep the Saints out of the teaser window. The total opened at 59 and hit 59.5 before settling back at 59 before press time. Here on the local NYC scene this # has fluctuated between 11 and 10.5 all week. No movement on the total set at 58.5.
Atlanta @ NY Giants (-3, O/U 47.5)
Nothing at all to report from the desert on this game with the side or total. Here in New York books anticipate plenty of recreational bettor action on the Giants and sharps on the dog. They opened the Falcons at +3 -115 vig and it has been moved up to Falcons+3 -120 vig. It will take a good amount of cash to move this off of the key # of 3. Nothing early to report on the total.
Pittsburgh @ Denver (-9, O/U 33.5)
The Steelers opened -8 and have moved up to -8.5 out on the Vegas Strip. My Las Vegas oddsmaker source said he expects the Steelers money to flow in on game day out on the Vegas strip as the most popular recreational bet of the weekend. So if you like Pittsburgh bet them early. If you like Denver wait before kick off to get a better number. He reported the under saw a strong move getting bet down from 34.5 to 33.5. Books here in the NYC scene protected themselves keeping the Steelers out of the teaser window by opening them at -9. Strong move toward the under which was bet down from 35 to 33.5.
Sometimes I agree with these early moves and sometimes I don't. One thing I can say in my opinion has been a strong one this year in the NFL as one of the hottest NFL handicappers in America. I have a (57%) record this year! I was 8-3 (73%) in the Playoffs Last year. Dating back to last year in the playoffs, preseason, and this regular season I'm 61-38-2 (62%) winners my L/101 NFL bets! It's good to have a guy like me by your side in the playoffs as to help utilize my contacts to make us money on some diamonds in the rough. Hop on board with me this year as I look to exploit the marketplace with the help of my contacts. You can pick up my plays right here on the site or by calling me directly at the office at (757) 462-9030