NFL Week 3 Smart Money Report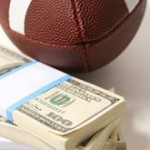 We're three weeks deep into the NFL season . my weekly blog special the "Smart Money Report" Week 3 edition is here to help you guys out. Make sure to check here every Thursday during NFL season as I utilize all my sharps aka professional bettor contacts, Las Vegas Oddsmaker contacts, and NYC bookies to give you the info on what's happening in the NFL betting marketplace with every game on the board.
I always preach to pay attention to opening numbers. If you want to win like as sharp you have to think like a sharp I always say. Remember sharps aka professional bettors bet early in the week into opening numbers to get themselves the best value possible. Remember squares aka the general betting public usually wait to place their bets until gameday before kick off. So any early moves you see during the beginning of the week is sharp money.
It's important to realize that every early sharp move isn't them holding on to that position. Sometime it's head fake money which is sharps moving a line in order to get a more favorable number on game day betting the other side.
San Francisco @ Cincinnati (-2.5, O/U 40.5)
Vegas oddsmaker contact opened this game up at -1.5 and has stayed put all week. Said due to close proximity to San Fran he's been taking more 49'ers tickets from their fans in Vegas and hasn't had to move this yet. My New York bookie source opened this at -1 and took sharp money on the Bengals and moved this up to -2.5 at press time. As you can see how a region can differentiate moves because of fanbase. The total has been quiet.
New England @ Buffalo (+9, O/U 53)
Vegas oddsmaker opened this at 9.5 and saw a little sharp support on Buffalo and has settled at 9. Here on the east coast the story is the same. It opened at 9.5 and was bet down to 9. Both coasts the Over is the popular sharp move. Old school sharps are starting to see this a different league than in the past with so much rules protecting offensive players. You'd automatically see sharp money come in on an under in the 50's in the NFL but guys are starting to change their philosophies. Some dogs don't learn new tricks and will probably bet this under anyway.
Houston @ New Orleans (-4, O/U 53)
My Vegas source opened at -4 and 52.5 and has stayed put all week as I go to press. Here in NY Houston is a popular bet by sharps according to several sources I spoke with. Most sharp underground books here in NY opened this up at Houston +4.5 and it's now down to +3.5 at press time. This total opened up at 51.5 in NY and is up to 53 now with the Over getting early love. Same total scenario as the game above us on the board. Sharps have to change their thinking.
NY Giants @ Philadelphia (-7, O/U 45)
My Vegas oddsmaker is one of the only guys in the industry with this game up. He opened at Philly -4 and as news reports come in of Vick being cleared to play this line has shop up to -7. Here in NY this line is off the board still as I write this blog. NY sharps in my circle said they'd lay the points with the Eagles here as long as it doesn't open above a touchdown.
Miami @ Cleveland (-2.5, O/U 41)
Vegas oddsmaker opened Dolphins+3 but currently has them +3(-120 vig) and said he'll try to keep it on the key number of 3 for as long as possible. He said the total has been quiet at 41. Here in NYC sharps have taken early position on Miami. My source here in NYC has Dolphins at +2.5 right now. Total quiet opened at 42.5 above key number of 42 and sharps bet it all the way down to 41.
Denver @ Tennessee (-6.5, O/U 42)
Vegas source opened this at -6 and saw some Titans support and moved it up a tick to -6.5 at press time. Here in NYC my source opened this at -5 last Sunday night and said sharp money flowed in on the favorite. It's currently at -7 here in NY. Total sits quietly at the key number of 42.
Detroit @ Minnesota (+3.5, O/U 45)
Vegas oddsmaker source opened this at Vikings+4 and took initial sharp money on the home dog and moved it down to +3.5. Sharps here in NY wasted no time and took the home dog as well. We're seeing 3.5 and 3's at all sharp NYC local books. Remember old school guys love divisional home dogs. Public is falling in love with Detroit and will be all over the Lions come game day. So it's a sharps vs squares event. Total sits quiet on the key # of 45.
Jacksonville @ Carolina (-3.5, O/U 43)
Big news in this game as Blaine Gabbert makes his first career start vs Cam Newton who is making his third career start. This is a game that squares likely will not get involved it since it involves two lower tier teams. Vegas oddsmaker said all is quiet from sharps on this game. Here in NY this game opened at -4 and Jaguars support came and it was bet down as low as -3. Books saw buyback on Carolina at -3 and we're currently settled at -3.5 in NY at press time. So sharps here in NY played the numbers game taking Jags at +4 and Panthers at -3. The over has been the popular move here in NY as we're up to 43.5 now in between key #'s of 42 and 45.
Kansas City @ San Diego (-14.5, O/U 44.5)
Chiefs have looked awful there first two games and now lose Jamal Charles so it can only go up from here? Vegas source said he's been quiet on this game so far. Sharps don't like laying over two touchdowns with a favorite in the NFL. Here in NY it's quiet as well. Sharps think alike no matter where they live. If they thought Chiefs had value at the double digit price they would've been like vultures and took the points. But they didn't and that tells me they have no interest in the Chiefs here nor the Chargers.
NY Jets @ Oakland (+3.5, O/U 41)
Vegas oddsmaker is dead quiet but said that will change by game day as squares from NY and Raiders fans due to close proximity to Vegas get involved with this game. Here in NY local books opened this at the key # of 4 and sharps took the points. The love did stop at +3.5 though. Usually sharps would keep digging at and take the field goal and hook but they didn't. A lot of NY guys I speak with expect public all over NY here locally and want to see if 4 pops back up and take the dog. Jets will be a very popular square bet across the country Sunday. Laying over a field goal with a NFL road favorite with what's likely to be 80%+ tickets on them? In the words of Lee Corso "Not so fast my friend."
Baltimore @ St.Louis (+3.5, O/U 40.5)
Vegas source opened this up at +4 and sharps took the home dog here at the key # of 4 but that's where the love stopped. Here in NY local bookie tells me this game is dead on his card. No sharps getting involved. Squares likely to be all over Ravens Sunday so I know books will be moving this number and hoping sharps get involved. Total is quiet.
Atlanta @ Tampa Bay (-2.5, O/U 45.5)
Vegas source has been quiet at Bucs-1.5 all week and hasn't moved it. Here in NY sharps took the Bucs and it's been bet up to -2.5 from the -1 opener. Slight support for the over which was bet up a tick from 45 to 45.5.
Arizona @ Seattle (+3.5, O/U 43)
Vegas oddsmaker source said he's been on the key # of 3 all week and will stay there as long as possible . The total has been bet up from 41 to 42.5 with support for the Over. Here in NY it opened at Arizona -2.5 and was quickly bet up across the key # of 3 to -3.5 with early sharp move on the Cards. Local book says it maybe head fake money. Old school guys may buy back on the home divisional dog on game day. Clear support for the Over though here in NY too.
Green Bay @ Chicago (+3, O/U 46)
Vegas source said he's quiet on the side so far at the key # of 3 but has taken some slight sharp movement on the Under. NY local told me he's been quiet at 3.5 all week and has taken slight movement toward the over. So here we have disparity between both coasts on this one with the total and opening number. Old school guys will likely see what they can get with the divisional home dog before kick off.
Pittsburgh @ Indianapolis (+10, O/U 39)
Colts a 10 point dog on a Sunday Night game! Who would've thought? Vegas shop told me he's been at 10.5 all week with no sharp involvement yet. Here in NY sharps took the 10.5 on the opener with the Colts and we're down to 10 at press time where the love stopped. Total has been quiet.
Washington @ Dallas (-5.5, O/U 45.5)
My Vegas source is one of the only books open on this game.He opened at Dallas -4 and took sharp money on Dallas up to -5.5 where the love stopped below the key # of 6. He told me another book in town opened this at -6 and has been quiet. The early Dallas move could be sharps taking a shot getting it below the key # of 6 acting fast knowing they can buy off their position before kick off and come back on Washington and shoot for a middle. NY this game is off the board at press time due to injuries.
I've been crushing the books in the NFL! It all started last year when I finished the season on a red hot 71% run. We finished the preseason Top 5, swept the board 3-0 last week with our premium bets, and we've hit 63% winners this regular season! it's good to have a guy like me by your side come Sunday to help utilize my contacts to make us money on some diamonds in the rough. Hop on board with me this Sunday and Monday night as I look to exploit the marketplace with the help of my contacts. You can pick up my plays right here on the site or by calling me directly at the office at (757) 462-9030.