NFL Thanksgiving Smart Money Report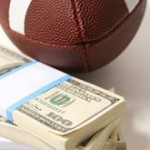 We have a Special Edition NFL Thanksgiving "Smart Money Report" to help you guys out. The rest of the card I'll finish in the Week 12 Edition on Friday. Make sure to check here every Thursday during NFL season as I utilize all my sharps aka professional bettor contacts, Las Vegas Oddsmaker contacts, and NYC bookies to give you the info on what's happening behind the counter in the NFL betting marketplace with every game on the board.
I always preach to pay attention to opening numbers. If you want to win like as sharp you have to think like a sharp I always say. Remember sharps aka professional bettors bet early in the week into opening numbers to get themselves the best value possible.
Remember squares aka the general betting public usually wait to place their bets until gameday before kick off. So any early moves you see during the beginning of the week is sharp money.
It's important to realize that every early sharp move isn't them holding on to that position. Sometime it's head fake money which is sharps moving a line in order to get a more favorable number on game day betting the other side.
Green Bay @ Detroit (+6.5, O/U 55.5)
My Vegas oddsmaker source said he opened this at 6.5 and was bet up to 7. At 7 he saw buy back on Detroit all the way down to 6 but has since settled at 6.5 with an influx of public money starting to come in on Green Bay. He said the chatter around the book from sharps is Detroit is a live dog to win this outright. He expects the public to come in heavy on Green Bay. The total was bet up from 55.5 to 56 at his shop. He expects it close around 57 on game day. Here in New York local shops this opened at 6.5 and sharp support came in on the dog moving this # down as low as 5.5 before settling at 6. The total has been bet up half a tick from 55 to 55.5.
Miami @ Dallas (-7, O/U 44)
My Las Vegas oddsmaker contact opened this at 8.5 and saw immediate sharp support for the dog moving this number down to the key # of 7. He opened the total at 45 and has been bet down a half of tick to 44.5. Here in New York books protected themselves from sharps early by opening this at the key # of 7. There has been no movement on the side and the total was bet down a half of tick from 44.5 to 44.
San Francisco @ Baltimore (-3. O/U 38.5)
My Vegas oddsmaker contact opened this at 5 where he felt it should open at according to his #'s. 5 is a dead number in between the key #'s of 6 and 4 so he was interested to see how sharps bet it early. He said he saw sharp support on the dog moving this down to 3.5 with adjusted -115 to bet the Niners. He said he expects the betting public to ride them until the wheels fall off but the early move doesn't support his numbers. The total has been quiet at 38.5 Here in New York my local bookie source opened this at 4 and has been bet down to 49'ers 3.5 with -115 adjusted vig. He said if sharp and public support continue for the 49'ers he'll probably adjust this to 3 by Thursday. He said he's seen sharp support on the Under betting down to 38.5 from the 39.5 opener.
Sometimes I agree with these early moves and sometimes I don't. One thing I can say in my opinion has been a strong one this year in the NFL as one of the hottest NFL handicappers in America. We're locked and loaded because I've bet all three of these games and sent them out to clients in my 5* NFL Turkey Day Insider Pass! We've won 5 straight NFL bets in a row and long term consistency with 60% winners all season! Hop on board right here for your Thanksgiving winners right here on the site or by calling me directly at the office at (757) 462-9030.