NCAA-FB Friday Night Lights Smart Money Report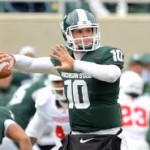 We have Friday Night lights in College Football tonight and I'm going to give you the Smart Money Report of how the market is betting the games tonight. I utilize all my sharps aka professional bettor contacts, Las Vegas Oddsmaker contacts, and NYC bookies to give you the info on what's happening behind the counter.
I always preach to pay attention to opening numbers. If you want to win like as sharp you have to think like a sharp I always say. Remember sharps aka professional bettors bet early in the week into opening numbers to get themselves the best value possible.
Remember squares aka the general betting public usually wait to place their bets until gameday before tip off. So any early moves you see during the beginning of the week is sharp money.
It's important to realize that every early sharp move isn't them holding on to that position. Sometime it's head fake money which is sharps moving a line in order to get a more favorable number on game day betting the other side.
Tennessee vs NC State (+3, O/U 51.5)
My Las Vegas oddsmaker contact opened this Tennessee-4 and was bet down to -3 with support coming on NC State at at +4 and +3.5. He said once the # hit +3 the love stopped. He opened the total at 52.5 and was bet down to 51 come press time with some sharp love on the Under. He said he expects about 50/50 action on this game through kick off and doesn't see the line coming off the key # of 3 unless some very big sharp money hits NC State @ +3 or Tennessee-3. Here in the NYC local underground scene my local contact told me they opened this Tennessee-4 and were bet down to NC State +3. He said many of the sharps he spoke with locally see these as basically a PK game and chose to take the points in what they see as two even teams on a neutral field. The total opened at 52.5 and they got hit with some Under money moving down 1 point to 51.5
Boise State @ Michigan State (-6.5, O/U 46.5)
My Vegas contact opened this Michigan State -7 and said the # has bounced back and forth between 7 and 6.5 all week. He personally feels Michigan State is about 10 points better than this Boise State team who is coming into this game with a lack of experience. But the market hasn't bet Michigan State through the key of # 7. He said there has been some resistance at 7. He said the opened the total at 45.5 and have been bet up to 46.5 with some early support for the over although he said he's not sure if it's true position and wouldn't be shocked if he saw some late Under money from pro bettors. Here on the local NYC scene the side opened at 7 and being moved down to 6.5. The total over here opened at 46 and hit as high as 47 before settling at 46.5 come press time.
Sometimes I agree with these early moves and sometimes I don't. It's good to have a guy like me by your side to help utilize my contacts to make us money during college football season and we didn't have 4 of our last 5 years in college football winning 58% or higher winners by accident. Hop on board with me this NCAA-FB weekend as I look to exploit the marketplace with the help of my contacts. You can pick up my plays right here on the site or by calling me directly at the office at (757) 462-9030