NCAA-FB 2016 Week 7 Smart Money Report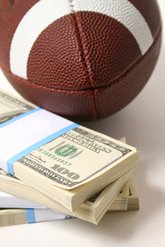 You guys love the NFL edition so much that in 2016 we are starting weekly blog special the "Smart Money Report" NCAA-FB edition to help you guys out. Make sure to check here every week during the NCAA-FB Season as I utilize my my NYC bookie sources to give you the info on what's happening behind the counter in the NCAA-FB betting marketplace with the most notable sharp moves early on in the week
I always preach to pay attention to opening numbers. If you want to win like as sharp you have to think like a sharp I always say. Remember sharps aka professional bettors bet early in the week into opening numbers to get themselves the best value possible.
Remember squares aka the general betting public usually wait to place their bets until gameday before kick off. So any early moves you see during the beginning of the week is sharp money.
It's important to realize that every early sharp move isn't them holding on to that position. Sometimes it's head fake money which is sharps moving a line in order to get a more favorable number on game day betting the other side.

Thursday
Appalachian State @ Louisiana Lafayette
My NYC bookie source tells me sharps came in on the home dog here moving him from +11 to +10. He did not at -10 he did see some buy back on Appalachian State but overall more sharp money on Louisiana Lafayette.

Friday
Duke @ Louisville
Two sharp action from my local NYC guy reported here. He said the early sharp money came in on Louisville driving them from -33 to -36. He said he saw sharp buy back from opposing sharps on the dog at +36 moving him back down to +34.5 as we go to press.
Saturday
West Virginia @ Texas Tech
Sharps bet West Virginia here flip flopping them from a +1 dog to a -1 favorite as we go to press.

Minnesota @ Maryland
All sharp money has come in on Maryland according to my local bookie source. He said he's up from -4 to -6.5 with no buy back in site just yet on Minnesota.
Georgia Southern @ Georgia Tech
Early sharp sentiment on Georgia Southern moving them from +11 to +10.

Pittsburgh @ Virginia
All sharp money on Virginia. My local guy is down to +3 with adjusted -115 juice on UVA from a +5 opener. He said he will likely be down to 2.5 shortly in hope to entice some Pitt money to balance him out a bit.
Eastern Michigan @ Ohio
Two sharp action on this one. My guy says he took Eastern Michigan money from +8 dropping him as low as 6.5. He did note at -6.5 he saw opposing sharp money come in on Ohio, which moved him back up to 7.
Western Kentucky @ Middle Tennessee State
Early sharp money has come in on the home favorite here moving Middle Tennessee State from PK to -2.5.
UNC @ Miami-FL
Early sharp support for the Canes here moving him off the key number of 7 on his opener and up to 8.
Wake Forest @ Florida State
Sharps have taken a piece of the dog here he noted, moving them from +22 to +21.
Nebraska @ Indiana
Big sharp money here on the home dog. He said Indiana has been pounded by sharps moving them from +6.5 to +3.5 as we go to press.
Bowling Green @ Toledo
It's been all Toledo money so far according to my local NYC guy. He says he's moved from -26 to -30.5 with no buy back yet on the dog. He said he expects the public on Toledo here as well and Bowling Green could be an under the radar side he needs come Saturday.
Ball State @ Buffalo
So far all Ball State money moving him from -9.5 to -10.5
Alabama @ Tennessee
My NYC local contact said initially he took a bet from a sharp guy he respects and moved this from +12 to +11.5 before opposing sharps came in all over Alabama forcing him to move this to 13.
Georgia State @ Troy
My NYC local contact said sharps hit Troy early moving him from -16 to -17. He said he expects the public if interested to lay the points here and Georgia State could be another under the radar side he needs on Saturday.
Central Michigan @ Northern Illinois
Two way sharp action on this one. He tells me sharps who like Central Michigan took them at -2.5 and sharps who like Northern Illinois took them at +3.5 and +3.
Kansas @ Baylor
He said he took a sharp bet on Baylor when he opened this from a guy he really respects moving this from -33.5 to -34.5 with no buy back from opposing sharps just yet.
Utah @ Oregon State
Big sharp move early this week on Oregon State he reported. They bet them down to +9.5 from a +12 opener.

New Mexico State @ Idaho
A little early sharp interest on Idaho moving them from -4 to -5.
UConn @ South Florida
Early sharp support for South Florida moving them from -17 to -19.5. He said he expects the public on South Florida too and will likely wind up needing UConn Saturday.
South Alabama @ Arkansas State
He tells me he took a sharp bet on South Alabama from a sharp guy he really respects at +6 and moved this down to +5 right away.
Southern Miss @ LSU
All LSU money coming in so far he says from sharps moving them from -24 to -25.5 as we go to press.
Ohio State @ Wisconsin
Sharp money coming in on the home dog here. He said he's down to +10 from a +11 opener.
Colorado State @ Boise State
He's reporting two way sharp action here. He said sharps who took Boise, took them at -28.5 to -30.5 and opposing sharps took Colorado State +31.
Nevada @ San Jose State
A little sharp support on San Jose State moving them from -1 to -2.
UNLV @ Hawaii
All Hawaii money coming in heavy so far moving them from -4.5 to -8.5 with no buy back in site yet for UNLV. He said with this being the last game for the night he expects all Hawaii money from the public and he can end up really needing UNLV here if no sharps buy back on them form now until Saturday.
Sometimes I agree with these early moves and sometimes I don't. One thing I can say in my opinion has been a strong one with 6 of 8 winning NCAA-FB seasons in a row!! Hop on board with us this week in NCAA-FB as we look to exploit the marketplace. Join me right here on the site for my premium picks!