NCAA-FB 2016 Week 4 Smart Money Report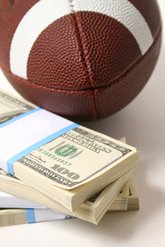 You guys love the NFL edition so much that in 2016 we are starting weekly blog special the "Smart Money Report" NCAA-FB edition to help you guys out. Make sure to check here every week during the NCAA-FB Season as I utilize my my NYC bookie sources to give you the info on what's happening behind the counter in the NCAA-FB betting marketplace with the most notable sharp moves early on in the week
I always preach to pay attention to opening numbers. If you want to win like as sharp you have to think like a sharp I always say. Remember sharps aka professional bettors bet early in the week into opening numbers to get themselves the best value possible.
Remember squares aka the general betting public usually wait to place their bets until gameday before kick off. So any early moves you see during the beginning of the week is sharp money.
It's important to realize that every early sharp move isn't them holding on to that position. Sometimes it's head fake money which is sharps moving a line in order to get a more favorable number on game day betting the other side.
Friday
Wyoming @ Eastern Michigan
My NYC guy tells me pretty good sharp interest on Eastern Michigan here, enough to blow right through the key number of 3. He almost this at 4 and is at 2.5 as we go live.
TCU @ SMU
Sharps are all over SMU here betting him down to 21 from a 24 opener.
USC @ Utah
He said sharps like Utah here and bet them in the -1 to -2.5 range. He noted once he went to 3 the love stopped. He's only seen some smaller buy back on the dog at +3. He said he expects the public heavy on Utah as well and likely will need USC if sharps don't come in bigger on USC by Friday.
Saturday
Nevada @ Purdue
Some early sharp interest on Purdue here moving him from -3 to -5 early in the week.
East Carolina @ Virginia Tech
He's telling me a little mixed sharps action here. He said some sharps bet Virginia tech from -10 to -11.5 and he saw some buy back on East Carolina at +12.
Syracuse @ UConn
Here's another one with mixed action. He said initially he took sharp action on Syracuse at +6 moving them all the way down to +4. He said at 4 he saw another group of sharps jump in on UConn and push him back up to 5, where he currently sits.
Florida @ Tennessee
He said sharps jumped in early on Florida betting him down to 7 from a 8.5 opener. He said he expects Florida to be a popular public dog this weekend and likely will be rooting for Tennessee here or moving this down to 6.5 shortly to entice some opposing sharp money on Tennessee to help balance things out.
Mississippi State @ UMass
He said he took a higher four figure wager from a guy he considers sharp on Miss State early in the week and moved from -23.5 to -24 before seeing opposing sharps jump in on UMass pushing this number all the way down to 22.5 as we go to press as he has more than double sharp money on UMass here.
Miami-OH @ Cincinatti
Sharps jumped early on the dog here betting my local bookie contact down to 17.5 from a 20.5 opener
Penn State @ Michigan
Sharps made a move early on Michigan betting up from -16 to -18.5 as we go to press.
BYU vs West Virginia
He told me he took sharp money on West Virginia here in the -5 to -6.5 range. Once he hit 7 he said the love on West Virginia stopped. He did see some buy back on BYU at +7 but nothing strong enough to move him off of the key number of 7.
Tulsa @ Fresno State
Sharps laid it early in the week with Tulsa here betting him from -12.5 up through the key number of 14 to -14.5. He said this one could be a lopsided game for him because he expects the public involved on Tulsa too. He said he could end up needing Fresno State if he doesn't get any sharp buy back on the dog.
Army @ Buffalo
Army has looked strong ATS up to this point but sharps took the dog here betting Buffalo down to 14 from a 15.5 opener.
New Mexico State @ Troy
He said this game here the sharps jumped all over Troy betting him up to -20 from a -17.5 opener.
South Carolina @ Kentucky
He said some sharps were interested in Kentucky here and bet him up from -1 to -2.5 He said it wasn't a strong enough move for him to move this to 3 though. He also said this move was suspect to him and he thinks sharps might buy back on South Carolina at some point.
Oklahoma State @ Baylor
He said sharps were interested in the dog here betting OSU down to +7.5 from a +9.5 opener for him. He said he never offered a +10 here and some sharps did buy in right away on Oklahoma State. He said he expects the public also on Oklahoma State here and will likely be rooting for Baylor or hoping for some sharp buy back on the favorite.
Louisville @ Marshall
This is a sandwich spot for Louisville he said but so far a little sharp money came in on Louisville moving him up from -24.5 to -25.5, which he thought was a set up to move his line to get a better price for Marshall. He said he didn't move this game as high as offshore spots yet, he feels sharps maybe waiting for this climb as high as possible before showing a true position and coming in on the dog and he rather them take that position offshore than with him. He likes Marshall here personally.

Idaho @ UNLV
He said there was a little sharp interest on UNLV at -13.5 and -14 and moved up to -14.5 which did entice a little sharp buy back on Idaho but nothing to big to move him back down to 14.
California @ Arizona State
He said sharps took a strong position on Arizona State moving him right off of the key number of 3 up to -4 with no buy back in site yet on the dog. He said sharps must really like ASU because they laid both -3 and -3.5 here.
Sometimes I agree with these early moves and sometimes I don't. One thing I can say in my opinion has been a strong one with 6 of 8 winning NCAA-FB seasons in a row!! Hop on board with us this NCAA-FB Season as we look to exploit the marketplace. Join me right here on the site for my premium picks!