NCAA-FB 2016 Week 11 Smart Money Report
Bowling Green @ Akron
Sharp and public money on Ak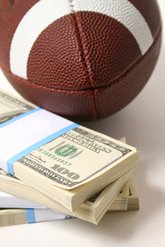 You guys love the NFL edition so much that in 2016 we are starting weekly blog special the "Smart Money Report" NCAA-FB edition to help you guys out. Make sure to check here every week during the NCAA-FB Season as I utilize my my NYC bookie sources to give you the info on what's happening behind the counter in the NCAA-FB betting marketplace with the most notable sharp moves early on in the week
I always preach to pay attention to opening numbers. If you want to win like as sharp you have to think like a sharp I always say. Remember sharps aka professional bettors bet early in the week into opening numbers to get themselves the best value possible.
Remember squares aka the general betting public usually wait to place their bets until gameday before kick off. So any early moves you see during the beginning of the week is sharp money.
It's important to realize that every early sharp move isn't them holding on to that position. Sometimes it's head fake money which is sharps moving a line in order to get a more favorable number on game day betting the other side.
Wednesday ron according to my NYC bookie source. He said he will likely end up needing Bowling Green here.

Thursday
North Carolina @ Duke
Nothing overwhelming but there is some sharp support coming in on Duke moving them from +12 to +10.5.

UL Lafayette @ Georgia Southern
Sharp money on Louisiana Lafayette. They've been bet from +10.5 down to +8 as we go live.
Saturday
SMU @ East Carolina
My NYC local bookie source says some sharp interest on SMU betting them from +8 to +7.

Cincinnati @ Central Florida
Sharp money on Central Florida betting them from -10.5 to -12.5 early on so far. My local guy said also public support on UCF and he is hoping some sharp money enters the market on Cincinatti at some point.
South Carolina @ Florida
He noted sharps came in pretty heavy on South Carolina here, betting them from +14 down to +11.5 so far.
Tulsa @ Navy
A little bit of sharp interest on Navy here betting them from +2.5 to +1.
Baylor @ Oklahoma
Some sharp interest on the Sooners here. They were bet up from -14.5 to -15.5 as we go to press.

Tennessee @ Kentucky
Some money coming in on Tennessee moving them from -12 to -13.
UTSA @ Louisiana Tech
Sharps took a piece of Louisiana Tech betting them from -20.5 to -22.

Wake Forest @ Louisville
Sharps have been laying big numbers on Louisville all year and the same story this weekend. Sharps bet Ville from -33 to -34.5
South Florida @ Memphis
Two way sharp action reported here in NYC on this one according to my local bookie source. He said sharps are Memphis from +4 down to +3. He did move to 2.5 where opposing sharps came in on South Florida.
USC @ Washington
Nothing too significant here but a little two way action to report. He tells me some sharps bet Washington -8 and -8.5 and others came in on USC at +9.
Michigan @ Iowa
Sharps bet Michigan here and that could spell trouble my local bookie source says. He expect heavy public interest on the Wolverines and likely he will need Iowa Saturday.

Colorado State @ Air Force
He tells me some sharp interest on Colorado State, betting them from -4.5 to -5.5.

San Diego State @ Nevada
Sharp and public acttion on San Diego State here and my local guy says in this late game he likely will be rooting for Nevada.
Sometimes I agree with these early moves and sometimes I don't. One thing I can say in my opinion has been a strong one with 6 of 8 winning NCAA-FB seasons in a row!! Hop on board with us this week in NCAA-FB as we look to exploit the marketplace. Join me right here on the site for my premium picks!