NBA Playoffs Round 1 Game 3 Previews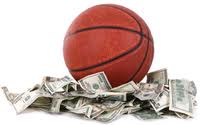 One thing over the years I have focused on is how the lines switched from Game 2 to Game 3 during the NBA Playoffs. Normally under regular conditions during a NBA playoff series we will see oddsmakers make an 8 point swing from Game 2 to Game 3 as venues change. Anything over or above the normal 8 point swing is where you can find some serious value as oddsmakers either over or under adjust that number due to a variety of reasons. I'll go through the Game 2 to Game 3 point spread fluctuations in every series. You can use these to gauge value as series switch venues in upcoming Game 5, Game 6, and Game 7 in all the series. You also can use this same technique in Game 2 to Game 3 of upcoming Rounds. Remember oddsmakers asses 3 to 4 points for home court advantage.
Indiana Pacers vs Orlando Magic
Game 2: Pacers-9
Game 3: Pacers-3.5
With the normal 8 point swing changing venues from Game 2 in Indiana to Game 3 in Orlando this line should have opened Pacers -1. It opened Pacers -3.5 which leaves 2.5 points of value on the table with the Magic. Orlando is without their superstar Dwight Howard right now and coming off of a double digit loss in Game 2. Maybe that's the reason for the adjustment on the number? Remember the betting public lets what they saw their last game affect their betting habits. They bet Indiana in Game 1 who lost outright. Game 2 the betting public was heavily on the Magic money line and pointspread who lost by double digits and failed to cover. They broke the betting publics heart and seeing such a short # as -1 maybe oddsmakers knew they would get extremely 1 sided action on Indiana. Remember oddsmakers jobs is to try create a pointspread that attracts 50/50 split action on both sides to ensure the house a profit. This line seems to be more of a protect the books type of thing from 1 sided action, and using the 8 point swing it's easy to see there is 2.5 points of value laying on the table with Orlando. Remember sharps aka professional bettors love betting dogs coming home in Game 3 of a series in front of a energized crowd and we'll see how this line moves over the next 24 hours if they back the Magic. Did Orlando just get lucky in Game 1 and bound to get run out of this series quickly relying on their long range shooters without Dwight? Or is Indiana simply overvalued in this series is what you need to ask yourself?
Miami Heat vs New York Knicks
Game 2: Heat-9.5 (opening #)
Game 3: Heat-5 (opening #)
With the normal 8 point swing changing venues from Game 2 in Miami to Game 3 in New York this line should have opened Miami-1.5. It opened Miami-5 and before you jump and say man there's some serious value with the Knicks here let me explain why it opened -5. Amare Stoudemire is out due to his injured hand and if you ask most oddsmakers they say Stoudemire is worth 3 points. Okay so let's say he is worth 3 points, that means we'll take away 3 points from the Knicks and make them +4.5. That is only a half of point off the normal 8 point swing. The reason this game didn't adjust a full 8 points is mainly because of the Stoudemire injury which is factored into the line so everything looks about right with no value either way from the 8 point swing standpoint. The Knicks are 0-2 or 0-1-1 ATS depending on how you shopped your #'s on the Knicks in Games 1 and Game 2. So it's unlikely to see the betting public back the Knicks now especially with Amare out. The Knicks did go 16-6 ATS without Amare this year in the line up to make note of. Is there too much turmoil in this lockerroom right now? I know some sharps whose knee jerk reaction is bet the home team down 0-2 in the series in Game 3 at home and took the Knicks here. This line did move down to 4.5 at press time at my local books from the +5 opener. I know other sharps who think the Knicks were overvalued coming into the playoffs and felt they should have been 10 or 11 point dogs in both of the games in Miami and think they get swept under the rug. It's your call, do you think the Knicks are being priced right in this series? Or do they bounce back Wednesday at the Garden in front of their home crowd?
Oklahoma City Thunder vs Dallas Mavericks
Game 2: Thunder-7 (opening #)
Game 3: Thunder+1.5 (opening #)
With the normal 8 point swing changing venues from Game 2 in Oklahoma City to Game 3 in Dallas this line should have opened Thunder +1. It opened Thunder +1.5 which is basically spot on and no value either way. Or is there value? Like I said before sharps love betting the home team down 0-2 in Game 3 in their first game at home. It's a knee jerk reaction type of thing for them because as history goes it has made them money over the years. Sharps hit Dallas hard and it moved from the -1.5 opener up to -3 at press time. Now at the current # of Thunder +3 it seems overadjusted using the 8 point swing theory because you now have 1.5 points of value sitting on the table with the Thunder. If you look at it both games 1 and 2 were decided by 3 points and 1 point. Okay so both games were one possession games and if you take Oklahoma City here after the move you are theoretically getting 1.5 points of value. Do you scoop up the value on the table now since both games already played down to the wire or do you think sharps made the right move siding with history and taking Dallas in the Game 3 down 0-2 role?
I always said in order to win in this business sometimes you have to think like the guy on the side of the counter setting the lines. Trying to figure how and why are they setting the lines a certain way can help you gain an edge over the rest of the betting public. I've been using these tactics to destroy the books in the NBA Playoffs in my career. Wednesday is my first 5* bet of the NBA Playoffs and I look to cash out! You can get my 5* play and the rest of my NBA Playoffs picks right here at the site or by calling me directly at the office at (757) 462-9030.