NBA Playoffs Friday Round 1 Game 3 Previews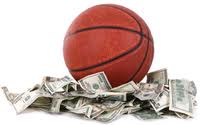 One thing over the years I have focused on is how the lines switched from Game 2 to Game 3 during the NBA Playoffs. Normally under regular conditions during a NBA playoff series we will see oddsmakers make an 8 point swing from Game 2 to Game 3 as venues change. Anything over or above the normal 8 point swing is where you can find some serious value as oddsmakers either over or under adjust that number due to a variety of reasons. I'll go through the Game 2 to Game 3 point spread fluctuations in every series. You can use these to gauge value as series switch venues in upcoming Game 5, Game 6, and Game 7 in all the series. You also can use this same technique in Game 2 to Game 3 of upcoming Rounds. Remember oddsmakers asses 3 to 4 points for home court advantage.

Atlanta vs Boston
Game 2: Atlanta-4 (opening #)
Game 3: Atlanta+7.5 (opening #)
With the normal 8 point swing from Game 2 in Atlanta to Game 3 in Boston should be Atlanta +4. But before you jump out of your seat screaming Atlanta is getting 3.5 points of value let me explain a couple of things that can get tricky. For one Boston in oddsmakers and the betting publics eyes still holds one of the biggest Home Court advantages in the league. Also remember that Josh Smith is unlikely to play in this game most oddsmakers will tell you he is worth 1.5 or 2 points. Also keep in mind Rondo was out in Game 2 which was the reason the Game 2 line was -4. Rondo is worth 1.5 or 2 points in most oddsmakers eyes. Game 3 Rondo is back in and Josh Smith of the Hawks is likely out. Game 1 when everyone was healthy Atlanta opened -2 in that game. If everyone was healthy here it would be likely that this game would have opened Atlanta+6. Factor in the +1.5 points that you have to take away for Josh Smith and you get the +7.5 that we saw when this opened. That +7.5 didn't stick around as the market reacted fast and moved this line up to 8 and even 8.5 at some shops. If you really look at it at +8.5 Atlanta is getting about 1 point of value. Or are they? You have to ask yourself is Boston's home court edge overadjusted into this line? Is Josh Smith really worth 1.5 points? It's all stuff you have to use into your handicapping Friday.
Chicago vs Philadelphia
Game 2: Bulls-6 (opening #)
Game 3: Bulls+2 (opening #)
With the normal 8 point swing from Game 2 in Chicago to Game 3 in Philadelphia the Bulls should be +2. Bingo, here is the first game we have seen far this year with an exact 8 point swing from Game 2 to Game 3 in the NBA playoffs. Some books the early money has moved Chicago to +1.5 with some early money coming on the Bulls as we come to press time. So all in all this game has no value just from the 8 point swing viewpoint. Looking deeper than the 8 point swing the Bulls did play rather good without Derrick Rose this season. Is this the typical bounce back spot for the Bulls off a loss after their first game without Rose in the playoffs? Or does Philly have Chicago have them where they want them 1-1 heading to play at home in front of a rowdy crowd on Friday night with a chance to take a series lead?
LA Lakers vs Denver Nuggets
Game 2: Lakers-5 (opening #)
Game 3: Lakers+4 (opening #)

With the normal 8 point swing from Game 2 in LA to Game 3 in Denver should be Lakers+3. So here you have 1 point of value sitting on the table with the Lakers. A lot of that extra one point is the fact that the Nuggets have one of the strongest home court advantages in the league due to the high altitude in Denver. The Lakers have Kobe Byrant and they are a public team from a big market so I'm sure books anticipate Lakers money on Friday regardless. It still didn't stop them from giving Denver about an extra point for home court advantage. Remember the Lakers are also team that is usually "Taxed" this time a year. So to bet on the Lakers you are usually paying 1 or even 2 points in some cases higher than what the line should be. Still Denver's home court edge trumps that. As a handicapper it's your job to ask yourself is Denver's home court edge worth the extra point here? From an ATS viewpoint Denver wasn't as strong at home as in years past. Or are the Lakers not being given the respect here and getting an extra point of value laying around?
I always said in order to win in this business sometimes you have to think like the guy on the side of the counter setting the lines. Trying to figure how and why are they setting the lines a certain way can help you gain an edge over the rest of the betting public. I've been using these tactics to destroy the books in the NBA Playoffs in my career. You can get the rest of my NBA Playoffs picks right here at the site or by calling me directly at the office at (757) 462-9030.