NBA Finals Preview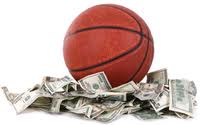 As many of you know who have read my past blogs and follow me on Twitter you know I get a lot of my key info from my oddsmaker contact source in Las Vegas that helps keep me up to date on what is going on behind the counter. In this blog I've decided to bring him back for another interview segment focusing on his thoughts of the NBA Finals.
Q:We have a very interesting Finals this year with the Dallas Mavericks and Miami Heat. How do you view it? What are sharps thinking?
A:" I can tell you there was a lot of sharps grumbling around the sportsbooks during the Conference Finals. Especially the hoard of guys who took losses tailing the Thunder. A lot of guys who bet at my shop had future bets on Oklahoma City to win the Western Conference and I can't tell you how relieved I am that Dallas won. I figured Dallas would beat the Thunder like I said the last time we spoke. Sharps have been anti-Dallas throughout the whole playoffs until now. They thought the Trailblazers would beat them, not many thought they would beat Los Angeles although I did take Mavs action on the side in that series a few times, and they all thought the Thunder would prevail. Now their starting to switch their view on Dallas.
Sharps like underdogs and have for years and there is no arguing about that. I'm seeing Series wagers coming in from wiseguys as we speak on Dallas+160. You hear sharps who still feel Lebron is overrated and will choke on the big stage, they feel Dallas has more depth off the bench, they feel the Dallas stars have the big game edge with previous Finals experience, they know Miami is the public team, they feel Dirk is on a mission to win his first title, basically they are trying to find any way to convince themselves why to bet on Dallas.
I'm not saying 100% of sharps will be coming in on Dallas because I am hearing some guys saying Miami is the better team up and down. When Miami lost Game 1 to Chicago I actually took some wiseguy action on Miami to win the Finals at a really good price for the guys who bet it. The really sharp guys know when and how to wait for value!
Dallas has been a money maker all year but sharps weren't really betting them aggressively to take advantage of the profits this team was earning. I think sharps downplayed how good Dallas really is.
I think Miami wins this series in 6 or 7 games. I think Dallas will cover a few spreads here and there. The problem for Dallas is Miami is just clicking at the right time. It seems destined to me, they took care of business against Boston and Chicago and I expect the same here against Dallas.
Take Dallas beating Miami twice this year with a grain of salt because both of those wins were well before the All-Star Break as Miami was still learning to play together. This Miami team is much different compared with how they were playing together in December.
Pick and choose wisely here because Dallas will definitely win a couple of games and I think there will be value in spots betting them against the spread but overall I think Miami is the better team and wins the series. I have them a couple of points better than Dallas in my personal power ratings. It should be a great series."
Sharps struggled overall during the Conference Finals but not me and my clients. The money continues to pour in as I dominate the books during the NBA Playoffs! My Top 10 Monitored and Documented season continues to flow in the profits! Utilizing my oddsmaker contact, my NY 2 Vegas wiseguy contacts, and all my hard work that I put in we're reaping big rewards. I'll have my own strong opinions and plenty of big releases during the Finals as I look to cap off an amazing season. You can get all of my plays during the Finals right here at the website or by calling me directly at the office at (757)-462-9030.