NBA Finals Heat vs Thunder Smart Money Report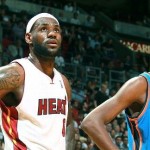 Make sure to check here before every game of the NBA Finals as I utilize all my sharps aka professional bettor contacts, Las Vegas Oddsmaker contacts, and NYC bookies to give you the info on what's happening behind the counter in the NBA betting marketplace throughout the Duration of the Finals.
I always preach to pay attention to opening numbers. If you want to win like as sharp you have to think like a sharp I always say. Remember sharps aka professional bettors bet early in the week into opening numbers to get themselves the best value possible.
Remember squares aka the general betting public usually wait to place their bets until gameday before tip off. So any early moves you see during the beginning of the week is sharp money.
It's important to realize that every early sharp move isn't them holding on to that position. Sometime it's head fake money which is sharps moving a line in order to get a more favorable number on game day betting the other side.
Miami Heat vs Oklahoma City Thunder(Series Odds Heat+150 & Thunder -170) (Game 1 -5, O/U 194)
Sharps acted quickly on the series price which opened -125 at most shops and was hit aggresively with sharp support for the Thunder driving this line as high as -170 at my local shops. That doesn't mean it's unanimous support for Oklahoma City because you definitely may see some late Miami money come in and take the Heat at the current dog price for the Series. But the overall support from sharps has definitely been they feel Oklahoma City is the better team.
As far as Game 1 goes my local NYC bookie contact saw the line open +4.5 with adjusted -115 vig to bet the Heat. It was quickly bet up to +5 with early support coming in for Oklahoma City. At -5 which is a key number in basketball the sharp support stopped for Oklahoma City. Currently you can bet the Heat at +5 with -115 adjusted vig. There are whispers in the sharp community that there are some pro bettors out there willing to take +5 with Miami and will wait and see what happens. The general betting public doesn't usually start wagering until game day so we'll have to wait to see who they prefer in Game 1 of this series. It's two public team but Miami is coming from the bigger market and we'll see how that effects bettors who usually prefer to back teams from bigger markets. But as big as Lebron James is in the betting community you better believe Kevin Durant's name is on his coattails as far as popularity. My local contact said the total opened up at 191.5 and was aggresively bet up to 194 with sharp support for the Over. He said this was most likely sharps trying to get down on the Over before the general betting public hops on it come day. Remember sharps are all about getting the best of the number. He also said that with the betting public expected to be on the Over it's very possible this line eclipses 195 on game day. If that's the case he expects many old school sharps who are "Under" bettors to come in before tip off and hit the Under. He also said guys who got down at 191.5 and 192 may come in and shoot for a middle at the closing number before tip off. If a guy can have 191.5 and 195 tickets in his pocket and the final score lands on 193 then he just cashed two winning tickets. That's how sharps bet and think!
Sometimes I agree with these early moves and sometimes I don't. One thing I can say I have my own strong opinion on Game 1 and my clients and I are locked in! It's good to have a guy like me by your side to help utilize my contacts to make us money during the Finals. Hop on board with me for Game 1 as I look to exploit the marketplace with the help of my contacts. You can pick up my plays right here on the site or by calling me directly at the office at (757) 462-9030