My View on the NCAA-FB AP Top 10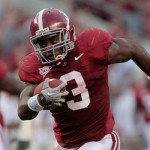 College football is here and the Coaches AP Top 25 is something I always choose to ignore and never factor into my handicapping. I think you should do the same. I use a set of power ratings that I personally devise by hand not computer to rank every team in college football. It's not unusual for my view on the Top 10 to vary slightly from the view of the AP Top 25 poll. Not to toot my own horn but I'm fairly good at this now picking apart mistakes the coaches poll made early in the season. I spend all summer long breaking down college football team by team.
1.Oklahoma
The Sooners are ranked #1 by pundits and everyone coming into the 2011 season. According to my power ratings I have them as the second best team in the land behind Alabama. If Oklahoma and Alabama were to square off on a neutral field to open the season I have Alabama as a one point favorite. Can Oklahoma win the title this year? Surely they have the talent and coach to do it. They have a couple of tough tests. Florida State  on the road September 17 is one of them. They have 2 weeks to prepare. Barring any key injuries from either team my numbers show Florida State as a 1.5 point favorite in that game given home field edge. Those two teams are serious contenders for the title this year and that game alone can shape the BCS Title picture. Oklahoma also better be careful with Texas A&M. I have the Aggies right on their heels this year if Mike Sherman can do a better coaching job.
2. Alabama
According to my power ratings this is the best team in college football this year. Does that mean I think they win the title? Not necessarily but they have a great shot. I think they have the best defense in the nation and we all know defense wins championships. They also have the best special teams unit which is always a X-factor. I think they finish the regular season undefeated and face South Carolina or Georgia in the SEC Championship game. Running games, offensive lines, and defenses are three things I look for in Champions and this team has the recipe down pat!
3. Oregon
They're not my third best team in the country but they're in my Top 5. The Ducks bring back a lot of key weapons on the offensive side of the ball from last years National Championship runner up team. They have plenty of talent but the work is cut out for them. They open up vs LSU in what should be a very good game. They travel to Stanford November 12 which could be a scare. The following week they play a very good USC team.  If they can overcome those tests they are a legit National Title contender. Never count out a Chip Kelly team!
4. LSU
Even before the suspension of QB Jordan Jefferson I was scratching my head at this one. Forget fourth best team in the country. My power ratings have them as the fourth best team in the SEC! This is a big mistake by the computers and pundits. LSU is a Top 20 caliber team without a doubt but they're heavily overrated by preseason rankings in my personal opinion. I don't see them beating Alabama on the road this year so I think they are a long shot at any realistic title hopes and will finish the season with a couple of losses with or without Jefferson.
5. Boise State
Chris Peteresen brings back a team loaded with talent this year and returns 14 starters from last years 12-1 team. No doubt we see Kellen Moore surpass Colt McCoy as the all-time winningest QB in NCAA-FB history. They have a tough test against Georgia in Atlanta to open the season. If they win that game I think they run the table and deserve a shot at the title game. They maybe a couple of notches below Oklahoma and Alabama but I think this team is that good where I feel they can not only compete but even beat any team on this list on any given day.
6. Florida State
Football is back in Tallahassee this year. This Seminoles team is the real deal and if they can beat Oklahoma at home they will have everybody's eye for that # 1 spot. They travel to Gainesville to close out the season which isn't going to be an easy task at all but I see them being quite a bit better than Florida this  year.  I think given their strength of schedule if they get past Oklahoma and Florida they have a shot at playing for the Title game this year. They're my third best team in the country according to my power ratings. Seminoles winning a title can very well happen.
7. Stanford
They have Andrew Luck who is the best QB in the nation and future # 1 draft choice in the NFL.  I think losing Jim Harbaugh hurts and trust me I feel David Shaw will be a fine coach here. Only thing is I think Stanford isn't a Top 10 team at all. Top 25 yes, Top 10 no way. Two of their toughest opponents Notre Dame and Oregon they face at home which is to their advantage. With only 11 starters back I just don't see them having a realistic Top 10 finish. They'll be a good team though but will lose 2 or 3 games.
8. Texas A&M
Complete sleeper here. Mike Sherman has all the tools and pieces any coach could ever ask for. This team is 100% legit and I'm telling you if Sherman can do a good job coaching this team the talent is there to beat any team on this list including Oklahoma and Bama. I've been preaching all offseason how good this Aggies team really is. I feel they're a legit team to win the title this year. The only question I have is their coach up for the task?
9. Oklahoma State
Offensively this team maybe the most dangerous team in the nation.  Actually I feel their defense improves this year as well. I know they only bring 5 starters back on that side of the ball but I think the Cowboys have enough talent defensively and will only benefit from an offense that can score at will. They're legit but they have a very tough schedule. I still feel they're slightly behind A&M and Oklahoma this year but should earn a BCS bowl berth.
10. Nebraska
Bo Pellini fields a great team this year and I think it's a toss up between them and Wisconsin to win the Big 10. I think they're a notch back from a title shot but could definitely be a long shot sleeper. Wouldn't surprise me a bit to see the Huskers finish in the Top 10 this season especially since the Ohio State scandal which gives them an easier road to win the Big 10. I can't wait to see what type of numbers  QB Taylor Martinez  puts up! Kid might be a future Heisman winner.
Who got snubbed? The following are a list of teams I think deserved a shot in no particular order.
Notre Dame
South Carolina
Arkansas
Wisconsin
USC
College Football is back boys and I'm so ready to go! I've never had a losing NCAA-FB season in my sports betting career and I look to dominate again this year! I'm 150-99 (60%) winners with 108* units of profit netted over the last four years in College Football! I'll have games going Thursday, Friday, Saturday, Sunday, Monday on the college football slate all weekend. I also have weekly, monthly, and season specials available right here at the site or by calling me directly at the office at (757) 462-9030