My favorite college football coaches to bet on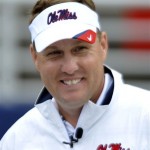 College Football is right around the corner and I have to admit I do have small group of coaches I really love to bet on and look for an angle week in and week out to make money with their teams. There are a few veterans in this group who have outperformed the Vegas number on a consistent basis in year in and year out making bettors money and a couple of up and coming coaches who have jumped on the scene under the radar making bettors money. See which coaches top my list of favorite coaches to bet on
Hugh Freeze-Ole Miss
Hugh Freeze is a guy with a small sample size with only two seasons as a head coach. In 2011 he went 10-3 against the spread as the head coach of Arkansas State and his first season as head coach of Ole Miss last season he matched the same record going 10-3 vs the Vegas number. At 20-6 (77%) that makes Freeze the most profitable coach to have your money on the past two seasons in College Football.
I think there still maybe some value with Freeze since Ole Miss isn't as "public" of SEC program as some of their conference foes. He just brought in one of the Top recruiting classes in the country and I'm calling for a bright future ahead of Freeze. I think this can be this generations Chris Petersen.
Books do a good job catching up to young rising coaches so who knows how long the party will last for bettors backing Freeze. Just think about how Chris Peterson beat books up for a couple of years and since books readjusted adding a premium to the number to bet on Boise State he's sub .500 when betting on him the past two seasons. Not many coaches as you see the size of this list can churn out a profit year in and year out but Freeze will present some nice opportunities to make cash with this season. They bring back 19 starters making them one of the most experienced teams in the conference on both sides of the ball. Freeze's sample size is small but it makes for interesting conversation to see how he performs vs the number this season.
James Franklin-Vanderbilt
James Franklin has taken over the coaching position in Nashville and the last two seasons he has delivered bettors a stellar 18-6 (75%) record against the pointspread. Back to back bowl games is something else fans in Vanderbilt should be proud of.
I see why the Commodores have done really well against the pointspread the past couple of seasons. They have good coaching, pretty good talent in the Nation's most competitive College Football Conference. With the recreational betting public looking to back the power house favorites in the SEC leaving teams like Vanderbilt value in the pointspread. Vandy has been a strong bet at home bet going 11-2 (85%) ATS at home under Franklin.
Keep in mind it's a small sample size but not a bad start at all for Franklin and his coaching staff. I really am impressed with the job they've done here since taking over.I think they can be a repeat success in this Conference just given the fact the betting public isn't enamored betting on a team like Vanderbilt. As long as they get steady QB play out of Wyoming transfer Austin Cara Samuels they will be okay.
They bring back their two top receivers from last year Jordan Matthews and Chris Boyd for him to utilize as weapons on the outside. They did lose top rusher Zac Stacy I really think Brian Kimbrow (413 yards, 3 TD 6.3 YPC) can fill the void. The defense brings back six of their top seven tacklers. Bettors maybe be able to pick their spots and make some nice cash with Vanderbilt this season.
Mike Gundy- Oklahoma State
Mike Gundy has done a great job at Oklahoma State since taking over in 2005 compiling a 56-38 (60%) record against the pointspread. Gundy hasn't been a profitable bet as an underdog but bettors who laid the chalk with him have very well going 38-16 (70%) against the spread as a favorite.
The Cowboys feature a high powered offensive attack that can put points up in a hurry which definitely is a nice cushion when laying points in college football knowing your team can run up the score.Gundy brings back talent all across the field and I really can see myself making a few wagers on the Cowboys this season. This is a team to keep on your radar and very dangerous to crack the Top 10 and do some damage.
A game to keep your eye on is against Oklahoma this year and it's a huge revenge spot for the Cowboys. They opened as a short -3 favorite at the Golden Nugget Goy lines over the Summer and we all know how Gundy has done in the Home favorite roll now add some revenge against a bitter in-state rival on top of that!
Bill Snyder- Kansas State
Bill Snyer is 30-18 (63%) winners against the pointspread since his tenure started in 2009 as the head coach of the Kansas State Wildcats.He's a rock solid 10-2 ATS as an away underdog since he started coaching here and 6-4 as a home underdog.
He was 3-3 prior to 2012 as a home favorite before going 6-1 in Manhattan last season. 2013 you may still see some value in Kansas State catching points but I wouldn't be in a hurry to back this team laying points.
They lose Collin Klein and the nucleus of a 11-2 team from last season. I just can't see KSU competing anywhere near the same level they did a season ago but depending on how JUCO transfer highly touted Jake Walters pans out at QB KSU can still make some noise under the radar. You never count a Bill Snyder team out!
Al Golden-Miami Hurricanes
Small sample size as a coach for the Hurricanes but in his first two seasons Al Golden has gone 15-6 (65%) against the point spread since moving down south from his job at Temple.Four out of his five years in Temple he turned bettors a profit so throw the small sample size out the window because Golden brings in money. Golden is definitely one of my favorite coaches to have my money on.
He is a great motivator and a good game manager in my opinion. Miami is such a "public" program but recent woes have taken them off of bettors radars for the most part of the last few seasons. They haven't put out a national title contending type of team in almost 10 years in my opinion.
Miami is bringing back a ton of talent and this is a dangerous team that will catch bettors attention at some point this season I believe which in turn might kill some value in betting on them. Maybe look to back them early in the season. Stephen Morris can really make a statement this season behind center.
Bronco Mendenhall-BYU
Mendenhall has produced 6 of 8 profitable seasons for bettors backing him since taking over the BYU job in 2005.If the Cougars can get some more reliable QB play than last season I think they can make some noise and Mendenhall can stuff bettors pockets with cash.
Mendenhall and BYU relied on a solid defense last season which only two opponents managed to score over 20 points on. I'd expect more of the same this year with the defense being the anchor of this team.Maybe going the Independent route has helped Mendenhall who is 17-9 (65%) against the point spread since leaving the Mountain West Conference.
Pete Lembo-Ball State
Pete Lembo is my under the radar sleeper of this group that not many have their eyes on. After a FCS past at Lehigh and Elon he joined Ball State. Small sample size so far from Lembo and this year books may catch up to him because I think this is his best team yet bringing back his QB Keith Wenning and all his top rushers and receivers from a team that made it to the Beef 'O' Brady Bowl a season ago.
Small sample size but he's 4-1 (80%) laying chalk as a home favorite and 7-2 ATS as an away dog. Last season they beat Indiana outright and also upset at the time Top 25 Toledo as a road dog. Don't think Toledo and Northern Illinois are locks to win the MAC West this year. Miami-OH is a legit team that can win this division. I know I'll be looking to pick my spots backing Lembo this season.

With Football right around the corner my 2013 NFL/NCAA-FB Early Bird Pass will be ready for purchase on the site Friday July 26th for a limited time for only $199! The college football market is something we've excelled in over the years with 4 of our last 6 College Football seasons producing 58%+ winners! Look out on Friday to hop on board for what should be a huge College Football season as I have top notch information at my disposal on Saturday's this upcoming season!