Most Common Baseball Betting Mistakes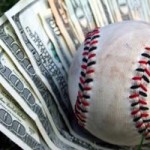 Baseball season is here! Maybe you haven't participated betting on baseball in the past because you heard it's hard to make money. I disagree because it's easy to turn a profit betting baseball. I'm going to help you by pointing out some of the common pitfalls that bettors make when investing in the MLB betting marketplace.
Experience is the key in life to success I feel. Learning from our mistakes is the easiest way to create a path to better ourselves in life. This concept applies to being successful in sports betting 100%. I've been investing in the MLB betting marketplace for quite sometimes and I can pass along to you some common mistakes that even I made when I first started out. If you start to avoid these common mistakes made by bettors to your daily handicapping regiment I guarantee you will be saving yourself a lot of money by not making bad bets. Besides that hopefully you will be starting to turn a profit. By the time you finish this article I promise you are starting to think like a sharp aka professional bettor.
1. Playing Favorites Over -150
I never play a favorite over -150. The juice will absolutely bury you in the long run of a baseball season if you start playing favorites over -150. You can win 58% of your bets laying over -150 and still finish in the red. Look at the Yankees in 2010. They won 58% of their games but a dime bettor would've been in the hole over five grand betting on them every single game. Always remember when betting baseball the juice is always in favor of the house and not you as a bettor. Laying over -150 you are setting yourself up for a recipe of disaster. I personally rarely venture over -125.
2. Handicapping Starting Pitching
Another common mistake I see so many bettors make is that they focus so much time on handicapping starting pitchers. In reality a starting pitcher nowadays only pitches six innings. It's not like it was when a lot of old school gamblers I talk with tell me how back in the day the starting pitcher tossing a complete game was the norm. You're wasting a lot of handicapping time on a pitcher that in reality is only going to be pitching 2/3 of the game. What about that last 1/3 of the game when the bullpen takes over?
3. Handicapping the Bullpen
This one is a run-on from above. You need to engage more of your homework on the bullpen. They are the ones who will be trying to seal the deal for the starting pitcher and most importantly your investment. The Rockies lead the league in blown saves. Take a close look at their record. Squares put a lot time handicapping the starting pitcher, but what hurts more than watching the closer give up a big rally in the ninth inning and you tear what was your potential winning ticket up? Pay more attention to bullpens!
4. Betting the Run Line wrong
Too many bettors focus on betting the Favorites -1.5 runs on the Run Line. I have some news for you guys that are betting like squares on the run line laying -1.5 runs. Run Line favorites have only won 40% of their bets this year as I bring this article to press. That's not a typo, 40% winners only when laying 1.5 runs on the Run Line. The Run Line was created for squares! Oddsmakers know that they are going to bet the favorite -1.5 runs thinking they are getting a bargain. Guess what?
You're not and you're giving the house most of the edge. You have to remember that even the best team in baseball will win only six of every 10 games. You'd be surprised how many of those games they won by only one run. When betting the Run Line look to start betting the dog +1.5 runs. An old sharp trick is to bet the Run Line dog when the total is 7 or lower if they are a large money line dog. A lot of those games end 3-2 or 2-1 and taking the 1.5 runs is a gift.
5. Totals
One major mistake is not betting totals at all. I've actually made the majority of my money this season betting totals! The betting limits at sports books on totals aren't lower than sides by mistake. Sharps and sportsbook managers will agree that the house is more vulnerable in totals. That is why you can't get as much money down on a total as you can a side. For more info on how sharps bet totals, I did a whole blog on the subject that you can check in my archives.
6. Not paying attention to value
One of the most important things I can preach about betting on any sport is the value in the number. It's really not team "A" or team "B" that makes the difference. It's the number that you paid for to bet on either team "A" or team "B". For instance after a horrid start most novice bettors started to write off the Minnesota Twins. Baseball is a game of streaks and many times teams go hot and cold. If the marketplace is undervaluing the streak, it's your job as handicapper to take advantage of that. You should have your own idea of what the "true" money line on the game should be. If you notice a discrepancy between your line and oddsmakers lines that is when you infiltrate that number.
7. Playing too many favorites/underdogs
If you notice above I said don't play a favorite over -150 ever. Another thing is don't play too many favorites. Like I said earlier even the best team in MLB is going to lose four out of every 10 games. I like to keep the juice I'm laying under -150 at all times. For the most part I like to keep it under -125 unless I really love a favorite in the -126 to -150 range, which is rare until playoff time. Another fallacy is you will make money if you bet every single underdog on the card. That's not the case at all.
Try to maintain a nice balance between short favorites and underdogs and you will be fine. A trick to playing favorites is when the playoffs are around the corner and a playoff bound team is playing a team that has nothing left to play for. You have to know the characteristics of the team that is out of the hunt first. Most times that team will give a subpar effort and you can cash out an underpriced favorite against a less motivated team. Sometimes the teams that have been eliminated are a group of young players who give a strong effort in hopes of picking up momentum heading into the next season. So pay close attention to which eliminated teams are bring their "A" game and who isn't.
8. Playing too many games
Each team plays 162 games and the season is very long. There is no need to play six or seven games per night on your card. It's a rarity in MLB season I'll play more than five games. I've been focusing mainly on totals but I'd never play three favorites in the same night. That's just too much juice on the line. A good balance to maintain would be one dog, one favorite, one total. Maybe two dogs and a favorite, or maybe a couple of totals and a favorite. I haven't even played 2 favorites in the same night all year. I can have a 1-1 night with two underdogs and pull a profit. A 1-1 night with two favorites I'm losing money. You see I like to balance it out and you should too. Try to maintain the quality out over quantity mantra. I'd say circle no more than five games every day for the course of the season.
9. Clouded judgement
Just like the teams that play baseball, MLB bettors are known to go on crazy streaks. Sometimes the streak is good and sometimes not so good. Proper money management during baseball season is critical. If you go on a hot streak maintain that level head and don't think you are invincible and start betting more than bankroll allows you to bet. At no time should you be wagering over 5% of your bankroll on any given game. Guys who go on losing streaks tend to stretch and reach for a winner. They usually just dig themselves in the hole more because their judgement is clouded by greed. If you hit a bad losing streak in MLB do yourself a favor and take a day or two off before wagering again. Emotions will be your worst enemy when betting baseball. During the course of the season your going to take a lot of bad breaks like a walk off homer in the ninth. You need to learn to harness your emotions and realize there is always tomorrow.
I hope this article helped you all out some way or another when betting this MLB season by breaking some bad habits. My clients and I have absolutely crushed the books in MLB last seasoneason!  If you need some help gaining an edge over your book in MLB during f this season I suggest you look no further. Summers are when a lot of sports bettors take off as they wait for football season. I disagree because I think there is some nice cash to be made during baseball season. You can get on board with me for all my premium plays daily weekly, monthly, and the complete second half of the season package here at the site or by calling me directly at the office (757)462-9030.