MLB Pitchers offering Betting Value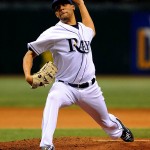 I'm focusing this blog on pitchers I think make strides to improve in the coming weeks of the season. These are pitchers I'd look to bet on in situations and also if all the stars align look to bet the Under in their starts. I'm using one of my favorite stats when handicapping baseball which is the BABIP (Batting Average Balls in Play) to back my theory here.
If you are unfamiliar with what Batting Average Balls In Play is I'll break it down for you because I think it's a very important tool when handicapping baseball. Always remember when handicapping a baseball game it's 75% pitching and only 25% hitting. I think bettors often put too much emphasis on hitting breaking down a baseball game. To calculate a pitchers BABIP you have to take his hits and subtract that from the home runs he allowed and divide that number by the at bats minus strike outs minus home runs + sacrifice flys the pitcher has allowed.
When I started this blog I looked for pitchers with BABIP numbers that are clearly higher than their career mark and still have other supporting numbers that shows to me they can make improvements. To me it means these pitchers just have been unlucky up to this point and I expect the law of average to come back to their favor. So these guys will make you money and also help Under bettors when betting totals in MLB.
David Price- Tampa Bay Devil Rays(.345 BABIP)
David Price has been a victim of bad luck and I'm calling for a big swing in this guys favor in the near future. The triceps injury scares me so definitely don't back him in his first start off the Disabled List. Matter of fact never back any pitcher in their first start off the DL. In the future if you can get Price under -150 I think you'll be getting a bargain deal. His .345 BABIP is a tell tale sign that he has been unlucky and I expect that and his ERA over 5.00 to both make a drop. As long as the triceps injury isn't doesn't linger I don't see any reason why his ERA doesn't dip below 4.00. His K/9 and BB/9 are on pace with his career averages. His fastball is down on average 2 MPH from last year and he's throwing an all-time low fastballs in his career. Something to monitor but keep an eye on his arm and look to make some cash with Price in coming months and also look at his Unders if totals start to get inflated.
Justin Verlander- Detroit Tigers (.358 BABIP)
Verlander is falling victim to one of the worst fielding teams in baseball. For the second consecutive season I'm noticing a trend of multiple Tigers hurlers with absurdly high BABIP. Sanchez and Fister join Verlander in the Top 15 of pitchers in the league who have the highest BABIP. He had a .278 BABIP last season vs .358 this year proving he has been unlucky. Digging deeper his K/9 are at an all time high. His FIP is 2.47 so looking at his 3.66 ERA my guess is we see Verlander at least drop into the low 3.00's in the coming months. Just keep in mind bad fielding could hamper this projection. I don't advise laying over -150 with Verlander but if his recent woes start to give us some valuable prices on the money line taking a shot with him isn't a bad idea because he is due to bounce back. The one thing that is alarming his fastball is at an all time low clocking in at 92.4 MPH on average. Something to keep our eyes on and does have wondering if there is an underlying injury issue that hasn't been disclosed yet.
Joe Blanton- LA Angels (.408 BABIP)
This is the most unlucky pitcher in baseball right now leading the league with a .408 BABIP. 0-7 record isn't hard to fathom after looking at those numbers. Look there is no way Blanton can continue to be this unlucky in the long haul. He has a career average BABIP of .305 which is rather high but it is reasonable to believe his BABIP will drop 50+ points in the coming months.I project his ERA to drop into the low 5.00's or high 4.00's by the time all is said and done. That 6.62 ERA sitting next to a 4.60 FIP is telling that the guy has been unlucky. Blanton has nowhere to go and that means get better. There will be plenty of value with him in the coming weeks so look to ride him if you can and also look at some unders when it comes to the inflated totals he'll be receiving.
Wade Davis- Kansas City Royals (.400 BABIP)
I really like Wade Davis right now and his .400 BABIP is through the roof. The guy has been unlucky and his career .290 BABIP is much higher than what we're seeing this season. I think we see that 5.91 ERA drop to at least the mid 4.00's sometime this season. The only thing I want to see improvement on his is BB/9 which about a walk higher than his career average right now. As long as he cuts back on the walks I think he can make strides to improve. I like that he added a cutter this season and he has a nice array of pitches to mix together. He put up his best numbers last year in Tampa coming out of the pen and I wouldn't be surprised if the Royals did move him to the pen at some point soon. But if he stays in the rotation look back him and also look to bet his games Under as he receives some inflated totals.
I hope you enjoyed this blog and much as I did putting it together. Now is the perfect time to hop on board for Memorial Weekend Blowout Special which runs through Memorial Day where you get all my NBA Plays through the Finals and all my baseball plays through the end of June for only $74.99! That is an offer you don't want to pass up because we did a bulk of our damage last season in MLB during June! Hop on board right here on the site or by calling me directly at the office at (757)-462-9030.