March Madness Betting Tips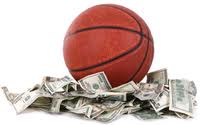 A lot of people are always asking me as a professional bettor what tactics I use when betting the NCAA Tournament. Betting the Tournament is a little different then picking teams in your brackets. There is a lot of different methods I like to utilize when looking for teams to invest in to cover point spreads in March. Below I'll give you 10 that have been very resourceful in the past to helping me slug my way through tournament earning a profit.
1.Point Guard
One of the first things I like to look at is who is the point guard for the team I'm betting on. You want to make sure you have a floor general that you can rely on. A couple of critical stats I want to look at is the point guards free throw percentage. I definitely want a kid that is shooting over 70% from the charity stripe. Preferably 75% or higher. This is critical because during the final minutes of the game the point guard is going to be the guy getting fouled most of the time, and if he can't connect from the line he can single handedly blow your cover. Another stat is assist to turnover ratio. I love to find a kid that has a 2:1 assist to turnover ratio. Sloppy play directly coming from the point guard can lead to major momentum switches in these games, so make sure your point guard is solid. Teams that win championships all have great point guard play.
2.Away Record
Since all these games are played on a neutral floor there is no more home court advantage. Sure some teams will be playing their games geographically closer to home and may have an edge in terms of fans in the crowd but nothing is comparable to playing on your home floor. Definitely when picking a team to win the whole thing I look for teams that have done a solid job on the highway during the season. I want to look for a team with a road record above .500. Even when just betting the early games I want to look at how a team performed on the road from both a straight up and against the spread perspective.
3. NBA Talent
When filling brackets out it's definitely helpful to find a team with a star with NBA talent. I mean we can talk about the havenot's like the Fab 5, but in general teams that win the title have a NBA caliber player leading their squad. When laying down my future bet on which team I think will win it all this definitely comes into play even more than an against the spread vantage point. So this tip can definitely be resourceful filling out your brackets.
4.Coaches Tournament History
Now I know college teams are different every year as players graduate, transfer, etc. But I like to get a good feel of how a particular coach is during March. So I simply look at his past tournament history against the point spread and straight up. Do his teams generally compete as an underdog and make runs deeper into the tournament under the betting marketplace radar? Has he pulled off a few upsets in his day? Are his teams usually overpriced and fail to cover big spreads in the opening rounds? Do his teams usually get bounced out in the first two rounds every year? Is he guy that never makes it past the Sweet 16? Does he have no coaching experience in the NCAA Tournament at all? These are all very important factors and it's very important to get acquainted on how the coach of your team has performed in the past. Some coaches are better motivators than others, and it gives their players a legit edge over a coach who has a team that fails to meet expectations in March, or even a coach who has never coached in the NCAA Tournament before.
5. Free Throw Shooting
This one is huge. I like to find teams that can hit free throws. This is very important throughout the whole tournament but becomes crucial in opening rounds when teams are laying hefty point spreads against smaller conference schools. If you are laying 16 points with a team that only shoots 66% free throws you better think twice. There is nothing worse than laying a chalk with a team that blows covering a spread for you because they have been missing free throws all night.Coaches love to foul in the closing 5 minutes of a game if they are down by double digits. If you can't hit free throws then you can kiss your ticket goodbye. Remember Memphis in the 2008 Championship game losing to Kansas outright as two point favorites because they couldn't hit free throws in the closing minutes of the game? Free throws are critical this time of year.
6.True Value
By true value I mean power ratings. Power ratings are numbers used by oddsmakers when setting the lines based on a whole seasons body of work, but there are times that the body of work maybe misrepresented and a team can be over or under valued. "Public" teams that squares aka the general betting public like to bet on such as Duke, UNC, Kansas, etc. will all be overvalued. So basically you pay a tax of an extra point or two from the oddsmaker because they know the betting public loves to bet on these marquee teams. So if a true line is Duke -14 you may see them open it up at Duke -16 because they know the general betting public is going to be all over Duke. Unless they really love the match up, sharps aka professional bettors will stay away from these team early in the first couple of rounds of the Tournament unless they really LOVE them.
A team that will be undervalued will be a team that was supposed to go deep but got knocked out early in their conference tournament. A lot of times this team will be rested and if they have the right coach, will be extremely motivated. They will be undervalued because the betting public watched them lose early in their conference tournament and will not have faith in them. The betting public is quick to fall out of love with a team that got knocked out early. Look at teams that overachieved in their conference tournament like UConn. They played five days in a row and won their conference Tournament. Every square in the world knows about this and you better believe they will be betting them in the Tournament. The funny thing is oddsmakers and sharps know a team like this will be overpriced exceeding their true market value. They also know this team may have used up all the gas in the tank a week ago to win their conference title. Now you have teams like Georgetown and Purdue who can be dangerous because they underachieved in their Conference Tournaments. These are two very good teams that are capable of doing damage and should be underpriced early on that you can catch good value with.
7.Momentum Heading into the Tournament
Forget all that body of work stuff that the NCAA committee always talks about when making their brackets. I like to look at how the team did during the last third of the season. If a team came on hot in late February and March then in my eyes they are heading into the Tournament with positive momentum and can do some damage. A team who made it in here because they were dominant in December may not be the same team in March. Maybe they started off the season red hot but ended up losing six of their last 10 games to close out the season. That's the type of team you have to wonder where their motivation is at. If you didn't show up to close out the end of the year on a positive note then you definitely will be more likely then not to be making an early exit back home.
8. Upperclassmen
This is key here too. Look at the Fab 5 or last year's Kentucky team. These teams were young and as talented as they come but where knocked off by veteran teams. See a lot of times younger teams treat this more as a vacation. They're 18 or 19 years old and have never experienced this before. Veteran teams treat this like a business trip. The younger teams don't have the hunger of a team full of seniors who would love nothing more than to close out their career with a NCAA title. A lot of times these young teams get bounced out by "Cinderella" teams because they came out like a deer in the headlights. If it doesn't catch up to them early on it most certainly does later on in the Tournament when they are pitted up against a talented veteran team that has already been to the NCAA Tournament before. So before betting do your homework and see how many players on the team you're investing in have actually played in the NCAA Tournament before.
9. Frontcourt
Rebounding is huge this time of year. A lot of times in the earlier rounds you can catch mismatches of a #1 seed that just physically overpowers a #16 seed in the paint. A lot of times these games will be blowouts. The smaller team simply can't compete for a full 40 minutes being out sized on the glass. If you can control the glass and get a critical offensive rebound, you set your team up with a new shot clock. That gives you another scoring opportunity. I love to find teams with talented and gritty frountcourts that work the glass hard. Also a team that doesn't give up much easy points in the paint because of a defensive shot blocker or two is a nice edge.
10. Defensive Stats
Throw the offensive stats out the window because too many square bettors focus on offensive stats. The most important stat I look at is a teams defensive field goal percentage. I like to find a team that is in the Top 50 in the nation in this category. I definitely like to look for teams that hold opponents to lower than 42% shooting from the floor. Defense wins championships and covers point spreads. It's that simple because teams that make key defensive stops are the teams that usually win titles.
As a professional bettor I have my own opinion on March Madness and use these tools as well as some others to bomb the books in March. Individual Passes are available for Chris Torrisi, Sonny D., and Mikey Connoly! Or you can get all their picks with the Super Pass option. Don't miss out on another HUGE March Madness and get their picks right here