LSU vs Alabama Betting Preview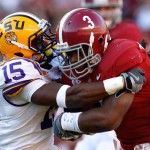 It's the game everybody is talking about. We have a game with National Title implications on the line. #1 LSU is traveling to#2 Alabama in what will be without a doubt the game bringing the most wagers to the window on Saturday evening. I'll break the stats, trends, and market down in this game from the viewpoint of myself as a professional bettor and my oddsmaker sources.
LSU @ Alabama (-4.5, O/U 42.5)
View from an oddsmaker.
So I reached out to my Vegas Oddsmaker source and consulted with a couple of NYC local bookies to get their take. Their opinion was unanimous because they all have Alabama as 1.5 points better than LSU in their power ratings. For those that don't know power ratings are the numbers that oddsmakers use to come up with the lines every week. But hold on let's dig a little deeper. Keep in mind Oddsmakers add 3 points to the home teams power rating number for home field edge.
My Vegas oddsmaker source said according to his power ratings and adding a 3 point home field advantage for Alabama he feels they should be a 4.5 point favorite. I spoke with a local bookie source here in NY who used to work for several big offshore books in the past as their NCAA-FB line consultant. He has Alabama 1.5 points better than LSU in his power ratings. He said throw the standard 3 points of home field out the window. He feels Alabama gets a 5 point home field edge and thinks the line should be Alabama-6.5. He felt offshores and Vegas books opening this at 4 was too short of a number and actually opened this up at 5 here local shops in NYC.
He said playing in Tuscaloosa is no easy task. Especially a team that is 25-1 straight up in their last 26 home games. He says he gives a team like Syracuse the standard 3 point home field edge and there is no way the Carrier Dome has the same home field edge as Bryant-Denny Stadium does for Alabama. I couldn't agree with him more because I give a team like Florida Atlantic a 1 point home field edge while giving a team like Boise State a 6 point home field edge.
Market Watch
This is very early in the week. Remember squares don't bet until the day of the game. So the early money moving these lines is indeed sharp aka professional bettor money. This is only Tuesday as I'm putting this blog up. So this is a very early birds eye view on what sharps are thinking for informational purposes only.
My Vegas Oddsmaker source opened this up at Alabama-4 and has seen early sharp $$ on Alabama adjusting this line up to Alabama-5. He opened the total up at 42 and was initially bet up to 43 with head fake money before taking sharp money on the Under at 43. The line has settled at 42 come press time. He told me expects sharps on Alabama at anything under the key # of 6. If this hits as high as 6 he said he may see some buy back on LSU. He expects the majority of square aka general betting public bets on Saturday on LSU. My local NYC bookie source opened this up at 5 and has taken early Alabama support from sharps and is up to 5.5 at press time. The total has been quiet at 43.
Statistical Match Up
A lot of guys like to compare both teams offenses and the defenses together. I like to compare one teams offense up against another teams defense and vice versa to look for any advantages.
Alabama Offense vs LSU Defense
Points/Game 39.4(#10) vs 12.7 (#3)
Total Yards/game 457.6 (#18) vs 273.7 (#6)
3rd down conversion 50.9% (#9) vs 35.7% (#38)
Red Zone Scoring 85.3% (#35) vs 35.7% (#28)
Yards/rush 5.8 (#4) vs 2.8 (#8)
Rushing Yards/game 229.2 (#11) vs 88.1 (#7)
Pass Yards/Game 228.4 (#62) vs 185.6 (#13)
Yards/Pass 8.0 (#22) vs 5.7 (#9)
LSU Offense vs Alabama Defense
Points/Game 37.9 (#13) vs 6.9 (#1)
Yards/Game 368.1 (#76) vs 180.5 (#1)
3rd down conversion % 42.86% (#47) vs26.45% (#1)
Red Zone Scoring % 96.88% (#3) vs 66.67% (#6)
Yards/Rush 4.4 (#49) vs 1.7 (#1)
Rush Yards/Game 194.3 (#22) vs 44.9 (#1)
Pass Yards/Game 173.9 (#99) vs 135.6 (#2)
Turnovers: Alabama+6 vs LSU +15
Sometimes I agree with sharps and sometimes I don't but I know I have my own strong opinion on this game Saturday. It's already bet and locked into my Saturday NCAA-FB card which is shaping up to our strongest card of the year in my opinion! If you want the winner of this classic match up jump on board right here at the site or by calling me directly at the office at (757) 462-9030 as I utilize my sharp, Vegas oddsmaker, and NYC bookie contacts for a huge weekend of profits.