Free Pick Baltimore Orioles vs Detroit Tigers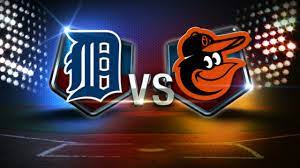 Professional bettor Chris Torrisi has a bet you don't want to miss when the Detroit Tigers play host to the Baltimore Orioles today.
At first glance you the Tigers have been rocking the last few days in Minnesota putting runs up in bunches, as we won an Over with them a couple of nights ago. The Orioles have a pretty shaky pitching staff so you'd think this should be another slugfest with the Tigers putting up a ton of runs for an easy Over here.
Alexander Wells get the start for Baltimore and he's only started one game with three appearances. Two of his appearances have been against Houston and Toronto, the two best offenses in baseball. His lone start was against Tampa Bay, besides giving up two home runs he actually pitched pretty good in that game. 16.4 pitcher per inning, 7/2 K/BB ratio. Wells is a southpaw, and the old saying goes no two lefties throw the same stuff. This Detroit line up will be unfamilair with his stuff and this is an advantage for the young 24 year old hurler.
The Orioles offense isn't that great, sitting in the bottom third of all offensive categories. Casey Mize has been decent for the Tigers and should give Baltimore some trouble who have never faced him before. He's got a 1.13 WHIP, .299 OBP, 85/28 K/BB ratio. He's made big improvments from a year ago for sure and the former #1 overall draft pick in 2018 is starting to live up to his potential.
I think this total of 10 is inflated due the past few days how the Tigers offense has been performing and even the Orioles offense showed some life this week.
Bet: 5*Orioles/Tigers Under 10 -115
Chris Torrisi continues his red hot run with a 70% start to the 2nd half of the MLB season and has netted 51* units of profit for bettors this season! Check out all of Chris's premium long term affordable packages right here and join him for long term winning investments as your advisor in the sports betting marketplace