Free Pick 7-8-21 Cincinnati Reds vs Milwaukee Brewers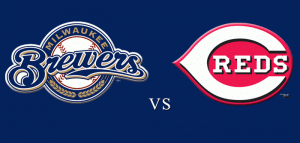 The Cincinnati Reds visit the Milwaukee Brewers in a NL Central battle tonight! Get the winning pick here to boost your bankroll
Tyler Mahle and Adrian Houser will be getting the nod for the Reds and Brewers respectively this evening.  Both pitchers are averaging 5.1 and 5.0 innings pitcher per start. I think both pitchers are pretty much even, maybe Mahle is slightly better statistically.
I look at Houser and eight of his last 10 opponents he's done well limiting to two runs or less per start. Mahle on the other hand has been regressing a bit with a 4.80 ERA allowing eight earned runs in his last three starts. This game will come down to the bullpens and I trust the Brewers bullpen in this spot vs the Reds.
Bettors will see Mahle has slightly better numbers on the year, the Reds being hot winning seven of their last eight games, and sweeping the Brewers in June when they visited Milwaukee. They'll think the Reds are the easy dog and I disagree and think the house got this one right setting Milwaukee as the favorite.
Milwaukee gets some revenge tonight and Housner wins his seventh straight start.
Bet: 5*Brewers-110
Check out all of Chris's premium long term affordable packages right here and join him for long term winning investments as your advisor in the sports betting marketplace!