Finding Value Betting College Basketball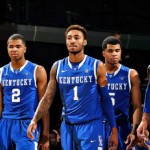 It's that time of year again with College Football over and only one big game left for the NFL where bettors start to shift their attention to College Basketball. Us pro bettors have been attacking the NCAA-BB market for several months now. Now that the betting public is starting to get involved with College Basketball that sets us pros in a good situation to still take advantage of the NCAA-BB marketplace and let me explain why.
Making money in college basketball is probably one of the easiest sports you can make money in when betting sports. We're talking 350 teams oddsmakers have to keep track of. On top of their job of setting NBA, NHL, NFL lines among other sports, setting lines on over 30 conferences of College Basketball screams value. Let's face the facts no matter how good an oddsmaker is or how efficient his computer model like the one computer model called"Midas" the Cantor Fitzgerald algorithm system they use to sets lines there will be mistakes both human and computer for us savvy bettors to take advantage of.
Books job is set a pointspread on a game to balance 50/50 action hopefully for their benefit on a game with Team "A" and Team "B" receive as close to equal money n each side to ensure the books a profit off the juice aka vig they charge us to take our bets. Our job as bettors attacking the marketplace is too find the mistakes or value in the number. We don't care about Team "A" and Team "B" since we don't bet on teams but bet on numbers as pro bettors. The number either has value or it doesn't. it's as simple as that when we are talking betting.
How do you find value this time of year? It's pretty simple philosophy I use. Don't spend much time on the big Conferences. This is where the betting public getting involved helps. Books know the public is going to start betting NCAA-BB now and they will focus mostly on the larger conferences creating plenty of value for us bettors in the small conferences. For instance last Saturday I had 5 NCAA-BB bets and not one game was televised or featured a team from a major BCS Conference. The casual bettor wants to bet on the TV games he can watch for the thrill. But thrills don' t pay the bills. To make clear sometimes there is value this time of year on those games don't get me wrong. Sometimes a line is skewed due to "public" interest and you can find value on those TV games but more often than not those lines are very tight and don't pique my interest. You need to focus on the market of smaller Colleges where the value truly is to bet in NCAA-BB.
If you live in Big 12 country spend your time focusing and capping smaller local Conferences like Big Sky and Mountain West. If you live in Big 10 country focus on the Horizon Conference and Mid-American. If you live in SEC country focus on the Sun Belt. If you live in Pac-12 spend time capping the Big West and Big Sky. If you live in ACC country spend time on the Colonial and Conference USA. I spend more time studying box scores from these smaller conferences everyday than I actually do watch any games.
The lines on these smaller conference games are set less efficiently and it creates ample opportunity for us sharp bettors to exploit them. In these smaller conferences I prefer to focus on looking for quality dogs. There is a parity between more of these smaller conference games and these from best and worst in the conference usually isn't that different and if you're sharp about it you can pinpoint errors by the oddsmakers fairly easily. I'm not saying I wouldn't bet favorites because I will if the number is off. Books hate us guys who bet these smaller conference games. Bookies were getting killed in these small conference totals (Over/Unders) several years ago and now the totals guys who used to make a living off betting totals have a much tougher job now that many of these games bookmakers refuse to post totals on because they know they have no edge on these small conference totals vs pro bettors. That shows you how much of an edge these smaller conference present.
College Basketball is streaky. If you're going to back an underdog in these smaller conference games look at several factors. Are they playing well the past 5-10 games? Have they been covering spread and competing or do they have a knack for getting blown out? I like to find dogs that offer some consistency that they don't get run out of the gym often. I like to focus on dogs that are playing well of late in their last five games or so. Maybe they are starting to gel and that can create a spark for a team who started the season slow to gain momentum heading into the postseason. If you're going to lay points find a team that does well when installed as a favorite vs the spread. Avoid laying points with teams that don't deserve to be laying points. For example last night my clients and I had a play on Pacific. The line was set too high and Portland who had lost five of their last six games had no reason to lay 8.5 points to a team like Pacific. If you see a team struggling of late and laying a big number don't lay points with that team "expecting" their bounce back. I try to avoid college teams in a rut and look the other way.
Set your own numbers on games. This is easier for you if you focus on one or two small local conferences. It's going to take trial and error but if you want to make money in this business you have to put in the work .Unless you do this for a living like me and the time we are talking 12+ hours daily updating my power ratings so I can set my own numbers everyday and try to find opportunities to find value. I'm focusing on almost every conference which is very time consuming but if you focus on just one or two conferences a day we are only talking maybe a hour a day out of your time to update your ratings. Of course if my number is off vs their number I dig deeper to see why and start to handicap the games using some of the methods I listed above and much more.
I've dominated the books this NCAA-BB season winning 65% of my wagers +5 using some of these methods listed above and much more. I am +62.8* this NCAA-BB and a $100/* bettor is up $6,280 profit this NCAA-BB season already! There are plenty of long term options here at the site to join me on this epic NCAA-BB season we are having right here on the site.