Final 4 Preview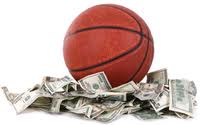 The Final 4 is here live from Houston and Butler is back in the equation after a being a shot away from upsetting Duke a year ago. VCU has crept in out of nowhere after many media pundits said they didn't even belong in the NCAA Tournament. UConn has won 9 straight games led by savvy point guard Kemba Walker who has been the most clutch player in the Big Dance. A young John Calipari led Kentucky team has made their move into Houston and is now set by oddsmakers as the favorite to win it all.
The storyline is great and the more people you talk to in this industry, the more you see everyone has their own opinion on these games. I'm going to breakdown every team here to give you a better idea of the strengths and weaknesses of them. We'll use my 10 Betting tips for the Tournament from my last blog to see the edges. Also I have an interview with my oddsmaker contact discussing the games.
Interview w/ LasVegas Oddsmaker
Q: Right now books have opened Kentucky as the favorite to win the title. If you were to make an argument for any of the other 3 teams to cut down the nets in Houston who would it be and why?
Oddsmaker: "Right now I can make a case for any of these teams to win it all. They've all proven they are worthy to be here without question. I respect each one of these teams and unlike in years past I think there is no clear cut and dry winner. We've all installed Kentucky as a favorite because there is no question they had the toughest journey here and computer models that generate lines show them to be slightly ahead of UConn. Gun to my head I'd say UConn has the strongest edge outside of Kentucky. Jim Calhoun and Kemba Walker is one tough player/coach combo that I don't think any of these teams can match. But to be honest it's really up in the air."
Q: The storyline of 2011 NCAA Tournament has been quite shocking with expect the unexpected with underdogs being the theme. Have sharps aka professional bettors started weighing their opinions by placing some early wagers on the side or total on the upcoming Saturday games? With public favorites like Duke, UNC, Ohio State, etc out of the picture is Kentucky the team you expect to write the most tickets on this weekend?
Oddsmaker: "Sharps have started moving some totals around so far but I haven't taken any steam on sides as of yet. They've bet the Kentucky/UConn game under the total slightlyand have bet the Butler/VCU over the total, but that can be all positioning to get better numbers before tip off if they buy back the other way. We got killed on totals early in the Tournament but I think we did a much better job opening the Final 4 Totals correctly.
From experiene if sharps don't come in on favorites early in the week to beat the betting public to the best number it gives me sentiment they like the dog. In both games they haven't jumped out on the favorite yet, so from past experience I'm thinking they come in on VCU and UConn but waiting to see what the public does with the numbers. As a rule of thumb you never know what to expect from sharp bettors so anything can happen at anytime. Whatever it is they aren't showing their hand. As far as writing the most tickets goes, the Kentucky game has been 50/50 which has us really comfortable with the current number. I'm seeing less volume on the VCU/Butler game but expect that to pick up heavily on gameday. For every five tickets we've taken on that game I'd say three have been on Butler"
Virginia Commonwealth
My power Rating: 82.85
My Oddsmaker Contact Power Rating: 85
1.Point Guard A-
Joey Rodriguez. The senior point guard is averaging 8.5 points per game and 6.3 assists per game in the tournament. He has a pristine 38/10 assist to turnover ratio which is amazing. The kid is clutch at the free throw line nailing over 80% on the year but is slightly down shooting 15-21 from the charity stripe (71.4%) in the Tournament. If VCU wants to pull off the unthinkable he needs to take care of business from the free throw line and keep playing like he has been. He's not an offensive machine but he is definitely a solid floor general with all the intangibles to lead a team to a championship.
2.Away Record B+
They are 17-8 playing away from Richmond this year and a solid 10-2 on neutral floors. I think it's pretty obvious playing on the highway doesn't effect this team.
3. NBA Talent D
Jamie Skeen is probably the only guy right now that has a legit shot at making a NBA roster on this team. He definitely has the size and I.Q. to play at the next level. As of right now pundits have him as a late second round pick depending on his play in the Final 4 and in pre draft private workouts. Most scouts are saying he can be a possible off the bench role player, and a career in Europe is likely if the NBA doesn't pan out. So there isn't much NBA talent here to work with.
4.Coaches Tournament History B+
I mean how can I not give Shaka Smart a good grade here even if he doesn't have any experience in the Tournament prior to this year? The guy had done the unthinkable and has a lot of big programs drooling at the possibility of snagging him. I think Shaka has proved to us all he can coach with the best of them.
5. Free Throw Shooting B-
They shoot 71.6% from the charity stripe on the year which isn't bad. The Tournament they've shot inconsistenly between 67%-85% in all of their games. VCU needs to nail their free throws in these big games because if they shoot under 70% vs a team like Butler it could be make or break for them heading home.
6.True Value A+
Throw out the power ratings on this team because they are playing lights out right now. Their true value is higher than any other team in this tournament right now. They play in a comparable conference to Butler. Actually according to many computer guys programs the CAA is slightly more competitive compared to the Horizon league. Their strength of schedule is about even to Butler. Butler is ranked #64 and VCU is ranked #69. So catching points to a team like Butler that they are very even with proves where their value is at right now.
7. Depth A
Brandon Rozell a senior guard off the bench provides a double digit scoring threat who can knock down the big three. They rotated in as many as 11 guys nightly so depth is a strength of this team, and tired legs should not be any problem down the stretch or Monday night if they earn a chance to cut down the nets.
8. Upperclassmen A+
Jamie Skeen, Ed Nixon, Joey Rodriguez, and Brandon Rozell are four seniors who have a great impact on this VCU program. These guys would love nothing more than to end their college careers as the greatest Cinderella story of all time.
9. Frontcourt D
This is what concerns me the most about this VCU team, the fact they have to beat you from the outside. They beat Purdue, Kansas, Florida State, and USC who all have had formidable inside threats in the paint. So I know they've overcome the odds but the fact is they are going to get outrebounded nightly against either of these three teams left. Jamie Skeen can't do it all by himself and that is a legitimate concern of mine.
10. Defensive Stats A+
I'm going to throw the stats out the window because they aren't overly impressive. This team just held the #1 FG % shooting team in the nation to 35% from the field. On the season they allowed an average of 44.4% shooting from the floor from opponents but only Purdue has shot higher than that mark against them in the Tournament. They've held everyone else below 40% which is very impressive.
Butler
My Power Rating: 84.15
My Oddsmaker Contact Power Rating: 87
1.Point Guard A
Shelvin Mack is playing on an amazing level right now. Plus I love the fact he has been on this stage last year, something none of these point guards can say. Offensively he has been brilliant scoring by averaging 21.3 points per game in the Tournament. My concern is his 13/10 assist to turnover ratio, which is a definite eyesore right now. He plays unselfish though which is something you have to love about him. He played very good in the Final 4 last year and I think his role is increased this year and fully expect him to step up to the plate.
2.Away Record B+
They are 15-8 playing away from home this year and a solid 8-1 on neutral floors. Butler doesn't have any problems winning games away from home and we saw the same moxie on the highway from them last year.
3. NBA Talent B-
Point guard Shelvin Mack is definitely a guy that NBA scouts are touting highly right now. They love his defensive play, size, shooting ability, leadership, and toughness. I don't think anyone can question if he can play at the next level. Aside from Mack there isn't anybody on this Butler team that has a realistic shot at cracking a NBA roster in my opinion.
4.Coaches Tournament History A+
Brad Stevens is a guy it's tough to go against! He is an amazing 9-1 against the spread the last two years in the big dance! I Can go on and on about how much respect I have for him and I think his experience here last year only benefits him big time. The A+ says it all.
5. Free Throw Shooting B-
They've struggled their last two games shooting 63% and 69% from the charity stripe when they average 72.5% on the year. If Butler wants to win this whole thing they are going to need to make the most of their trips to the charity stripe and that means shooting above their season average.
6.True Value B
In the first game against VCU at the current number of 2.5 I don't think there's any true value. Overall they've held true value through the whole tournament because everyone has overlooked them. At this point they're back on the radar. I think the value comes back possibly if they beat VCU and play a national powerhouse like Kentucky or UConn in the title game.
7. Depth B
It's a pretty solid 8 man rotation with Ronnie Nored, Zach Hahn, and Khyle Marshall coming off of the bench. Those three guys are solid role players you can count on but but overall is not an overwhelming bench.
8. Upperclassmen A+
It's a very experienced Butler team. Matt Howard, Shawn Vanzant, and Zach Hahn are three seniors. Plus you have Juniors like Shelvin Mack and Ronnie Nored who were key focal points as young players on last years team that played for the title.
9. Frontcourt B-
I love the heart I see from both Matt Howard and Andrew Smith but the depth of this unit is a definite concern for me. Freshman Kyle Marshall is the only guy off the bench providing any type of back up plan if either of these two get in foul trouble.
.
10. Defensive Stats B
Their defensive principles are definitely solid as we saw them showcase against Old Dominion and Wisconsin. Statistically it's not an overwhelming defensive unit if you look at their stats. But they seem to get the job done. They do guard the perimeter very good and that can benefit them against VCU but on the interior defense is a liability in my opinion.
Kentucky
My Power Rating: 91
My Oddmaker Contact Power Rating: 92
1.Point Guard A
Brandon Knight, when this kid is on he is as dangerous as any point guard in the nation. But when he is off it's a whole different story. Kentucky is going to need him big time to be more consistent if they want to win the title. He needs two solid games in a row if they want to cut down the nets. He is averaging 15.8 PPG in the Tournament which is a couple points lower than his season average. His 13 turnovers also is something he is going to have to cut back on. The 17:13 assist to turnover ratio isn't so hot. Kentucky's success relies heavily on how Knight performs in the spotlight this weekend.
2.Away Record B+
They are 14-8 away from home this season with a 10-1 neutral site record which definitely impresses me given the fact how young John Calipari squad is. I give him a lot of that credit there.
3. NBA Talent A+
Bradon Knight, Doron Lamb, Terrence Jones are all freshman who have what it takes to be stars at the next level as they mature. Yes this is a young group but they are loaded with future NBA talent.
4.Coaches Tournament History A+
John Calipari has won 70% of NCAA Tournament games in his lifetime which is a amazing stat. I don't think Coach Calipari gets the credit he deserves because so many say he is overrated. Only Rick Pitino can say he's taken three different schools to the Final 4.
5. Free Throw Shooting C+
They shoot 71.6 % on the year from the charity stripe but they've been pretty inconsistent from the line during the Tournament shooting as low as 55% against Princeton. Remember a Calipari led Memphis team that lost the title because they couldn't hit free throws in the Championship game? They need to be more consistent this weekend from the line.
6.True Value F
They're the favorite to win the championship so I don't think I have to explain that there is no value right now with them. It's pretty commonsense they are regarded highly in the marketplace right now as the favorite.
7. Depth C
The seven man rotation that Coach Calipari runs is definitely a liability. If guys get in foul trouble there isn't much to ask to come off the bench to fill a void. This is the teams biggest liability right now because they all need to stay out of foul trouble the next two games if they want to win this all.
8. Upperclassmen C+
Besides Juniors DeAndre Liggens and Darius Miller there are no key impact upperclassmen, and no impact seniors on this team. This is a very young team (but very talented) it' creates a red flag that there isn't one senior on the floor and the primary stars are all freshman.
9. Frontcourt A
Josh Harrelson and Terrance Jones make one heck of a duo downlow that is going to present problems for any team. I'd give them an A+ but the lack of depth if either guy gets in foul trouble is concerning and it could take a big advantage away for Kentucky if these games are called tight.
10. Defensive Stats A+
This team has the make up of everything you expect from a champion defensively, and as we all know defense wins championships. They hold opponents to just 39.3% shooting from the floor and 32.8% from beyond the arc. Just ask Ohio State how good defensively this team is!
UCONN
My Power Rating: 88.90
My Oddsmaker Contact Power Rating: 90
1.Point Guard A+
Kemba Walker! Enough said. Best player in the Tournament hands down. He is averaging 27 PPG in the Big Dance and has led this team to 9 straight victories. His 27 to 10 assist to turnover ratio also is very impressive. The kid can't only just score but he also makes those around him better.
2.Away Record A+
They are 17-5 away from home this season and a perfect 12-0 on neutral floors making them best team away from home left out of the four teams.
3. NBA Talent A+
Kemba Walker should be a lottery pick , so I feel out of all the teams left they have the player that will make the biggest impact in the upcoming draft. There is a lot of younger players on this team that are budding into definite future NBA prospects.
4.Coaches Tournament History A+
Jim Calhoun has won 70% of NCAA Tournament games just like Calipari. What he has under his belt that none of these other coaches can say is 2 National Titles. That puts Calhoun in a class of his own here.
5. Free Throw Shooting A
They shoot 76% from the charity stripe making them the best out of the group of 4. They've shot the most consistently from the free throw line during the tournament out of this group. I give them the leg up from the charity stripe over everyone.
6.True Value C-
They've won 9 straight so I don't think there is much "true" value with them as far as value goes because the whole world has paid attention to this amazing run the past few weeks. I think the best of the UConn value in the pointspread is definitely behind them.
7. Depth B
UConn runs an 8 man rotation with Roscoe Smith, Shabazz Napier, and Jamal Coombs-Mcdaniel all contributing solid efforts off of the bench. I was very impressed with Napier in the Arizona game because he stepped up big time.
8. Upperclassmen C+
All the impact players aside from Kemba Walker are very young so I think it's obvious they lack the veteran leadership aside from Walker. He's been carrying them this far but the young players have stepped up nicely too.
9. Frontcourt B+
Alex Oriakhi is very tough downlow and I'm very impressed with what I've seen from him. They're outrebounding opponents by over 4 boards per game so they're definitely doing something right down low. They are also gritty defensively in the paint. I really like the UConn frontcourt, they don't boast a superstar but they gel together very nicely.
10. Defensive Stats A+
Just like Kentucky this team has the make up of everything you expect from a champion defensively, They hold opponents to just 40% shooting from the floor and 32.9% from beyond the arc. They create plenty of problems and nobody has scored over 67 points on them in the tournament so far.
Sharps haven't tipped their hand yet on who they are going to take but I can tell you I'm in-sync with the big moves they have up their sleeves this weekend. Sometimes I agree with them and sometimes I don't. But I'm very confident from what I'm hearing from them and I agree completely. I've called plenty of upsets this year in the tournament outright and I've hit some favorites in blowout fashion. Get on board with me for the Final for only $39.99 here at the site or by calling me at (757) 462-9030 as I look to have an absolute monster weekend full of profits!