CFP Championship Alabama vs Clemson Smart Money Report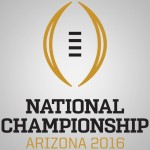 I always preach to pay attention to opening numbers. If you want to win like as sharp you have to think like a sharp I always say. Remember sharps aka professional bettors bet early in the week into opening numbers to get themselves the best value possible.
Remember squares aka the general betting public usually wait to place their bets until gameday before kick off. So any early moves you see during the beginning of the week is sharp money.
It's important to realize that every early sharp move isn't them holding on to that position. Sometimes it's head fake money which is sharps moving a line in order to get a more favorable number on game day betting the other side.
Monday
Clemson vs Alabama
My local NYC bookie source tells me so far early this week he's taking in more Alabama bets on this game so far but the big sharp guys did hit him hard on Clemson+7 forcing him to move off the key number and down to 6.5 on this game. He said the stronger move was on the Total as big money came in on the Under dropping him down to 50.5 from a 53 opener. My Vegas oddsmaker source said it's literally been a tug of war all week on this game between sharps. He said at +7 he's seen sharps all in on Clemson and he moved to 6.5 where opposing sharps bought in on Alabama. His number has been bouncing back and forth all week between 6.5 and 7. The stronger move is the same story as my NYC guy, as he said big sharp money on the Under moved him down to 50.5 from a 53.5 opener this week.
Sometimes I agree with these early moves and sometimes I don't. It's good to have guys like us by your side with the CFP Championship game. Check back with us right here for our Premium CFP Championship bets as we look to exploit the marketplace.You can pick up our plays right here on the site.