Betting First Halves and Quarters in Basketball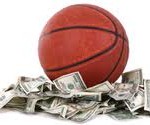 Many bettors set their sites solely on betting the side of a team for the full game. They let betting halves and quarters go to the way side. Many professional bettors will tell you that they bet quarters or halves on a regular basis. There is actually guys out there that make a living betting nothing but quarters or halves of basketball games. Ask the books what they think about taking money from professional bettors on quarters or halves wagers and see what they say. Those limits are lower for a good reason
We've been betting dogs in College Basketball in the first half during conference and the NCAA Tournament for years. We have a strategy we like to find dogs that we think can hang around for 20 minutes but maybe don't have enough gas to hang with a superior team for a full 40 minutes. Many bettors who do bet the first half of College Basketball game try to find a favorite they like and basically cut the spread in half.
That's a great strategy if it works for you but it never worked for us. We've had an odd approach of betting on dogs who we feel can hang tight for 20 minutes but may collapse in the closing minutes of a game which won't affect our wager since we bet them for the first half only.
Perfect example this past weekend we had bet Virginia+6 vs the first half vs. UNC. We knew North Carolina might come out flat fresh off a demoralizing buzzer beater loss to Duke. We know Virginia had the talent stick around in the first half of this game. We weren't confident they could play a full 40 against a very talented UNC team. Virginia trailed 35-32 at halftime covering our +6 first half bet. They ended up losing the game 70-52 and not even coming close to covering the 10 point spread for the full game. We took a shot and cashed out. Staying away from the full game was a smart strategy.
It was a simple philosophy for us, take a good Virginia team catching three buckets for 20 minutes against a UNC team that may come out flat off a heartbreaking loss to their bitter rival. It worked out good for us and the talent of the UNC team took over the final 20 minutes of the game just like we thought.
This strategy works like a charm in March Madness when we utilize it to it's maximum potential. Think about last year in the National Title Game when Butler was playing UConn. Butler covered the first half bet easy for bettors as a 1.5 point underdog by taking a 22-19 lead at halftime. UConn's talent eventually took over in the second half as they covered the 3 point spread for the full game easily winning 53-41.
There is a science to it in a way but a lot of times is just us looking for emotional advantages. The other day we bet St.John's first half against Georgetown. We knew Georgetown was coming off a heartbreaking loss to Syracuse in a game they could have won. Now they are back at home playing on a Sunday against a struggling St. John's team.
We were catching St.John's getting +8.5 . There was no way we could pass that value up. St.John's ended up covering not only the first half but the full game as well. There was no statistics, trends, inside info, or anything else involved with making that bet. Just pure emotion and commonsense that we felt Georgetown maybe a little flat early on.
The same Sunday we took a position on Fairfield +2.5 for the first half. Unlike the other games we actually felt Fairfield should hang the full 40 minutes so we wagered on the full game too at +5. Again no stats, trends, info, etc. went into handicapping this game. It was a pure fade of Loyola-MD who upset Iona in what was arguably their biggest game of the year two nights before. We knew Fairfield who has a talented squad would come out and take advantage of a let down spot for Loyola-MD. End of the day we cashed two tickets on that game winning the first half and full game.
You can apply a science to this as well if you like. Look at how some of these teams perform first half at home compared to on the road. Take North Carolina for example. They hold an average of 15.2 point lead at half time at home per game but just a 4.2 point lead at half time per away game. Commonsense tells you that betting a first half home underdog vs UNC can be a profitable proposition.
Think about it, North Carolina is one of the elite teams in the nation with a bulls eye on their back. These young kids want nothing more than to knock this team off in front of their home crowd. The crowd is pumped up, adrenaline is pumping, and these kids usually can compete with UNC for 20 minutes. In the second half coaching adjustments and pure talent take over for the Tar Heels. What happens is the crowd gets deflated to a non factor and the other team finally collapses failing to cover the spread for the full game.
If you need an example on February 4 they visited Maryland and failed to cover the first half spread of 7 points. They were actually trailing by 3 points at halftime. They outscored Maryland by 12 in the second half and won the game. On January 19 they were visiting Virginia Tech and failed to cover the 3.5 point first half spread and were trailing Va Tech by 5 at halftime. Pure talent and adjustments took over in the second half and they ended up beating Va Tech 82-68 easily covering the 6.5 point full game spread.
How about Florida with an average of a 11.8 point lead at halftime at home but just a 1.1 point lead at halftime on the road. California has a 11.7 point lead at halftime average but are usually trailing by an average of 0.5 points on the road per game. How about UNLV with a an average of a 12.4 point halftime lead at home but trails by an average of 1.2 points at halftime on the road. Looking at home dogs in the first half against these teams is a worth a shot.
NBA has a similar strategy. My podcast partner from twitter @chadnov59 loves riding the Clippers in the first quarter. I didn't get the exact stats from Chad but the Clippers have been a great first quarter bet. Especially when they play at home for whatever reason. I have noticed of late that the Bobcats have been atrocious in the first quarter. In the Bobcats last 10 games alone they have trailed by an average of 9.5 points at halftime. Making them a great team to play against in the first quarter as of late.
That wraps up this blog but I hope you all come out of it with some useful information on how to tips by making some wagers on first halves and first quarters. We've been on a solid tear in College Hoops going 5-2 (71%) with our first half bets, 64% winners in NCAA-BB in our last 66 bets, and 61% winners in all sports the L/37 days. We've been kicking the books butts all of 2012! So hop on board with me in basketball for daily, weekly, monthly, and season passes right here on the site or by calling me at the office at (757) 462-9030.