Arizona vs Arizona State Free Pick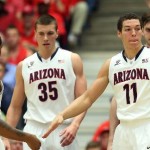 Tonight Arizona is playing Arizona State in a Pac-12 rivalrly week basketball game. We Cover Spreads handicapper Chris Torrisi delivers a free premium pick that his clients and he bet today!
4*Arizona-5
Guys who have been on board with me know how high I've been on this Arizona team since day one. I have a hard time seeing Arizona State hanging around in this game . I think Arizona clearly got over the loss at Cal and now are focused on closing the regular season out strong. First road game since their loss at Cal is their in-state rival so you know they will be extra focused. Rosters change in college but it is worth nothing in the past two seasons the Wildcats have beaten ASU by an average of 18 PPG both at home and on the road. The few times Arizona State stepped up in class against some of the top 25 teams in the nation they were plowed by double digits against Arizona, Creighton, and even a bubble Top 25 team like UCLA blew them out. Arizona State big man Jordan Bachynski who is a double digit scorer averages only 5 PPG in 7 career meetings vs the Wildcats. Their size definitely creates a problem for ASU leaving them one dimensional. Arizona is still adjusting to life without Brandon Ashley but there is enough young talent here to somewhat fill the void the third leading scorer on the team leaves behind. Sean Miller has dominated this series since taking over helm in 2010 going 5-2 ATS and 6-1 SU. Lay the cheap number with the Wildcats tonight as their stellar season rolls on.
Chris is running a special deal this weekend for the 2nd Half of his NBA Season and NCAA-BB included through March Madness NCAA Title game and NBA Finals for only $199.99 this weekend only! Don't miss out on this great offer as Chris continues his profitable basketball season right here on the site by clicking here