Analyzing Week 14 Early College Football Sharp Moves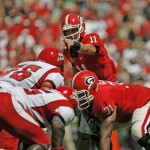 In today's blog we will be talking about some early NCAA Football Week 14 sharp aka professional bettors positions. As you will read sharps like betting early to get the best of the number. I will give you an in-depth look with the help of a friend of mine who works in the local NYC underground betting scene of why sharps are on these sides and which direction the market will push these early moves come game day.
I always preach to pay attention to opening numbers. If you want to win like as sharp you have to think like a sharp I always say. Remember sharps aka professional bettors bet early in the week into opening numbers to get themselves the best value possible.
Remember squares aka the general betting public usually wait to place their bets until gameday before kick off. So any early moves you see during the beginning of the week is sharp money.
It's important to realize that every early sharp move isn't them holding on to that position. Sometime it's head fake money which is sharps moving a line in order to get a more favorable number on game day betting the other side.
UCLA+10.5 to +8
Pac 12 title game and Sharps all over the dog here according to my local source. Sharps were right on point last week when taking Stanford at a PK and this week they are back on the dog. Sharps know how hard it is to the beat the same team twice in one season let alone in back to back weeks.
TCU+7 to +6
TCU has been one of the favorite teams sharps have bet on all season long. They have been a fiesty dog and this week they are at home at extra rest facing an Oklahoma team who was just involved in a squeeker with their in state rival. No buy back on the favorite once this moved off of 7 either just more TCU money moving this down to 6 according to my local source.
UConn+6 to +4.5
The Huskies are taking in money at the widow from the professional bettors early in this week. A strong move on the home dog from 6 to 4.5 in NYC local shops. My local contact did say the rest of the market is at the dead #'s of 5 and 5.5 still but believes they will tail the NYC move to 4.5 soon. UConn is in a fight for bowl eligibility and needs this win.
Georgia+8 to +7
SEC title game and sharps voiced their opinion early by placing their money on the Bulldogs. My local contact doesn't believe this gets below a touchdown at all. He said once they moved to 7 the love for Georgia stopped but sharps did take them at anything above that key number of 7.
Hawaii-3.5 to -6
We'll leave the mainland and take a trip to Hawaii where the early sharp money was on Hawaii in this spot. He said it's more of anti South Alabama money if anything. South Alabama has never made this trip before so sharps feel heavy advantage here for the home team and laid the points.
Sometimes I agree with these early moves and sometimes I don't. One thing I can say in my opinion has been a strong one in College Football. It's good to have a guy like me by your side this weekend for all the Conference Championship games as I utilize my contacts to make us money in the NCAA-FB betting market. Hop on board with me this as I look to exploit the marketplace with the help of my contacts. You can pick up my plays right here on the site or by calling me directly at the office at (757) 462-9030