Analyzing Early Week 10 College Football Sharp Moves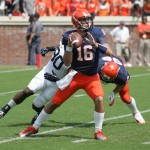 In today's blog we will be talking about some early NCAA Football Week 10 sharp aka professional bettors positions. As you will read sharps like betting early to get the best of the number. I will give you an in-depth look with the help of a friend of mine who works in the local NYC underground betting scene of why sharps are on these sides and which direction the market will push these early moves come game day.
I always preach to pay attention to opening numbers. If you want to win like as sharp you have to think like a sharp I always say. Remember sharps aka professional bettors bet early in the week into opening numbers to get themselves the best value possible.
Remember squares aka the general betting public usually wait to place their bets until gameday before kick off. So any early moves you see during the beginning of the week is sharp money.
It's important to realize that every early sharp move isn't them holding on to that position. Sometime it's head fake money which is sharps moving a line in order to get a more favorable number on game day betting the other side.
Kentucky+8.5 to +7 (Sharps made an early move on Kentucky according to my local source from +8.5 down to they # of +7 and my source told me expect this to dip down to +6.5 shortly at most books so if you like the 7 better grab it now. He said it could pop back up on Saturday as recreational bettors take Vanderbilt in the early slate of games.)
Arkansas-5.5 to -7.5 (Sharps beat the public to the punch betting Arkansas early under the key #'s of 6 and 7 ensuring themselves the best value. Recreational bettors likely will hop on Arkansas as well so this could keep climbing. Some sharp outfits may buy back on the dog at the best number possible before kick off.)
Virginia+11.5 to +9.5 (Virginia took early money vs NC State as wiseguys thought double digits was too high and they scooped up 11.5, 11, 10.5, and 10 moving this down to the dead # of 9.5. Likely to see the public on NC State in this game and sharps will likely take a shot on the dog as the number makes way back to 10 or higher by Saturday.
Navy-14 to -16 (Sharps did come in on Navy early in the week before the betting public got involved. Note that Florida Atlantic is giving up over 211 yards per game on the ground and a few sharps I spoke with told me they think Navy has a field day running the option on this defense.)
Texas Tech-6.5 to -8 (According to my local bookie source he did say the early sharp move was on Texas Tech but he also thinks you will see two way sharp action on this game as other sharps come in and take Texas at anything over a touchdown.)
Nebraska+1.5 to -1.5 (Lack of respect from sharps early in the week on this Michigan State team as they flooded the market with Nebraska money early in the week taking them from a +1.5 dog to -1.5 favorite on the road which shows you how anti-Sparty sharps are right now.)
Ohio State -24.5 to -27.5 (Local contact told me Ohio State money did come in here early in the week beating the betting public to the punch to get the best of the opening #. He said Illinois looks like the worst program in the Big 10 this year and is skeptical and hoping they get some Illinois money before kick off. Books will need Illinois bad on Saturday with Ohio State being tied into plenty of exotics.)
Arkansas State-4 to -6 (Early sharp action in the Sun Belt coming in on Arkansas State beating the public to the punch early in the week. My contact did tell me the closer this approaches 7 he anticipates some sharp action to show up on North Texas as some sharps buy in and others shoot for a middle.)
Kansas St-8 to -9.5 (We're seeing a strong sharp sentiment for this Kansas State team this week. My local contact did tell me books have a gut feeling if they do move the # to 10 which will likely be happening very soon that they will get two way wise guy action on this game as sharps start to buy in on Oklahoma State.)
Sometimes I agree with these early moves and sometimes I don't. One thing I can say in my opinion has been a strong one in College Football. Last Saturday we went 4-1 (80%) and we're on a 28-13 (68%) College Football run! It's good to have a guy like me by your side come Saturday to help utilize my contacts to make us money in the NCAA-FB betting market. Hop on board with me this as I look to exploit the marketplace with the help of my contacts. You can pick up my plays right here on the site or by calling me directly at the office at (757) 462-9030