5 Pitchers to fade in the second half of the season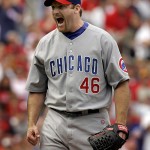 I'm focusing this blog on pitchers I think we see slide in the second half of the season. These are pitchers I'd look to fade in certain situations and also if all the stars align look to bet the Over in their starts. I'm using one of my favorite stats when handicapping baseball which is the BABIP (Batting Average Balls in Play) to back my theory here.
If you are unfamiliar with what Batting Average Balls In Play is I'll break it down for you because I think it's a very important tool when handicapping baseball. Always remember when handicapping a baseball game it's 75% pitching and only 25% hitting. I think bettors often put too much emphasis on hitting breaking down a baseball game. To calculate a pitchers BABIP you have to take his hits and subtract that from the home runs he allowed and divide that number by the at bats-strike outs -home runs + sacrifice flys the pitcher has allowed.
When I started this blog I looked for pitchers with BABIP numbers that are clearly lower than their career mark and still have other supporting numbers that shows to me they have been extremely lucky up to this point of 2012, and I expect the law of average to come back to haunt them. So these guys you will make money fading and also help Over bettors when betting totals in MLB.
Ryan Dempster Cubs- 2012 BABIP .241
This guy has been extremely lucky in the first half of the 2012 season. He has a career BABIP average of .301, his 2012 numbers are 40 points lower than his career average. That tells me one thing and there's only way to go from here for Dempster and that's down hill. That 1.99 ERA I expect to close out around 3.00 as the season rolls on and the innings on his arm pile up. It's not like he is doing anything extraordinary because his K/9 (7.3) are actually lower than his career average (7.6). His FIP is very telling sitting at 3.15. Trust me the ball in play will stop going to fielders so much and his luck will run out in the second half of the season. The Cubs aren't a public team anyways so you will have to usually lay hefty juice fading him which I don't advise so you may want to focus on the Overs betting his totals.
Ryan Voglesong Giants-2102 BABIP .250
I really like Voglesong and everything he does and it was hard for me to put him on this list but I had to trust my #'s and gut. Let's face it he's 35 years old and he should wear down a bit in the second half of the season. He has a .250 BABIP average when his career average is .289 which is about normal by the way. A .290 BABPIP is the median for most pitchers. Only way to go and that's downhill for him in the second half of the season. He is a finesse pitcher with an arsenal of 4 pitches which benefits him but I still call for him to slide a bit. His FIP at 3.72 is very telling to me. The pitcher friendly park and balls flying to fielders have been benefiting him so far. Expect his ERA back up over 3.00 by the end of the year. Pick your spots fading him and look to bet him Over when he's on the road especially in hitter friendly parks.
Jake Peavy White Sox- 2012 BABIP .254
Jake Peavy is finally putting up numbers like he was when he was with the Padres. But wait a minute let's dig a little deeper. I think he's been lucky with the .254 BABIP vs his career average of .284. Peavy is at 120 innings pitched right now at the break. The guy hasn't pitched over 120 innings since 2008. I think Peavy has a major collapse in the second half of the season and his ERA balloons up to the 3.25-3.50 range. Look at his FIP up at 3.34 right now. I think we start to see a mixture of his luck running out and him wearing down physically in the second half of the season. Fade Peavy and look for the Overs throughout the months of July and August. Make sure you pay attention to weather in Chicago because the wind is a major factor in his home starts.
Chris Sale White Sox- 2012 BABIP .255
I love this kid a lot and his future is going to be bright. Has he been a little lucky with a .254 BABIP? Yes I think he has. It's not so much statistics why I'm throwing him on this list. His FIP is even at 2.58 which is amazing. It's just the fact this kid has never thrown the amount of innings he is about to endure in the second half of the season. I think his arm wears down a bit and his numbers go downhill a bit. I think his ERA finishes around 2.75-3.00. I actually strongly feel he stays below 3.00 but I know he is not going to pitch at the same success rate he did in the first half. He's going to have his bumps. Plus remember the more times teams face him the more they will be familiar with his stuff.
Kyle Lohse Cardinals- 2012 BABIP .257
He has been aided by two things in my opinion. Good run support and luck. His BABIP is .257 which is over 40 points below his .299 average. His K/9 (5.2) are below his career average (5.6) so it's not like he's doing anything extraordinary. He may have made you a lot of money in the fist half of the season but he will put you in the poor house in second half. He will be overpriced and he's not going to match his first half numbers. His FIP it's all the way up at 3.75 so I'll go out on a limb and say he finishes the season with an ERA in the 3.25-3.50 range. Fade him and bet him Over in the second half of the season.
I hope you enjoyed this blog and much as I did putting it together. We absolutely crushed the books the first half of the MLB Season up 130.7* units of profit! A $100/* bettor netted a cool $13,070 of profit! I have a Special for only $125 going through this Thursday July 13 on all my second half MLB bets through the World Series right here in the Buy Picks section of the site or by calling me directly at (757) 462-9030.