5 Pitchers that improve in second half of 2012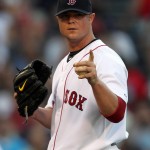 I'm focusing this blog on pitchers I think make strides to improve down the stretch of the season. These are pitchers I'd look to bet on in situations and also if all the stars align look to bet the Under in their starts. I'm using one of my favorite stats when handicapping baseball which is the BABIP (Batting Average Balls in Play) to back my theory here.
If you are unfamiliar with what Batting Average Balls In Play is I'll break it down for you because I think it's a very important tool when handicapping baseball. Always remember when handicapping a baseball game it's 75% pitching and only 25% hitting. I think bettors often put too much emphasis on hitting breaking down a baseball game. To calculate a pitchers BABIP you have to take his hits and subtract that from the home runs he allowed and divide that number by the at bats minus strike outs minus home runs + sacrifice flys the pitcher has allowed.
When I started this blog I looked for pitchers with BABIP numbers that are clearly higher than their career mark and still have other supporting numbers that shows to me they can make improvements. To me it means these pitchers just have been unlucky up to this point and I expect the law of average to come back to their favor. So these guys will make you money and also help Under bettors when betting totals in MLB.
Rick Porcello Tigers: 2012 BABIP .349
I think Porcello has been rather unlucky to say the least this year. In 2011 his BABIP was .316 and in 2010 it was .307. So I'm guessing Porcello numbers should fall back to about .310-.320 range by the end of the season. It's highly unlikely his #'s float around .350 for the full season. His strike out per 9 innings is at 5.18 which is as high as it's been his whole career. His walks per nine is at 2.30 which is on par with his career numbers. His fastball is at 91.8 MPH which is the fastest it's been in his career. I'd start to look for the Under in Porcello's starts in games all factors line up. I also wouldn't be scared to bet on him. I think his teammate Max Scherzer who currently leads the league with the worst BABIP also falls into this category. With that being said I have still haven't counted out the Tigers yet and I think this team could be poised to make a serious run for the Central this year with those two guys who have been very unluck to make strides.
Josh Johnson Marlins: 2012 BABIP .348 BABIP
Here is an All-Star hurler who is one the 5 unluckiest starters in the league right now. He has a normal BABIP around .290 but we've seen it as low as .239 last year before he got hurt so I knew it balloon this season. I didn't think it would balloon this high though. His K/9 is above his career average and his BB/9 is right on par with his career average. With that said I look for Johnson to make improvements back to form as he continues to recover from his injured shoulder from last season. Look for Johnson to be a solid pitcher to bet your cash on as he starts to pile up some more wins. I'd seriously look to bet on Johnson here on out. Also I'd like to pick and choose my spots and grab some Unders with him.
Max Scherzer Tigers: 2012 BABIP .366
I mentioned Scherzer in the Porcello section of this blog. I think we see Scherzer's BABIP fall at least 25 points by the end of the season. You get the idea now I really like the Tigers to make a big move in the second half of the season. I think Scherzer and Porcello are the keys to making that happening and the law of averages backs it. Here is a guy averaging over 11 K/9. That's an amazing stat right there alone. His velocity is great with a fastball averaging 94 MPH. He has three solid pitches to rely on and I think Scherzer makes big strides down the stretch of the season that actually counts the most. Look to make some money with this guy and also betting his games Under. I expect major improvements in his numbers throughout the year. I think his ERA closes about .50 points lower than what it currently is. The BABIP should fall at least .20 points as well. Keep your eye on the Tigers.
Dan Haren Angels: 2012 BABIP .329
Here is a guy with a career .291 BABIP and I'm not saying his numbers this year drop that low but I call for some improvement in his BABIP. I think his ERA also starts to fall and that will definitely help Under bettors in his starts. His K/9 is above his career average which I really like. But there is one thing about Haren I don't like and that's his velocity has taken a dip. His fastball is almost 2.5 MPH slower than his career average this year. Good thing for Haren he isn't a power pitcher and has finesse stuff which I think helps balance out his loss in velocity. Also the fact he's in a pitcher friendly park should also help see some improvements in his numbers. I think we see Haren's ERA Dip, the Unders start to cash, and the Wins to start to add up.
Jon Lester Red Sox: 2012 BABIP .325
Four of the last five years his BABIP has been below .300 and three of those 5 years it was below .290. Lester like Johnson is coming off an injury riddled 2011 season. So I expected both of these guys to start slow in 2012. I think we start to Lester make some major improvements as the season goes on. His K/9 is way down but I look for improvement in this category as the season goes on. I do love the fact his BB/9 are as low as they have been in five years. He has a losing record right now but I think that changes in a big way and he close out the year strong with a winning record. I think bettors will start to make some nice money with Lester during the second half of the season. His ERA will be taking a nice dip so that helps Under bettors as well.
I hope you enjoyed this blog and much as I did putting it together. In the coming days I'm going to do an opposite version of this blog of pitchers I think BABIP is too good to be true and I expect them to start to regress big time. So be on the lookout for that. I'm probably the hottest capper in MLB in the county right now and my clients and I continue to pile up money on the bases. You can get my daily, weekly, monthly, and season MLB packages right here on the site or by calling me directly at the office at (757) 462-9030.