5 MLB Pitchers with Betting Value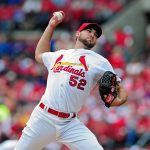 In today's blog I've circled 5 pitchers who are off to a slow start in 2016 and many bettors probably have already written them off. But if you dig deeper into their numbers I think these pitchers will all be under priced moving forward the next few weeks creating value and opportunities to bet on them. Let's take a look deeper at these guys.
Alex Wood Dodgers
Alex Wood was a highly touted prospect drafted by the Braves organization in 2012. Wood was just placed on the 15 Day DL for tricep tightness but when he comes back I think Wood will offer value. Now I rarely ever back a pitcher their first game back off the DL, so keep in mind to maybe skip that start. After his first initial start back you may want to look at Wood. Disregard his 1-4 start, he's fallen victim to his bullpen and lack of run support at times. He's pitching great, averaging over 9K/9 innings pitched. He's been priced really low as a dog twice in the month of May and since his slow start has rarely been priced over -150. When the Dodgers start to make their run and Wood comes back to health look to pick some cheap spots with this young hurler who in my opinion has a bright future in Los Angeles ahead of him.
Dallas Keuchel Astros
Take about regressing, Dallas Keuchel was a hot bet for the betting public last year, and this year has burnt their pockets early on. This is where the value sets in. I'm not writing off Keuchel just yet. The ERA of 5.58 is a little misleading, if we look deeper at his FIP he has a 4.11 which is a good thing. He's been a bit unlucky as well as we look at his BABIP which is .327, definitely a lot higher than the .269 BABIP number from last year. To start the season he had some pretty hefty price tags of over -150 in almost all starts. That number has dipped with his early struggles, and the Astros struggles as whole. Now you can normally find Keuchel under -150 on the ML moving forward. It presents some great value on him and I'd look to pick my spots with Keuchel going forward to snag up his value while his stock is low.
Michael Wacha Cardinals
4.99 ERA and a 3.59 FIP for Wacha tells me all I need to know. He's also been very unlucky with a career high .340 BABIP. Wacha is so due to really catch some breaks moving forward. At 7.9 his K/9 innings pitched is actually higher than last year. His 2-6 start and a couple of horrible outings vs the Cubs and Rockies recently probably is starting to really leave bettors leery of Wacha. The value is here with Wacha, he was priced as a +200 dog against Washington the other day and had a good quality start outing in that game. He has to cut some of his walks down moving forward, but as always the Cardinals will be contenders and Wacha is a key piece to the puzzle. I think he will be priced extremely lower than he should moving forward and will present some nice opportunities.
Matt Harvey Mets
Three straight games priced as a dog, and I think we're starting to see the betting public shy away from Harvey starting to write him off. Look at his 5.37 ERA vs his 4.13 FIP. How about a career high .353 BABIP! He's been really unlucky up to this point of the season. I'm not ready to write off Matt Harvey at all. In fact I think he is due to really start to get some luck on his side and create a lot of good betting opportunities at cheap prices. Start to look for your spots to pick with Harvey at bargain deals.
Michael Pineda Yankees
This guy has been through injury after injury and it's unfortunately derailed his career up to this point. Once a promising prospect, he now is struggling with a 2-6 record and a 6.92 ERA. I actually struggled with putting Pineda on this list and almost put R.A. Dickey or Matt Cain on this instead of him but I stuck with my gut. What struck me about Pineda is how unlucky he's been up to this point of the season with a .390 BABIP, the highest of all pitchers on this list. In his stand out year with the Mariners in 2011 his BABIP was .259! His FIP this year is 4.66, not a great number but much lower than his 6.92 ERA. He's going to be a risky bet moving forward, as I'm not crazy about this Yankees team in general but if you are careful moving forward I think Pineda is definitley the Wild Card of this bunch but he may have some nice value at the betting window in unexpected spots moving forward.
If you need help during the long Summer with the dog days ahead of us betting baseball look no further! Chris Torrisi and the rest of the We Cover Spreads baseball handicappers have you covered! You can get daily, monthly, tri monthly, and Season Package deals right here on the site!