4 Pitchers to bet against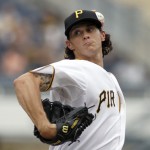 I'm focusing this blog on pitchers I think we see slide in the coming weeks of the season. Some of these pitchers I'd look to fade in certain situations and also if all the stars align look to bet the Over in their starts. I'm using one of my favorite stats when handicapping baseball which is the BABIP (Batting Average Balls in Play) to back my theory here.
If you are unfamiliar with what Batting Average Balls In Play is I'll break it down for you because I think it's a very important tool when handicapping baseball. Always remember when handicapping a baseball game it's 75% pitching and only 25% hitting. I think bettors often put too much emphasis on hitting breaking down a baseball game. To calculate a pitchers BABIP you have to take his hits and subtract that from the home runs he allowed and divide that number by the at bats-strike outs -home runs + sacrifice flys the pitcher has allowed.
When I started this blog I looked for pitchers with BABIP numbers that are clearly lower than their career mark and still have other supporting numbers that shows to me they have been extremely lucky up to this point of 2013, and I expect the law of average to come back to haunt them. So these guys you will make money fading and also help Over bettors when betting totals in MLB.
Travis Wood Chicago Cubs (.193 BABIP)
Let's start the blog off with Travis Wood who has been a solid start for the Cubs this year. Digging deeper into his numbers I have to disagree. Seeing Wood as a -150 favorite the other day the Mets proved it's point that the kid way overvalued at that price. He has a .193 BABIP vs a career average .262 which is telling us he has been lucky this year when the ball is in play. He isn't doing anything special to make him better. His K/9 innings is down to 5.83 vs 6.78 last year when he finished the season with an ERA over four. Look today his ERA at 2.81 isn't going to last too much longer with the dog days of Summer around the corner. Nonetheless in Wrigley which can be a hurler's nightmare. His FIP is around 4.81 so look to fade Wood and start to grab Overs on his totals if set too low.
Matt Moore Tampa Bay Rays (.197 BABIP)
Nobody has made bettor's money like Matt Moore this year so far. But that is all about to change soon.His BABIP of .197 is much lower than his career average of .275. The kid is a great pitcher and the market has priced him very cheap. He's been under priced this year with only 1 start over -150 juice. That's pretty cheap considering the numbers he's put up. Would I be in a rush to fade him? Not really as long as he's under priced. But I would look to start to bet Overs in his totals. His totals are set too low and that .197 BABIP won't last too much longer as he regresses to the norm. He has plenty promise in his young arm but look at that 4.19 FIP sitting next to the pretty 2.29 ERA. Like I said earlier look to bet his games Over because the luck is running out.
Hisashi Iwakuma Seattle Mariners (.209 BABIP)
This Japanese veteran is only in his second pro season in the Majors after a successful career overseas in Japan. The Mariners are a young team I'm high and think in 2014 to watch out for them. Again here is a guy like Moore who I wouldn't suggest betting against. He's been rather under priced in my opinion. You get him often as a cheap favorite or an underdog just because he plays on a sub par team. Trust me the guy is a bargain on the money line but start to look at betting his games Over with the Total. That .209 BABIP tells me he's lucky and I think it makes it's way back above .250 by the time the season is over. That 1.83 ERA I don't think sticks around too much longer either. He did have a 3.16 ERA last year and if the bats in his division wake up in the coming weeks he's a guy to look bet Overs with when on the hill
Jeff Locke Pittsburgh Pirates (.224 BABIP)
That .224 BABIP won't be around too much longer and that's helping pad his stats. Sure he's always priced as a dog and short favorite even though he's been a profitable starter. But I'm not buying in. I just don't think he's that good. .305 and .315 was his BABIP his two previous seasons in the Majors. He was a little unlucky then but now let's watch his BABIP regress back to somewhere in between his past numbers and where it's at now. He had almost 9 K/9 innings last year and now this year he is at at 5.5 K/9. He BB/9 innings is actually up this year compared to last year.I wouldn't be surprised to see his ERA above 4.00 by the end of the season. He's good fade material if you ever catch priced out of market. There is nothing special about him so look to start going against him.
I hope you enjoyed this blog and much as I did putting it together. We absolutely crushed the books last year MLB Season and we're starting to heat up now just like we did this time last year! You can get all my daily, monthly, season MLB packages right here in the Buy Picks section of the site or by calling me directly at (757) 462-9030.