2016 NFL Week 16 Smart Money Report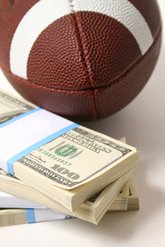 My weekly blog special the "Smart Money Report" Week 1 edition is here to help you guys out. Make sure to check here every Thursday during NFL season as I utilize all my sharps aka professional bettor contacts, Las Vegas Oddsmaker contacts, and NYC bookies to give you the info on what's happening behind the counter in the NFL betting marketplace with every game on the board.
I always preach to pay attention to opening numbers. If you want to win like as sharp you have to think like a sharp I always say. Remember sharps aka professional bettors bet early in the week into opening numbers to get themselves the best value possible.
Remember squares aka the general betting public usually wait to place their bets until gameday before kick off. So any early moves you see during the beginning of the week is sharp money.
It's important to realize that every early sharp move isn't them holding on to that position. Sometimes it's head fake money which is sharps moving a line in order to get a more favorable number on game day betting the other side.
Thursday
NY Giants @ Philadelphia
Big Eagles sharp money in NYC on this one. the Eagles have been bet from +3 to -1.5 according to my local NYC guy. He said is heavy on public Giants money but the sharp money is more than double it. Big sharp money on Philly here. In Vegas my guy tells me all sharp money on Philly moving them from +2.5 to -1 at his shop.
Saturday
Washington @ Chicago
My NYC guy tells me sharps did bet Washington-3. He did note when he moved to 3.5 that some sharp money started trickling in on the Bears here. Nothing in Vegas to report on this one.
NY Jets @ New England
A little interest on the Patriots in NYC moving them from -16 to -16.5 but nothing to write home about my guy tells me. My Vegas guy had a slightly different story saying he took a little sharp money on the Jets +17.

San Diego @ Cleveland
Sharps in NYC are taking Cleveland here. My Guy says they've bet them at +6.5 and +6. His Total is down a half of tick from 44 to 43.5. My Vegas guy tells me it's all sharp money on the Browns here moving them from +6.5 down to +5.5.
Miami @ Buffalo
Here in NYC some sharp money came in on the Bills moving them from -3.5 to -4. Same exact move reported in Vegas
Tennessee @ Jacksvonville
Nothing in either market to report.
Minnesota @ Green Bay
Here in NYC a little back and forth on this one. My guy tells me some sharps are on the Vikings+7 and others are on the Packers-6.5. He did say he has more money on the Vikings.
Atlanta @ Carolina
Sharps and the public both on the Falcons here moving them from -2 to -3 early in the week. My Vegas Oddsmaker reported the same exact move. Both guys said they likely will need the Panthers here.

Indianapolis @ Oakland
My NYC guy said a little bit of money has started to trickle in on the Colts at +4. My Vegas guy also confirmed sharp money on the Colts moving them from +4 to +3.5
Tampa Bay @ New Orleans
Nothing to report in NYC on this one. My Vegas guy is reporting sharp interest on the Saints at -3 forcing him to move up to 3.5.
Arizona @ Seattle
My NYC guy said sharps hit Seattle on teasers when opened this at -7 forcing him to move them up to 9.5 to move them out of the teaser window.

San Francisco @ Los Angeles
A little bit of sharp interest on the Rams here at -3.5 moving them up to -4 early in the week in NYC. Same exact move reported from my Vegas oddsmaker contact.
Cincinnati @ Houston
My NYC guy said it's been a two deal on this one. Early action was sharp money on Houston moving them from -1 to -2 but since it's been all Bengals money moving them from +2 to a PK. My Vegas guy reported two way action here. He said there's been some sharp money on the Bengals from +2 down to a PK. He did note at a PK he took other sharp money on Houston.
Sunday
Pittsburgh @ Baltimore
Nothing to report in either market in terms of early sharp action.
Denver @ Kansas City
Sharps are betting Denver here in NYC moving my guy down to 3.5 from +4, he says he likely will be down to +3 shortly. It's been all Broncos money from sharps in Vegas as well moving them down to 3.5 from a 5 opener.
Monday
Detroit @ Dallas
Nothing in NYC to report but my Vegas Oddsmaker said sharps took the Cowboys -7 here moving him to 7.5 as we go to press.
Sometimes I agree with these early moves and sometimes I don't. One thing I can say in my opinion has been a strong one. Over the last 5 years I've won 61% of my last 312 NFL bets after another winning Sunday last week. It's good to have a guy like me and the rest of the handicappers here at We Cover Spreads by your side come Sunday. The rest of the crew is ready to go this season in NFL! Hop on board with us this week as we look to exploit the marketplace.You can pick up my plays and the rest of the cappers right here on the site.