2016 Golden Nugget College Football Game of Year Lines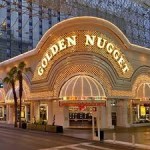 The Golden Nugget unveiled the 2016 NCAA Football Game of the Year Lines to keep bettors busy prepping for college football kick off.
The limits on bets are much lower than the regular season but wiseguys are pouring in the Golden Nugget in Las Vegas this morning to drop cash on these raw lines. Why would Golden Nugget open themselves up to be vulnerable against these raw lines? It helps make their opening day lines much sharper after wiseguys voice their opinion!
As many of you know sharps love to bet futures trying to snatch up on any value possible with soft lines. These lines are set 2 plus months in advance of games so a lot can change in either a good or bad way.
There is risk betting these GOY lines months before the season starts but when investing in this marketplace, there is nothing more valuable then getting a crack at the opening lines before other sharps "steam" them.