2015 Week 9 NFL Smart Money Report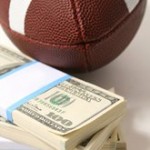 My weekly blog special the "Smart Money Report" Week 9 edition is here to help you guys out. Make sure to check here every Thursday during NFL season as I utilize all my sharps aka professional bettor contacts, Las Vegas Oddsmaker contacts, and NYC bookies to give you the info on what's happening behind the counter in the NFL betting marketplace with every game on the board.
I always preach to pay attention to opening numbers. If you want to win like as sharp you have to think like a sharp I always say. Remember sharps aka professional bettors bet early in the week into opening numbers to get themselves the best value possible.
Remember squares aka the general betting public usually wait to place their bets until gameday before kick off. So any early moves you see during the beginning of the week is sharp money.
It's important to realize that every early sharp move isn't them holding on to that position. Sometime it's head fake money which is sharps moving a line in order to get a more favorable number on game day betting the other side.
Thursday
Cleveland @ Cincinnati
My NYC local bookie contact said he initially he took some Cleveland money at 10.5 and dropped down to 10 but once he hit 10 he saw buyback from other sharps on the Bengals drive this up to 11. He said the biggest sharp move was on the Under dropping him down to 45.5 from a 47.5 opener. My Vegas contact said he opened this at and got as high as 11.5 with early sharp support on the Bengals. He reported some buy back at 11.5 on the Browns which settled him at 11 at press time. Nothing to report on the total from Vegas.
Sunday
Green Bay @ Carolina
Nothing early in NYC to report on this one. A little early Green Bay money according to my Vegas contact who said he moved from 1.5 to 2.5 on this game. The total moved from 46 up a half of tick to 46.5
Miami @ Buffalo
Nothing in NYC or Vegas in terms of sharp action to report on this early.
Oakland @ Pittsburgh
Small early sharp money on Oakland moving from 5 to 4.5 on this one on the local NYC scene. Nothing in Vegas to report on this one early on.
St. Louis @ Minnesota
Early sharp interest in NYC on the Rams forcing my local NYC guy to move off of the key number of 3 down to 2.5. Nothing on the side in Vegas to report on this one but my Sin City connection tells me he took sharp money on the Under knocking him down to 39.5 from a 40.5 opener as we go live with the article.
Tennessee @ New Orleans
Off board at time of article.
Washington @ New England
Nothing to report in either market in terms of sharp action early this week.
NY Giants @ Tampa Bay
Here in NYC my local contact moved this 3 from a 2 opener to protect himself. He said he saw real small sharp interest under -3 but move to the key number of 3 because he said he will be overexposed with Giants money Sunday and will be a big Titans fan. Nothing to report on the side but my Vegas contact said his total has moved up a half of tick from 47.5 to 48 as we go to press.
Atlanta @ San Francisco
All Falcons money from sharps early this week according to my NYC source. He said he opened this at -4 and was bet all the way up to -7 with news that Blaine Gabbert is starting at QB this Sunday. Same story in Vegas with all Falcons money being report early on. He also went up to 7 and hasn't seen any buy back interest on the 49ers.
Denver @ Indianapolis
All sharp money on the Broncos early this week moving my NYC contact up to 4.5 from a 3 opener on this game. Big time sharp respect for Denver here he said. He said he expects the public to bet the same way on Sunday and he'll definitely need the Colts here. Same exact story in Vegas as my guy on the strip tells me he is all the way up to 5 from a 3 opener early this week. He says once the public gets involved he wouldn't be surprised to be hitting 6 by the weekend.
Philadelphia @ Dallas
Nothing in terms of sharp action in NYC or Vegas on this one yet.
Chicago @ San Diego
My NYC contact tells me this has flip flopped between 3.5 and 4 all week with not much sharp influence either way. The Total was bet down a half of tick from 49.5 to 49. Nothing to report in Vegas on this one early on.
Sometimes I agree with these early moves and sometimes I don't. One thing I can say in my opinion has been a strong one. Over the last 5 years I've won 60% of my L/247 NFL bets It's good to have a guy like me and the rest of the handicappers here at We Cover Spreads by your side come Sunday. The rest of the crew is running red hot in football to start the 2015 season with Mikey Connoly 62% on his bets this season in NFL! Hop on board with us this Saturday and Sunday as we look to exploit the marketplace.You can pick up my plays right here on the site.