2013 Golden Nugget NCAA-FB GOY Lines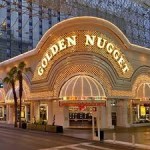 Head oddsmaker at the Golden Nugget Tony Miller and his staff unveiled the 2013 NCAA Football Game of the Year Lines to keep bettors busy prepping for college football kick off. In the coming days make sure to check back for my update of this blog and tell you where the sharp aka professional bettor money went on these games. Make note there are the opening numbers.
The limits on bets are much lower than the regular season but wiseguys are pouring in the Golden Nugget in Las Vegas this morning to drop cash on these raw lines. Why would Golden Nugget open themselves up to be vulnerable against these raw lines? It helps make their opening day lines much sharper after wiseguys voice their opinion!
As many of you know sharps love to bet futures trying to snatch up on any value possible with soft lines. These lines are set 2 plus months in advance of games so a lot can change in either a good or bad way.
There is risk betting these GOY lines months before the season starts but when investing in this marketplace, there is nothing more valuable then getting a crack at the opening lines before other sharps "steam" them.

Thursday August 29, 2013
UNLV at Minnesota (-13)
North Carolina at South Carolina (-12)
Mississippi at Vanderbilt (+4)
Saturday August 31, 2013
Washington State at Auburn (-11.5)
Northwestern at California (+10.5)
Nevada at UCLA (-15)
Colorado vs. Colorado State (-3.5)
Temple at Notre Dame (-24)
Penn State vs. Syracuse (+6.5)
Mississippi State vs. Oklahoma State (-14)
BYU at Virginia (+3.5)
Boise State at Washington (-2)
Alabama vs. Virginia Tech (+17, 48.5)
Georgia at Clemson (+3.5)
LSU vs. TCU (+4)
Monday September 2, 2013
Florida State at Pittsburgh (+13)
Saturday September 7, 2013

Washington State at USC (-21)
South Carolina at Georgia (-4)
Syracuse at Northwestern (-13)
South Florida at Michigan State (-16)
Notre Dame at Michigan (Pick)
San Diego State at Ohio State (-21.5)
West Virginia at Oklahoma (-16)
Texas at BYU (+7.5)
Oregon at Virginia (+21)
Florida at Miami (+2.5)
Arizona at UNLV (+17)
Thursday September 12, 2013
TCU at Texas Tech (+4)
Saturday September 14, 2013
Mississippi State at Auburn (+1)
Wisconsin at Arizona State (Pick)
Ohio State at California (+21)
Boston College at USC (-21.5)
Nevada at Florida State (-26)
Iowa at Iowa State (-4)
Louisville at Kentucky (+14)
UCLA at Nebraska (-6)
Tulsa at Oklahoma (-18)
Alabama at Texas A&M (+6, 54.5)
Mississippi at Texas (-8)
Oregon State at Utah (-6)
Washington vs. Illinois (+11)
Central Michigan at UNLV (-4)
Tennessee at Oregon (-25)
Notre Dame at Purdue (+14)
Vanderbilt at South Carolina (-11)
Thursday September 19, 2013
Clemson at North Carolina State (+11)
Saturday September 21, 2013
Oregon State at San Diego State (+6.5)
Arizona State at Stanford (-10)
Michigan at Connecticut (+12)
Tennessee at Florida (-12)
North Carolina at Georgia Tech (-4.5)
Michigan State at Notre Dame (-6)
Auburn at LSU (-18)
West Virginia at Maryland (+2)
Arkansas at Rutgers (Pick)
Kansas State at Texas (-9)
Utah at BYU (-7.5)
Colorado State at Alabama (-41)
Thursday September 26, 2013
Virginia Tech at Georgia Tech (+1)
Saturday September 28, 2013
Texas A&M at Arkansas (+17)
USC at Arizona State (Pick)
Miami at South Florida (+10)
LSU at Georgia (-6, 52)
Southern Mississippi at Boise State (-21.5)
Oklahoma at Notre Dame (-2)
Florida at Kentucky (+20)
Florida State at Boston College (+17)
Wisconsin at Ohio State (-11, 45)
Colorado at Oregon State (-22)
Wake Forest at Clemson (-21)
Arizona at Washington (-5)
Stanford at Washington State (+18.5)
Oklahoma State at West Virginia (+11)
Mississippi at Alabama (-17)
South Carolina at Central Florida (+14)
California at Oregon (-34)

Thursday October 3, 2013

Texas at Iowa State (+12)
UCLA at Utah (+5)
Saturday October 5, 2013

Washington at Stanford (-10)
Oregon at Colorado (+37)
Arkansas at Florida (-17)
Ohio State at Northwestern (+8)
Arizona State vs. Notre Dame (-4)
Minnesota at Michigan (-15)
Clemson at Syracuse (+8)
Kansas State at Oklahoma State (-9)
TCU at Oklahoma (-9)
Louisville at Temple (+17)
West Virginia at Baylor (-7)
North Carolina at Virginia Tech (-6.5)
LSU at Mississippi State (+9)
Michigan State at Iowa (+9)
Georgia Tech at Miami (-7)
Kentucky at South Carolina (-23.5)
Georgia at Tennessee (+11)
Thursday October 10, 2013
Arizona at USC (-7)
Rutgers at Louisville (-10)
Friday October 11, 2013
Temple at Cincinnati (-18)
Saturday October 12, 2013
South Carolina at Arkansas (+13)
Colorado at Arizona State (-27)
California at UCLA (-16.5)
Missouri at Georgia (-18)
Alabama at Kentucky (+30)
Florida at LSU (-4, 41.5)
Texas A&M at Mississippi (+4)
Michigan at Penn State (+2.5)
Boston College at Clemson (-22)
Oklahoma vs. Texas (Pick)
Georgia Tech at BYU (-3)
Stanford at Utah (+13)
Pittsburgh at Virginia Tech (-13.5)
Oregon at Washington (+14)
Oregon State at Washington State (+13)
Northwestern at Wisconsin (-6)
Baylor at Kansas State (-5)
Thursday October 17, 2013
Miami at North Carolina (Pick)
Friday October 18, 2013
Central Florida at Louisville (-11)
Saturday October 19, 2013
Washington at Arizona State (-5)
Utah at Arizona (-12)
UCLA at Stanford (-10)
Oregon State at California (+13)
Minnesota at Northwestern (-15)
USC at Notre Dame (-5)
Florida at Missouri (+6)
LSU at Mississippi (-2)
Iowa at Ohio State (-23)
TCU at Oklahoma State (-10)
Florida State at Clemson (-2)
Georgia at Vanderbilt (+10)
Auburn at Texas A&M (-24)
Arkansas at Alabama (-29)
Washington State at Oregon (-35.5)
Friday October 25, 2013
Boise State at BYU (-1)
Saturday October 26, 2013
Utah at USC (-18)
Arizona at Colorado (+20)
North Carolina State at Florida State (-20)
Louisville at South Florida (+13)
Oklahoma State at Iowa State (+14)
South Carolina at Missouri (+7)
Penn State at Ohio State (-16)
Texas Tech at Oklahoma (-14)
Stanford at Oregon State (+3)
Vanderbilt at Texas A&M (-16)
California at Washington (-17)
Tennessee at Alabama (-27)
Notre Dame at Air Force (+18)
Northwestern at Iowa (+12)
West Virginia at Kansas State (-9)
UCLA at Oregon (-20)
Texas at TCU (+3)
Arizona State at Washington State (+15)
Friday November 1, 2013
USC at Oregon State (-2)
Saturday November 2, 2013
Auburn at Arkansas (-3.5)
Arizona at California (+11)
Colorado at UCLA (-22)
Miami at Florida State (-8)
Georgia vs. Florida (+4, 44.5)
Navy at Notre Dame (-18)
Michigan at Michigan State (-3)
North Carolina at North Carolina State (+2.5)
Illinois at Penn State (-19)
Kansas at Texas (-31.5)
Clemson at Virginia (+13.5)
Iowa State at Kansas State (-13.5)
Ohio State at Purdue (+17)
Mississippi State at South Carolina (-15)
West Virginia at TCU (-10)
Thursday November 7, 2013
Oregon at Stanford (+4)
Oklahoma at Baylor (+6)
Friday November 8, 2013
Louisville at Connecticut (+10.5)
Saturday November 9, 2013
UCLA at Arizona (-4)
USC at California (+17)
TCU at Iowa State (+9.5)
Nebraska at Michigan (-4)
Penn State at Minnesota (+8)
Florida State at Wake Forest (+18)
Kansas at Oklahoma State (-29)
Notre Dame at Pittsburgh (+10.5)
BYU at Wisconsin (-8)
Texas at West Virginia (+12)
LSU at Alabama (-11.5, 39.5)
Virginia Tech at Miami (-3.5)
Auburn at Tennessee (-8)
Thursday November 14, 2013
Georgia Tech at Clemson (-9)
Friday November 15, 2013
Washington at UCLA (-2)
Saturday November 16, 2013
Georgia at Auburn (+15)
Oregon State at Arizona State (-4.5)
Washington State at Arizona (-19)
Stanford at USC (-1)
Syracuse at Florida State (-16)
Michigan at Northwestern (-3)
Houston at Louisville (-17)
Michigan State at Nebraska (-6)
Iowa State at Oklahoma (-20)
Purdue at Penn State (-13.5)
Oklahoma State at Texas (-6.5)
Alabama at Mississippi State (+23)
Ohio State at Illinois (+23)
TCU at Kansas State (-4.5)
Utah at Oregon (-28.5)
Florida at South Carolina (-5)
Saturday November 23, 2013

Oregon at Arizona (+12)
California at Stanford (-22)
Arizona State at UCLA (-3)
USC at Colorado (+24.5)
Kentucky at Georgia (-29)
Michigan State at Northwestern (-3)
BYU at Notre Dame (-11)
Memphis at Louisville (-24)
Texas A&M at LSU (-1, 47.5)
Wisconsin at Minnesota (+10)
Indiana at Ohio State (-25)
Baylor at Oklahoma State (-11)
Washington at Oregon State (-5)
Nebraska at Penn State (Pick)
Michigan at Iowa (+10.5)
Oklahoma at Kansas State (+4)
Virginia at Miami (-15)
Vanderbilt at Tennessee (-1)
Thursday November 28, 2013
Texas Tech at Texas (-16)
Mississippi at Mississippi State (+6.5)
Friday November 29, 2013
Iowa at Nebraska (-14)
Miami at Pittsburgh (+7)
Washington State at Washington (-14)
Iowa State at West Virginia (-7.5)
Oregon State at Oregon (-16)
Saturday November 30, 2013
Alabama at Auburn (+24)
Arizona at Arizona State (-5)
Notre Dame at Stanford (-5.5)
UCLA at USC (-7)
Florida State at Florida (-2, 44)
Georgia at Georgia Tech (+9)
Tennessee at Kentucky (+7.5)
Arkansas at LSU (-17)
Minnesota at Michigan State (-14)
Ohio State at Michigan (+6, 50.5)
Texas A&M at Missouri (+13)
Virginia Tech at Virginia (+10)
Penn State at Wisconsin (-9)
Northwestern at Illinois (+13)
Kansas State at Kansas (+21.5)
BYU at Nevada (+7.5)
Clemson at South Carolina (-4.5)
Baylor at TCU (-5)
Thursday December 5, 2013
Louisville at Cincinnati (+3)
Saturday December 7, 2013
Oklahoma at Oklahoma State (-3)
Texas at Baylor (+8)
Saturday December 14, 2013
Army vs. Navy (-9)
College Football is right around the corner and you better start to prepare to do your NCAA-FB homework! Long term College Football has been one my most profitable sport over the years! In the coming months I'll have my NCAA-FB Early Bird Season Pass on sale! You can pick it up right here at the site at www.wecoverspreads.com/products or by calling me directly at the office at (757)-462-9030