2012 Preseason NCAA-FB My Top 5 Teams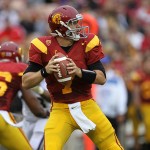 It's that time of year again and College Football is right around the corner. I spend all spring and summer creating my individual power ratings for each and every NCAA-FB team by hand. I go through every player on every roster and come up with final ranking for each team which helps me gain a big edge come August when the season kicks off. My actual power rating #'s are privy to my clients and I but I will release here my Top 5 Teams in my power ratings. I will also give you key reasons why I think each team can and can't win the BCS Title this year.
1. LSU
Why I think they can win the BCS Title Game
I always say football is won in the trenches. Bettors spend plenty of time capping QB's, RB's, WR's, etc. But in the college level I spend a lot of time focusing on offensive and defensive lines. This LSU offensive line is one of the best in the country. You may not find a more physical O-Line in the nation. The Defensive line has NFL prospects at all 4 spots and plenty of depth off the bench. I don't think there is a better O-Line/D-Line combo in the nation. With that said this is the best "in the trenches" team in the country. I don't think there is a deeper running back corps in the nation this year as well. Running backs Spencer Ware, Michael Ford, Alfred Blue, and Kenny Hilliard are all more than capable of moving the sticks and creating a big play. What was the LSU weakness last year? Jordan Jefferson and Jarrett Lee at quarterback. This year pro style passer Zach Mettenberger should be able to give LSU a reliable signal caller and give them an aerial attack they lacked last season. There isn't a better defensive secondary in the country either. Special teams is another overlooked part of handicapping College Football and LSU has one of the top Special Teams units in the nation. LSU is the most complete team in the nation on paper from top to bottom and are the #1 team in the nation in my power ratings. This team is even better than the 2011 team and may go down in history as one of the most special teams of all time.
Why I think they can't win the BCS Title Game
I really think LSU wins it all but I guess I have to find some reasons why they can't. Zach Mettenberger is an upgrade at quarterback from last year but he isn't Matt Barkley or Landry Jones either. I have him rated the lowest at his position compared to the other 4 QB's in this blog I have Mettenberger as about the 26th best QB prospect in the country. So you get the drift there are 25 better QB's out there. Plus he still has to prove he is good enough to compete in the nasty SEC week in and week out. I think the LSU receiver corps will be fine but there is no definitive #1 target for Mettenberger to throw too. Someone has to step up. The SEC schedule is no cake walk either. Trips on the road to a very dangerous Florida team this year and Arkansas to close out the season could be dangerous landmines for this LSU team to be caught slipping. Also let's not forget a rematch of last seasons NCAA Title game in the Bayou vs Alabama on November 3. Those are 3 games LSU can lose if they aren't careful.
2.Oklahoma
Why I think they can win the BCS Title Game
Landry Jones would have been a Top 10 NFL pick if he decided to leave early last year. The Sooners QB is a future NFL star and will be in the running for the Heisman this year. You have to love a team in the National Title Hunt with a QB that is a 3 year starter behind center. Trey Metoyer and Kenny Stills provide a devastating combo at receiver for Jones to throw the ball too. These guys may put up video game type of numbers here. I talk about the trenches and this offensive line did a great job keeping Jones jersey clean last year (11 sacks allowed) and I think the group is even better this year with 4 returning starters. Mike Stoops is back running the defense which is huge and he has a talented veteran group to work with. It's not an elite defense but there is more than enough talent to go around. I really like their back 7 on the defensive side of the ball. Looking at their schedule I think Texas will provide a scare but outside of that game I think this team can run the table. It's not easy but I think Oklahoma at 12-0 heading into the postseason is very possible looking at their schedule. When you have a future NFL franchise QB running things your chances are that much better to win the title.
Why I think they can't win the BCS Title Game
The running backs corps is good but not great. Nothing like LSU but they are definitely good enough to get the job done but are. But if they face a formidable defense (i.e. LSU) in the Title game I don't think Oklahoma will have enough of a balanced offensive attack mixing the run and pass. Last year when Oklahoma faced good run defenses the run game slowed down big time. I think the same thing would happen this year. The depth at receiver isn't overwhelming either. Stills and Metoyer will be as good #1 and #2 you can find but remember what this offense did last year when Ryan Broyles went down. These two guys need the confidence to take over his role which I think they can do. Another weakness is lack of pass rush. Losing Frank Alexander and Ronnell Lewis who combined for 17.5 sacks last year is huge. I'm not sure who can fill those guys shoes. To be honest I don't think anyone can. Oklahoma is known to trip up in games they shouldn't. If Oklahoma lacks consistency and slips up to a team like Texas Tech from last year they lost to outright as a 4 touchdown favorite you can kiss the Title hopes goodbye. Oklahoma is such a hard team to trust year in and year out to give you 100% week in and week out which is a major concern of mine.
2.Alabama
Why I think they can win the BCS Title Game
AJ McCarron is a year older with a title under his belt now. He was a smooth operator in the title game and I expect even better numbers from him this year. Alabama does return more than 50% of their starters from last years National Championship team and they fill the losses with all blue chip top recruit talent. The running game is filled with home run talent, ( Eddie Lacy, Dee Hart, and Blake Sims). The receivers are fast and dangerous. I actually think they put up better numbers than last years title team.The offensive line if healthy is one of the best in the nation. They did a great job last year and returning over 90 starts will be just as formidable this year. This defensive line is just as good as last years. They will be able to stop the run and create nightmares for opposing QB's. The back 7 is just as good as last years back 7 in my opinion. The linebackers corps maybe #1 in the nation and Saban has plenty of talent with the young DB's to work with. There's going to be a lot new stars on defense that will get familiar with very fast.
Why I think they can't win the BCS Title Game
Repeating as Champions in any sport is a very difficult task. They have a brutal stretch of schedule with 3 road games in 4 games (@ Missouri, @ Tennessee home vs Mississippi State, @ LSU) That's a daunting task for any team to overcome, especially that last game which will be a huge revenge spot for LSU. They also take a hit of heavy losses of players who graduated and moved on early to the NFL. While the guys filling their shoes are top notch recruits many are stepping into starting roles for the first time. The receiver corps doesn't provide a #1 guy like years past here. Special teams was a disaster last year here and they will need to improve this year. The talent is there but opponents are going to be gunning hard for Alabama this year and it's not going to be easy for them to repeat back to back years.
4.USC
Why I think they can win the BCS Title Game
Last year I jokingly said while watching Mark Sanchez that Matt Barkley could win more games in a Jets uniform last year than Sanchez. I was half joking but half serious. If everything pans out Barkley will be the #1 pick of next years NFL Draft. Senior Curtis Mcneal provides stability in the backfield as a guy who is very like to put up 1,000+ rushing yards this year. They have the #1 QB in the nation but let's not forget this the #1 receiver corps in the nation as well. Robert Woods and Marqise Lee are future first round draft picks and are each just as good as the other. Two guys at receiver that are #1 WR in terms of talent. The depth behind them is raw but extremely talented and they have the best tight end combo in the nation. Four returning starters on an offensive line that was 2nd in the nation in sacks allowed last year is huge. The defense will have two active pass rushers in defensive ends Devon Kennard and Wes Horton who will both be playing on Sunday in 2013. Monte Kiffin has a very stable and reliable back 7 to compliment the front 7. It's not going to be easy to move the ball on this USC defense. With the best passing attack in football, a very solid Running Back, and a more than capable defense USC deserves all the preseason hype they are getting.
Why I think they can't win the BCS Title Game
Depth. USC is thinner behind the starters than most of these other teams I've named so far. If they get ravaged by injuries it can create potential problems for USC. The loss of scholarships from the Pete Carroll era definitely took it's toll on recruiting which is why there is a lack of depth here. Also a weak link is Lane Kiffin. The head coach for Troy simply doesn't have the postseason experience as some of the other coaches in the Top 10 in the country. Can he get outcoached in a big game? I definitely think so. He's never even coached in a huge game before. Not saying he can't do it because he does have solid coordinators and assistant coaches surrounding him but I'm not sure even with plethora of talent if Kiffin is experienced enough to capitalize. Drawing Stanford, Cal, Oregon, and Notre Dame isn't the end of the world but it's no cake walk either.
5.Florida State
Why I think they can win the BCS Title Game
EJ Manuel will be up for darkhorse Heisman discussions in New York at the end of the season. He isn't the #1 candidate but I have him as the #10 prospect at QB in the nation this year. The running game has so many players that can be bust out potential to be stars here. Even if FSU goes by committee it has a stable of backs that should outperform last years numbers with ease. Like the running backs the receivers have tremendous upside. Watch out for Rashad Greene who before getting hurt last year was definitely looking like he was on par with Clemson's Sammy Watkins as one of the most fun to watch receivers in the ACC. The defensive side of the ball Florida State is scary good. I always believe the motto defense wins championships and this Seminoles defense is Championship caliber. The defensive line is going to give opposing offensive coordinators fits. Werner, Jenkins, and Carradine will be haunting QB's off the ends. The tackles are as good as you can find the nation. Hard to find a defensive line this deep. Saying the back 7 is the weak link to this defense is true. But weak not even. The back 7 is more than good enough to be national championship contender. Saying this defense is on par with LSU to fight it out for the Top D in the nation is the truth. It's a 90's Bobby Bowden era talented type of defense.
Why I think they can't win the BCS Title Game
Injuries. Can FSU stay healthy this year? Last year they were ravaged by the injury bug. Many key components to the FSU team are coming off of an injury riddled season. If these guys don't stay healthy it can be a disappointing season in Tallahassee. The running games needs to be more effective. They have 4 backs like I spoke about earlier that are more than capable but they need to make it happen come game time. The offensive line is the biggest concern for me. If this unit doesn't create more room for the running game these backs won't reach their potential. I'm going to go out on a limb here. It's all decided in the trenches and if Florida State doesn't improve with their offensive line play I made a big mistake putting them in my Top 5. They absolutely need to improve on the front line. Clemson, South Florida, Florida, and Virginia Tech isn't an easy schedule at all.
Football season is back! Over the last 5 years my clients and I have had the luxury of four of five seasons above 58% winners in College Football. We continue to dominate the college football market and I'm looking to do more of that this season! The last 5 seasons my clients and I have netted over 212* units of profit during College Football season! I have the best info and sources in the nation utilizing my sharp, Vegas oddsmaker, and NYC Bookie sources to gain the edge we need over the books! Hop on board now only for a limited time only for my complete NFL and NCAA-FB Early Bird Pass for only $199.99 here on the site or by calling me directly at the office at (757) 462-9030.