2012 NFL Week 9 Smart Money Report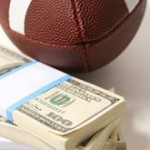 My weekly blog special the "Smart Money Report" Week 9 edition is here to help you guys out. Make sure to check here every Thursday during NFL season as I utilize all my sharps aka professional bettor contacts, Las Vegas Oddsmaker contacts, and NYC bookies to give you the info on what's happening behind the counter in the NFL betting marketplace with every game on the board.
I always preach to pay attention to opening numbers. If you want to win like as sharp you have to think like a sharp I always say. Remember sharps aka professional bettors bet early in the week into opening numbers to get themselves the best value possible.
Remember squares aka the general betting public usually wait to place their bets until gameday before kick off. So any early moves you see during the beginning of the week is sharp money.
It's important to realize that every early sharp move isn't them holding on to that position. Sometime it's head fake money which is sharps moving a line in order to get a more favorable number on game day betting the other side.
**Note due to Hurricane Sandy and other activities going on in NYC right now wasn't able to get my Local NYC bookie contacts take on any of these games in this weeks blog**
Sunday
Denver @ Cincinnati (+3.5, O/U 48)
My oddsmaker source told me this number has jockeyed been at +3.5 all week and one thing that tells him right off the bat is that sharps don't like the dog. He said that hook on the 3.5 would have been scooped up very quickly. So obvious sharps aren't thrilled with the Bengals here. The total has been bet up a half of tick from 47 to 47.5 come press time.
Arizona @ Green Bay (-11,O/U 43.5)
My Vegas contact opened this at 10 and said the line moved up as high as 11 before meeting some resistance in the marketplace. He is at 10.5 currently after taking some sharp money on the dog at 11. The total has been bet down a half of tick from 44 to 43.5.

Miami @ Indianapolis (-2.5, O/U 43)
Nothing to report early in the week from the desert on this game.
Detroit @ Jacksonville(+3.5, O/U 44)
This game opened at 4 on the Vegas strip and got bet as low as 3.5 initially before being bet back up to 4 come press time with nothing early to report on the total.
Buffalo @ Houston (-10.5, O/U 47)
My Vegas oddsmaker opened this at 11 and took dog money on Bills moving this down to 10. He expects the betting public to come back in on the Texans come Sunday so said this may go back up and sharps come in and will likely take the dog again before kick off. Nothing to report on the total.
Chicago @ Tennessee (+3.5, O/U 43.5)
Strong move here from the sharps on Tennessee on the Las Vegas strip. The Titans opened +4 and my Vegas bookmaker source told me strong move on the Titans being bet down to +3 come press time. He expects this to be a classic sharp vs squares battle as recreational bettors will be all over the Bears come Sunday. He's happy he's taken some early Titans money because he says that will definitely even the money out on this game and he will not be so vulnerable with Chicago come Sunday. Nothing on the total.
Carolina @ Washington (-3.5, O/U 47)
This opened at 3.5 and initially was bet up to 4 in the desert. Since hitting 4 mid-week he said he's taken all sharp money on the Panthers here moving this down to 3 come press time. He said he's taken some Over money early and adjusted the total up to 47 from a 46 opener.
Tampa Bay @ Oakland (-1, O/U 46.5)
The Bucs opened as a 2.5 point dog my Vegas oddsmaker friend kept it real simple and he said sharps are all in the Bucs here moving this down to +1.5 come press time. Not much respect for the Raiders in this spot from the professional bettors but he did say since Vegas is in close proximity to Oakland that Raiders money from recreational bettors will be likely to come in this weekend. He's taken a move toward the Over from the pros getting bet up to 46.5 from a 45 opener.
Minnesota @ Seattle(-5, O/U 38.5)
This opened at the Seahawks laying 3.5 and was bet up as high as the dead number of 5. He did say on Thursday afternoon right before we spoke he did take a good size bet from a sharp bettor he respects on the Vikings at +5 and he moved the line back down to 4.5. So early sharp money was on Seattle at -3.5 but sharps don't always agree, especially when one feels the number has been bet too high which this guy obviously felt when it hit 5. One thing all the sharp money on this one did agree on was the Under as he took Under action from sharps moving this down to 38.5 from a 39.5 opener.
Pittsburgh @ NY Giants (-3, O/U 47.5)
Two very public teams facing off here and my Vegas oddsmaker contact told me he's thrilled with the draw this game is expected to take in on the late games. He said he opened this at 3.5 and early sharp sentiment took the hook with the dog moving this down to 3 come press time. He did point out Big Ben does have a solid track record vs the NFC in his career. Nothing early to report on the total in this one.
Dallas @ Atlanta (-4, O/U 47.5)
My Las Vegas source telling me all the early sharp money has come in on the Cowboy at the window moving this line down to 4 from an opener of 5 at his shop. He said lucky the Cowboys are a public team and he does anticipate some Cowboys money coming in. So it won't be a typical lopsided recreational bettor affair taking the favorite. He did not have anything early to report on the total.
Monday
Philadelphia @ New Orleans (-3, O/U 52.5)
Sharps have been taking their licks with Philly are coming back on them once again in the Monday Night game. He said they did take the hook at 3.5 and he has moved this down to 3 come press time. Nothing early to report on the total.
Sometimes I agree with these early moves and sometimes I don't. One thing I can say in my opinion has been a strong one. We're on a 22-13 (63%) NFL run the past few weeks! It's good to have a guy like me by your side come Sunday to help utilize my contacts to make us money on some diamonds in the rough. Hop on board with me this Thursday, Sunday, and Monday night as I look to exploit the marketplace with the help of my contacts. You can pick up my plays right here on the site or by calling me directly at the office at (757) 462-9030