2012 NFL Championship Weekend Smart Money Report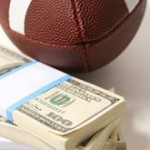 My weekly blog special the "Smart Money Report" AFC and NFC Championship Playoffs edition is here to help you guys out. Make sure to check here every Thursday during NFL season as I utilize all my sharps aka professional bettor contacts, Las Vegas Oddsmaker contacts, and NYC bookies to give you the info on what's happening behind the counter in the NFL betting marketplace with every game on the board.
I always preach to pay attention to opening numbers. If you want to win like as sharp you have to think like a sharp I always say. Remember sharps aka professional bettors bet early in the week into opening numbers to get themselves the best value possible.
Remember squares aka the general betting public usually wait to place their bets until gameday before kick off. So any early moves you see during the beginning of the week is sharp money.
San Francisco @ Atlanta (+4, O/U 48.5)
I spoke with my Vegas oddsmaker contact and he told me this game is a liability for bookies in Vegas. Due to the close proximity of San Francisco to Vegas there will be plenty of recreational 49'ers money hitting Vegas shops all weekend long. He opened this at -3 and some early sharp money thought it was too low and beat the public to the punch betting the 49'ers up to -4.5. At 4.5 he noted he saw some big resistance and that was the buy back # for other sharps who came in on Atlanta +4.5 pretty hard. He has since settled back at 4 as we go to press with this article. So it's pretty simple some sharps in Vegas liked the Niners at -3 and others played Atlanta at +4.5 early in the week. He said the total opened at 48.5 and got as high as 49.5 before settling at 49 come press time. Here in NYC at our local bookie shops the Niners opened -3 and were bet up to -4 early in the week with sharp support. Once this line hit 4 though here at our local shops a wave of buy back money on Atlanta hit the marketplace driving this back down to 3.5. So same story as Vegas with sharps on both sides depending on the number. The total opened 47.5 and has been bet up to 48.5 with support for the Over.
Baltimore @ New England (-8, O/U 51)
This opened at 9.5 in the desert and my Vegas oddsmaker contact and the Ravens attracted some early money from the sharps betting this down to 8.5 where he currently sits as we go to press. He said it's likely you'll see a good chunk of Patriots money enter the market from recreational bettors through the weekend who will be teasing the Patriots and throwing them in parlays. Books looking to protect themselves from teasers he said may move this back up around 9 or 10 come Sunday. He said the total was bet up a half of tick from 51 to 51.5. Here in NYC at our local bookie shops this opened at 9.5 was bet all the way down 7.5 with strong Ravens support coming in early. They've already crossed into the Patriots teaser window and my local source told me they'll wait and see what happens as Sunday approaches as to how they move the #. As far as the total goes it's been dead quiet with nothing early to report.
Sometimes I agree with these early moves and sometimes I don't. One thing I can say in my opinion has been a strong one this year in the NFL as one of the hottest and consistent NFL handicappers in America.We're on a 13-5 (72%) NFL run heading into this weekend and I have some big boy bets planned! It's good to have a guy like me by your side in the playoffs as to help utilize my contacts to make us money on some diamonds in the rough. Hop on board with me this year as I look to exploit the marketplace with the help of my contacts. You can pick up my plays right here on the site or by calling me directly at the office at (757) 462-9030