2011 NCAA-FB Game of the Year Lines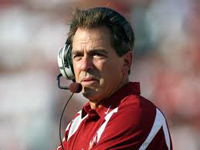 This past Friday the Golden Nugget was the first book to unveil their NCAA Football Game of the Year lines. I'm going to break down the biggest sharp aka professional bettor moves on Friday that steamed these lines to move off of the opening number set by Tony Miller and his staff at the Golden Nugget in Las Vegas.
The limits on bets were $1,000 but wiseguys poured in drop cash on these raw lines. Why would Golden Nugget open themselves up to be vulnerable against these raw lines? It helps make their opening day lines much sharper after wiseguys voice their opinion!
As many of you know sharps love to bet futures trying to snatch up on any value possible with soft lines. These lines are set 2 plus months in advance of games so a lot can change in either a good or bad way. As many of you remember last year LSU and UNC was one of the games on their NCAA Football Game of the Year Lines.
At one point UNC was between one point favorite and one point dog at some shops for their GOY opening lines that were released last Summer. If you bet LSU at +1 you had a gold mine on your hands because of the UNC scandal when they lost 12 players, many of those included were starters. Before kick off this LSU was more than a 7 point favorite. If you bet this game in June you had the most value on the ticket possible.
On the other hand if you bet UNC in the summer you would have had to hedge your bet back on LSU since you could have never foreseen the upcoming suspensions. That's all in the risk of betting these GOY lines months before the season starts but when investing in this marketplace, there is nothing more valuable then getting a crack at the opening lines before other sharps "steam" them.
Major Noticeable Moves
Week 1
Boise State-6 vs Georgia was bet down to Boise State-1.5
Sharps love the SEC team in their home state, and had no problem taking six points with the Dawgs against Boise State in the Chik-Fil-A 2011 Kick Off game in the Georgia Dome. This was one of the biggest steam moves by wiseguys on Friday
LSU-3 vs Oregon was down to LSU-2
More sharp support for the SEC again against a non-conference opponent, and let us not forget LSU has won 33 straight regular season non-conference games.This game will be in Dallas at Cowboys Stadium field and sharps loved the idea of taking three points with the dog on a neutral field.
Week 2
Auburn-3.5 vs Mississippi State was bet to Mississippi State-1
As you'll see in this blog sharps aren't respecting the reigning National Champs at all. Sharps obviously felt a strong enough and moved this game all the way to Mississippi State to a favorite
TCU-6.5 vs Air Force was bet down to TCU-1.5
Strong opinion by sharps here on the home dog and they had no problem hammering this line against the Rose Bowl Champs TCU. Remember TCU has lost a good bulk of talent from last years team. Sharps felt it was overcompensated and drilled an Air Force team that is tough on their home field.
Michigan-2 vs Notre Dame bet to Notre Dame-3
Big move here as sharps focus in on a Notre Dame team which should be more comfortable in their second year under Brian Kelly. I've heard nothing but good coming out of the Notre Dame camp during the off-season so I think us sharps have some high expectations for them.
Week 3
Mississippi State-1 vs LSU was bet to LSU-3
Sharps felt the wrong team was installed as the favorite in this early September SEC battle and they had no problem fading Mississippi State who they feel will be coming off of an upset win against Auburn the week before. As you read this blog you will see sharps really like LSU this year.
Clemson-1 vs Auburn was bet to Clemson-6
Again sharps are voicing their opinion against the defending National Champions feeling that this team is completely overrated right now in the marketplace and stepped in by laying the chalk with Clemson driving this line up a full five points.
Week 5
Michigan-4 vs Northwestern was bet down to a PK
A lot of sharps also showed their lack of respect for Michigan, I didn't post all of their games because some only moved a point or two, but this was a big one. Remember Michigan is bringing in a new coaching staff and a totally new offense this year. Sharps love betting against college teams in their first year of a new system.
Week 7
Michigan State-3.5 vs Michigan was bet to Michigan State-7
More lack of respect for the Wolverines again in this inner state rivalry. Michigan is seen as an overrated team in the Big 11 this year which is something I'd have to agree with.
Week 9
TCU-7 vs BYU bet to TCU-3.5
Again lack of respect for the Horned Frogs coming back off an impressive 2010 season. Sharps felt this number was set too high, especially the fact this game will be played at Cowboy Stadium on a Neutral Field in TCU's backyard. A lot of key pieces have been lost from that undefeated team and the Cougars start their first season as an independent which should be interesting.
South Carolina-10.5 vs Tennessee bet to South Carolina-7.5
Support here for the Vols against Steve Spurrier and his Gamecocks team which has had some off the field issues with troubled QB Stephen Garcia again. Second season under Kiffin and his system with some key pieces back sharps felt this line was a tad too high.
Week 11
Georgia-4.5 vs Auburn bet to Georgia-9
Again the Bulldogs are a team that sharps look at as undervalued heading into 2011 and have no problem laying the chalk against an Auburn team that they feel has serious stock issues, and that stock is dropping like a rock if you see how they are betting these opening lines.
Week 13
Alabama-8 vs Auburn bet to Alabama-12
This is getting repetitive huh? This is a big revenge game for Nick Saban and the Crimson Tide. Sharps have this once circled and they feel that the Tide will roll. When you see sharps laying over a touchdown with a team, that means they really LOVE 'em!
Week 1
TULSA vs OKLAHOMA -21 bet to Oklahoma-20
SMU vs TEXAS A&M -17 bet to Texas A&M-16
Week 2
MISSOURI vs ARIZONA STATE -3 bet to Arizona State-4
SOUTH CAROLINA vs Georgia-3 bet to Georgia -2.5
Week 3
UTAH vs BYU -2.5 bet to BYU-5
TENNESSEE vs FLORIDA -13.5 bet to Florida -11.5
WEST VIRGINIA-3 vs Maryland bet to West Virginia-4
Week 4
MISSOURI vs OKLAHOMA -13 bet to Oklahoma -14
LSU -4 vs West Virginia bet to LSU-4.5
TULSA vs BOISE STATE -24 bet to Boise State -22
SAN DIEGO STATE vs MICHIGAN -8 bet to Michigan-9
NOTRE DAME-4 vs Pittsburgh bet to Notre Dame-5
Week 5
SMU vs TCU -12 bet to TCU-11
AUBURN vs SOUTH CAROLINA -7.5 bet to South Carolina -9.5
NEBRASKA vs WISCONSIN -2.5 bet to Wisconsin-3
MISSISSIPPI STATE vs GEORGIA -3.5 bet to Georgia-5.5
Week 6
OKLAHOMA -8 vs TEXAS bet to Oklahoma-7.5
FLORIDA vs LSU -5.5 bet to LSU -7.5
AUBURN vs ARKANSAS -7.5 bet to Arkansas-9
MIAMI-FLA vs VIRGINIA TECH -7 bet to Virginia Tech-6
CONNECTICUT vs WEST VIRGINIA -13.5 bet to West Virginia-12.5
AIR FORCE vs NOTRE DAME -10 bet to Notre Dame-11
TCU -6.5 vs San Diego State bet to TCU -5.5
Week 7
SAN DIEGO STATE vs AIR FORCE -3 bet to Air Force-4
UTAH vs PITTSBURGH -4 bet to Pittsburgh-6
LSU -9.5 vs TENNESSEE bet to LSU -8.5
Week 8
AUBURN vs LSU -9.5 bet to LSU-11
USC vs NOTRE DAME -4 bet to Notre Dame -5
TENNESSEE vs ALABAMA -21 bet to Alabama-19
Week 9
GEORGIA-1 vs FLORIDA bet to Georgia -3
Week 11
ALABAMA -7 vs MISSISSIPPI STATE bet to Alabama-8
TCU vs BOISE STATE -13.5 bet to Boise State -14.5
TENNESSEE vs ARKANSAS -14 bet to Arkansas-13
NOTRE DAME -7.5 vs MARYLAND bet to Notre Dame-8.5
Week 12
NEBRASKA -1 vs MICHIGAN bet to Nebraska-3
Week 13
PITTSBURGH vs WEST VIRGINIA -6 bet to West Virginia-4
NOTRE DAME vs STANFORD -6.5 bet to Notre Dame -4.5
PENN STATE vs WISCONSIN -7 bet to Wisconsin-6
MISSISSIPPI STATE -12 vs MISSISSIPPI bet to Mississippi State-10
CLEMSON vs SOUTH CAROLINA -12 bet to South Carolina-11
MICHIGAN STATE -3.5 vs NORTHWESTERN bet to Michigan State -2.5
College Football is right around the corner and with the looming NFL lockout you better start to prepare to do your NCAA-FB homework! College Football has been my most profitable sport over the years as I'm going for my fifth straight season with above 58% winners! In the coming month I'll have my NCAA-FB Early Bird Season Pass on sale! You can pick it up right here at the site or by calling me directly at the office at (757)-462-9030